---
Profiles: News about people from AGI and its 44 member societies
---
Archive of past Society Page/Profiles stories by date
---
Ann Carpenter: Searching for gold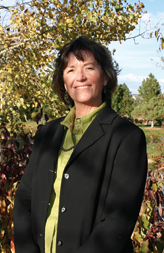 Last year, Ann Carpenter joined U.S. Gold Corporation as the chief operations officer and president of the small company that has its eyes turned toward Nevada's booming mining industry. In a world where domestic minerals are becoming more attractive, Nevada's deposits have refueled geologic searches there, prompting the return of many mining and exploration geologists to their home turf — including Carpenter, one of the leading women in a field generally dominated by men. As a professional exploration geologist, Carpenter has explored for mineral deposits around the world.
In her experience as an exploration geologist, Ann Carpenter has worked all over the world, searching for gold and other resources. Photo courtesy of Ruth Carraher.
From an early age, Carpenter knew she liked the outdoors: She comes from a family of seven children — "six brothers and myself," she says — which meant "we all learned how to ski, hike and play outside" to get the posse of children out from underfoot. Carpenter was born in Montana, she says, after "my parents wandered [west] from the Kentucky-Detroit area for my father to set up a medical practice."
She attended Montana State University in Bozeman, where she took her first geology course as an elective from Stephan Custer, who is still a professor of geology there. "I was sunk," Carpenter says, of that introductory geology course. The university has "all this geology almost within walking distance," she says, and each course meant getting into a van and heading out into the hills. Geology was the ticket to her staying outdoors.
Carpenter's first job was with the U.S. Forest Service, doing "a whole lot of permitting and a little bit of geology," she says. Working on the Jerritt Canyon project in the Forest Service district north of Elko, Nev., introduced her to minerals exploration.
Since then, she has worked on a long line of exploration projects, for major corporations, small companies and everything in between, either as an in-house employee or a consultant. The "junior" companies, Carpenter says, gave her more responsibility and therefore exposed her to more about the business as well as about mineral potential. And the "majors" have remained a key part of her work and have given her enjoyable experiences as well.
Those experiences included work in Alaska, Southern California, Mexico, Argentina and other South American sites. She also spent time in East Africa. But "I keep finding myself coming back home" to the western United States, Carpenter says. "I like the prospectivity of Nevada and the business climate."
Nevada's "great mining culture" has made it a place where Carpenter says that she and her "compatriots [have] grown older together." She manages exploration projects for U.S. Gold Corporation, a small company based in Denver, Colo., from Reno, Nev., such as the Tonkin Springs Project and other Nevada interests.
Nevada has had a diverse geologic history that has produced a "tremendous amount" of gold, silver and base metals. As demand for these commodities increases, in part due to the emergence and growth of China's economy, Nevada again has become a competitive site for mining, Carpenter says. The state is also more accessible now that competition elsewhere is ramping up, and it also has a more secure political climate — something less certain in some of her previous work.
Exploration is focused on "the whole concept of putting a drill in and not necessarily coming up with anything," something that means exploration geologists must be risk takers, says Ruth Carraher, a geologist at Gold Summit Corp., who first met Carpenter in the 1980s when both were working for mining company Freeport in central Nevada. Carraher says that Carpenter definitely knows how to take risks, something that probably was more true of her work in East Africa, "where you [are] never quite sure what's gonna happen," Carraher says, because of political instability. She calls Carpenter a good communicator, who excels at getting into the field, thinking in 3-D, and putting her ideas forward in a sensible way.
Both women are active members of the Women's Mining Coalition (WMC), a nonprofit industry group that promotes sustainable and environmentally sound mining practices. Anecdotally, Carpenter, who has been a past president of WMC, says that she has noticed more women in senior management positions since she entered the business in the 1980s, but that in general, the proportion of women in the industry has stayed the same.
No hard numbers are available as to the breakdown of women geologists in the field, but Carraher, a WMC co-founder, says that the group's recent straw polls showed that older mines generally had fewer women working than newer ones. The WMC polls also picked up a trend: Moving farther north and west in the United States, more women proportionally were present in mines, whether as engineers, miners or equipment operators.
Working with WMC "has been an incredible experience. Here I grew up with brothers, and didn't really know how to relate to women," Carpenter says half-jokingly, and after becoming involved with WMC in the early 1990s, "I was blown away by the experience, the diversity, the savviness of these women."
Carpenter says that the diversity "actually joins them as a crew, whether men or women," because no matter the industry, whether coal, soft rock or hard rock mining, "we are wrestling with the same sorts of concerns."
Naomi Lubick


---