Subscribe

Archives

Classifieds

Advertise

Customer Service

Geotimes Search
---
---
---
NEWS NOTES — ENERGY & RESOURCES
---
Royalties revisited
Mineral resource of the month: Thallium
---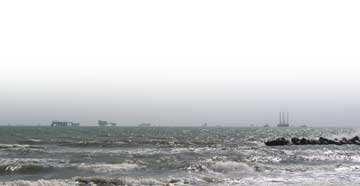 Oil rigs can be seen off of Port Fouchon, La., in the Gulf of Mexico. In the 1990s, Minerals Management Service waived some royalties payments on oil drilled deep in the Gulf as an incentive to energy companies to explore. The old royalties agreements are now under considerable scrutiny. Photograph is courtesy of EPA.
In fiscal year 2006, energy companies earned more than $77 billion from sales of oil and gas from federal property, of which $10 billion was paid to the U.S. Minerals Management Service (MMS) in congressionally mandated royalties, according to the Government Accountability Office (GAO). But MMS and GAO agree that that's not nearly enough, and billions will likely be lost. As such, MMS management of royalty collections has come under close scrutiny by GAO and some senators.
Royalties paid by oil and gas companies to the federal government are calculated as a percentage of earnings depending where on federal land the oil and gas is produced. MMS is responsible for ensuring collection of the royalties. Last year, however, the New York Times turned up perceived discrepancies in royalties owed versus royalties collected (see Geotimes, April 2006). MMS attributed the discrepancy to various causes, such as the shift to collecting a portion of the oil itself instead of money, which can later be sold on the market as "oil-in-kind" royalties, and the omission of a clause in leases drafted in 1998 and 1999. In the last few months, however, new questions have been raised about the oil-in-kind program, as well as how and if money will be recouped from the previous clause omission.
On Jan. 18, 2007, for example, GAO released testimony before the Senate Committee on Energy and Natural Resources, addressing the impact of oil and gas leases that were issued under the Outer Continental Shelf Deep Water Royalty Relief Act of 1995. This act, designed to promote oil exploration and production, waived royalty payments for companies for deep-water leases in the Gulf of Mexico. Typically, such royalty relief is valid for a stipulated amount of the resources collected, and as long as oil prices remain below $36 per barrel — the clause that was left out of lease contracts issued in 1998 and 1999.
The GAO testimony concluded that leases issued under the act could lead to billions of dollars lost in the future, in addition to the estimated $1 billion lost to date. The exact amount expected to be lost in the future remains uncertain, however, as it depends on factors such as whether or not MMS can successfully renegotiate the leases, and the future price of oil for the duration of those leases. MMS estimates losses could reach $10 billion, according to the report.
Several leases so far have been renegotiated in agreements with BP, ConocoPhillips, Marathon Oil Company, Shell, and Walter Oil and Gas Corporation, MMS announced Dec. 14, 2006, but 30 other leaseholders have not renegotiated, according to E&E Daily. To help recoup some of that lost money, Sen. Dianne Feinstein (D-Calif.) said she plans to add a clause to the Interior Department's 2008 spending bill that could include extending the duration of leases issued to companies in 1998 and 1999 in return for those companies paying the accumulated royalties lost to the government, according to the same story.
In light of management issues faced by MMS over the last few years, GAO made recommendations to improve Interior Department programs, including those of MMS, by "enhancing the information it uses to manage its programs, strengthening internal controls, and providing clearer guidance," according to a subsequent GAO testimony released Feb. 16. The testimony says that while MMS has "taken some steps to implement them," they have been "slow to implement other recommendations," including paying more attention to revenue collection.
Meanwhile, Sens. Jeff Bingaman (D-N.M.) and Ron Wyden (D-Ore.), both leading members on the Committee on Energy and Natural Resources, took issue with MMS' oil-in-kind program. The senators announced Feb. 15 that they would ask GAO to review the program, which they say has "raised flags" in previous reviews. The last GAO report to focus on the program was released April 2004. "We haven't done a detailed report in awhile," says Mark Gaffigan, GAO's acting director for natural resources and environment.
"Given the growth of this program because of the Energy Bill, its impact on the Treasury and the problems that MMS has had with recordkeeping, we think it's just good government to have GAO take a closer look at this program," Bingaman said in the Feb. 15 statement.
GAO has accepted the senators' proposal, and plans to take a close look at how MMS is doing "implementation-wise," Gaffigan says, regarding previous recommendations for MMS to collect better information regarding oil-in-kind revenues, particularly now as the program expands. The study is likely a "longer-term type of effort," he says, and could take up to one year.
Links:
"Royalties flushed," Geotimes, April 2006
---
U.S. Geological Survey mineral commodity specialist assistant Xiaoyu Bi compiled the following information about thallium, a critical component in several chemical, electronic, and medical applications.
Thallium is known as a poison, its use initially suspected in the recent death of a Russian spy, but it has a variety of more important applications in everything from medical imaging to wireless communications.
Thallium is a silvery white, soft, malleable and toxic metal. When exposed to air, however, it oxidizes readily and develops a bluish-gray tinge that resembles the color of lead. Thallium metal is available in various forms including foil, sputtering targets and rods, while thallium compounds are available as submicron, lump and nanopowder. Commercial grades of thallium metal range from 99 percent to 99.9999 percent pure. Thallium melts at 304 degrees Celsius and boils at 1,473 degrees Celsius.
Thallium metal and compounds are primarily used in infrared optical materials and therapeutic medications. Specific applications include medical cardiovascular imaging, gamma radiation detection equipment, filters for light diffraction in acousto-optical measuring devices and wireless communications, low-temperature measurement equipment, and lenses, prisms and windows for infrared detection and transmission equipment. Other uses include as an additive in glass to increase its refractive index and density, as a catalyst for organic compound synthesis, and as a component in high-density liquids for sink-float separation of minerals. Thallium sulfate was widely used as a pesticide until 1975, when its use in the United States was banned.
Thallium metal and its compounds are highly toxic and are strictly controlled to prevent a threat to humans and the environment. Sources of possible thallium releases include gaseous emissions at cement factories, leaching of thallium from ore processing waste, and metal sewer pipe. Thallium and its compounds can be absorbed into the human body by skin contact, ingestion or inhalation of dust or fumes.
Short-term health effects of thallium exposure include gastrointestinal irritation and nerve damage, and long-term health effects include hair loss, changes in blood chemistry, and damage to liver, kidneys, intestinal and testicular tissues. Under the Safe Drinking Water Act of 1974, the U.S. Environmental Protection Agency set the non-enforceable maximum contaminant level goal of thallium in drinking water at 0.5 parts per billion and the maximum contaminant level at 2 parts per billion.
Thallium has a relatively low crustal abundance, estimated to be 0.7 parts per million. While it is widely dispersed, its highest abundance is in alkali feldspars and micas where it substitutes for potassium. Thallium minerals are rare, with thallium occurring in crooksite, lorandite and hutchinsonite.
Thallium is recovered as a byproduct from flue dusts and residues collected principally in the smelting of zinc ores, but also other sulfide ores. Although thallium is contained in ores mined or processed in the United States, it has not been recovered domestically since 1981. Based on the estimated thallium content of zinc ores, the United States is estimated to have about 18 percent of the world reserve base. World resources of thallium contained in zinc resources total about 17 million kilograms, most of which are located in Canada, Europe and the United States.
For more information on thallium, visit http://minerals.usgs.gov/minerals/.