Subscribe

Archives

Classifieds

Advertise

Customer Service

Geotimes Search
---
---
---
---
Travels in Geology April 2008
posted April 25, 2008
---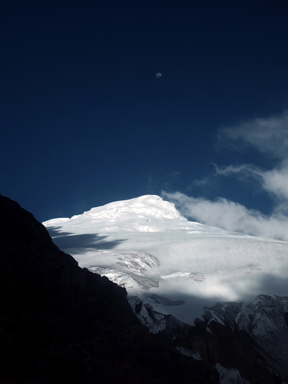 Mary Caperton Morton
Cayambe is one of several volcanoes to climb in Ecuador.
"Beautiful Ecuador — where everything is possible and nothing is sure!" I knew traveling in Ecuador would be an adventure, but the day after I arrived, when my bus got stuck on a muddy, winding mountain road and I was obliged to disembark, take up a shovel and help dig our way out, I knew I was in for a wild trip.

I heard Ecuador's unofficial slogan for the first time that day and again on several occasions while traveling in this equatorial South American country. It's a perfect motto, for Ecuador is truly one of the best adventure destinations in the world. Not only does the country offer top-notch surfing, whitewater rafting, trekking and mountaineering, the casual approach to transportation and travel in general make just getting from place to place an adventure.

Ecuador is a compact country, about the size of Colorado. It may be geographically small, but what it lacks in size it makes up for in ecologic diversity. In a single day it's possible to take a morning swim in the ocean, visit snow-capped volcanic peaks in the afternoon and fall asleep to the sounds of the rainforest that night.
In the west, surfing, snorkeling, scuba-diving and swimming spots abound along the picturesque Pacific Coast. The warm waters teem with fish, sharks, rays, seals and, from June to October, breeding humpback whales. Travelers with deeper pockets can also book a flight to the Galapagos Islands and cruise or kayak around Charles Darwin's famous archipelago.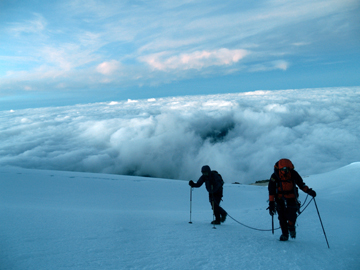 Mary Caperton Morton
Sunrise from above the clouds in the Andes is a spectacular sight.

Water enthusiasts of the whitewater persuasion should head east to Tena or Baños. Located on the jungle's doorstep, these two quaint colonial-style towns compete for the title of "Whitewater Capital of South America." Kayakers and rafters from all over the world flock here, to the headwaters of the Amazon. Rapids begin at Class III and only get stronger. Rainforest treks are also a fantastic — though not necessarily drier — way to see eastern Ecuador. Most guided trips last three to 10 days and often include hiking, visits to native Indian tribes and canoeing.

Ecuador's ultimate adventure lies in the central corridor, along the backbone of the Andes. Some of the world's highest volcanoes can be found here and the summits of several of them are accessible to mountaineers of any skill level. I am an experienced hiker, but had no prior experience in alpine climbing. Nonetheless, I summited Gua-Gua Pinchincha (4,785 meters), Cayambe (5,760 meters) and Cotopaxi (5,913 meters).

Climbing these glacier-coated stratovolcanoes does require ropes, crampons, ice axes and experienced mountain guides, but they are not technically difficult climbs. Most people in good physical condition who have spent at least a few days becoming accustomed to the altitude can, with a stubborn resolve, make it to the top of these monsters. Several U.S.-based guiding agencies like Summit Adventure and Mountain Madness lead trips year-round or you can sign up in the capital city, Quito, with an Ecuadorian mountain guide. Safari Ecuador and High Summits are two reputable agencies.

Volcán Cotopaxi, 80 kilometers southeast of Quito, is known for being one of the highest peaks in the world that is accessible to beginning mountaineers. Still considered active, Cotopaxi, which means "The Neck of the Moon" in the Incan language, last erupted in 1904 and although it is not actually the highest active volcano in the world as many Ecuadorians claim, it is quite a thrill to see, let alone climb.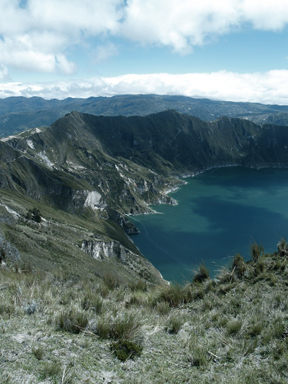 Mary Caperton Morton
The hike to Quilotoa Crater is rated one of the best hikes in Ecuador.
The volcano is the centerpiece of Cotopaxi National Park. Backpacking enthusiasts can take any bus south from Quito and get dropped off at the gate to the park. Two to three days of moderate hiking through stunning scenery will take you to the base of Cotopaxi and allow for gradual altitude acclimatization along the way. You can also hire a truck or arrange transportation through your guiding agency to the base of the mountain. From where the road ends, it is a short, but strenuous climb to the Jose Ribas Refuge at the foot of Cotopaxi's glacier. Here you'll find 70 bunk beds, running water, cooking facilities and a dining hall, all for $10 a night.
Most successful summit trips take between 10 to 12 hours of continuous climbing to get to the top and back down. Since the midday equatorial sun softens the snow and makes it slippery and dangerous, most climbs start around midnight to ensure you'll be off the slopes before noon the next day. Climbing at night by headlamp is encouraging, as it reduces the mountain to only what is illuminated just in front of you. If you could actually see the enormity of the peak looming above, you might be intimidated into quitting before you even begin!

After a crash course from your guide on how to walk on snow with crampons and an ice axe, adopt the tortoise's mantra: slow and steady. Even when valley floor temperatures are pleasantly warm, on the slopes it is often too cold to stop and rest for long so it's better to keep moving. You'll soon fall into a rhythm of step, breathe, step, breathe that will take you slowly, but surely to the top.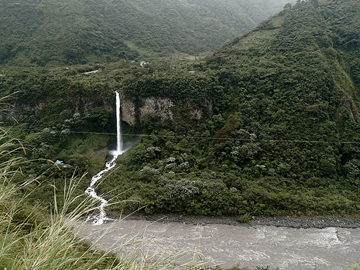 Mary Caperton Morton
Ecuador offers world-class whitewater rapids and waterfalls.
By the time dawn rises over the Andes, you will be as exhausted as you've ever been in your life, but the sunrise from the vantage above the clouds is spectacular and rejuvenating. And from there, in the morning light, the summit looks so close you know you can make it up the rest of the way. Most teams reach the summit about an hour after sunrise. On a clear day it's not just the thin air that will make you gasp — the view from the top is breathtaking and well worth the effort.

No Ecuadorian trip is complete without a visit to one of the country's many thermal springs. A soak at Papallacta hot springs outside of Quito is a must for tired muscles, whether they are sore from conquering Cotopaxi or digging your bus out of a rut.

Whether you want to spend your next vacation playing in the ocean, paddling Class IV rapids, bushwhacking in the jungle, scaling a volcano or all of the above, beautiful Ecuador has something to offer every adventurous traveler — especially those on a budget. Getting to the country from the United States may not be exceptionally cheap, but getting around by bus, boat or plane once there is a bargain, as are food and lodging. The tourist season runs from May to September and throughout December and January. But really, there's never a bad time to visit this equatorial paradise.
---
Morton is a freelance writer in Baltimore, Md.
Links:
Travel Ecuador
Summit Adventure
Mountain Madness
High Summits
Safari Ecuador

Back to top