---
FEATURE
---
The Wind Over the Waves
Erin Wayman
---
The Capital of Offshore Wind Print Exclusive
From Oilfield to Wind Farm Print Exclusive
---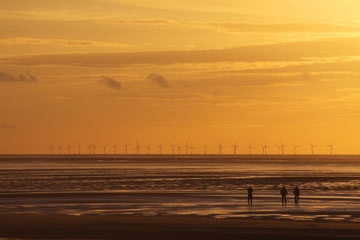 Photograph by Philip Thomas
Wind turbines located off the coast of northwestern England.
Herman Schellstede is no stranger to the Gulf Coast. The son of an engineer who helped build the first offshore oil rig in the Gulf of Mexico, Schellstede has spent the past 40 years designing offshore oil platforms, drilling rigs and pipelines. But now he's using his expertise in marine engineering to build a different kind of offshore structure: a wind farm.
"We always knew we had a lot of wind," Schellstede says of the Gulf Coast, "but we didn't know what to do with it, other than cuss at it."
But a few years ago, Schellstede's friend, Harold Schoeffler, the president of a local Sierra Club chapter and owner of a Cadillac dealership, convinced Schellstede that the winds blowing off the coast could be put to good use. In 2004, the pair formed Wind Energy Systems Technology (WEST), with the goal of bringing offshore wind energy to the United States.
Schellstede and Schoeffler first pitched their idea of an offshore wind farm to Louisiana, but their home state wasn't interested. So they looked westward to the country's wind capital, Texas, where thousands of wind turbines scattered across the state's vast plains are capable of powering more than 600,000 homes.
Like Schellstede, Texas has made much of its wealth off the oil and gas industry, leasing its hydrocarbon-rich lands and waters to oil and gas companies. But these resources won't last forever, says Jerry Patterson, Texas General Land Office Commissioner, so he's open to finding new ways to bring the state revenue — and energy. When WEST requested to lease 46 square kilometers of water off Galveston Island to build a 50-turbine wind farm capable of generating 150 megawatts of electricity, Patterson thought it sounded like a smart idea. "Texas is in the business of energy," he says. For him, wind power is not just about being "green"; it's about dollars and cents.
In 2005, Texas granted WEST the Galveston lease and the Land Office estimates that, once the wind farm is built, Texas should receive a minimum of $26.5 million in royalties over the course of the 30-year lease. In October 2007, the Land Office held a competitive auction for four additional offshore wind leases throughout the Gulf. WEST bought them, and if all goes as planned, the state could net several hundred million more dollars in wind royalties.
Other coastal states are also considering the advantages of harnessing the winds blowing off their shores to create clean renewable energy. Offshore wind energy offers several advantages over its land-based counterpart, including stronger, steadier winds. But proposals in Massachusetts, New York and Delaware have been met with tougher scrutiny and opposition than the proposed Texas offshore wind farms by critics citing concerns ranging from the cost of the electricity to the environmental consequences of placing large wind turbines in the ocean. What happens in these states, wind advocates say, could determine the future of offshore wind energy in the United States.
"We're all looking to see what happens," says Cristina Archer, a meteorologist and environmental engineer at the Carnegie Institution for Science at Stanford University in Palo Alto, Calif. "If they do start and do work, there will be a proliferation," she says. "It's a tipping point."
The power of wind
In the United States, wind energy "is the second biggest source of new energy after natural gas," says Mark Jacobson, an atmospheric scientist at Stanford. By the end of 2007, the United States had enough wind turbines to produce 16,818 megawatts of electricity. About 30 percent of that generating capacity was installed just last year, and the American Wind Energy Association (AWEA) estimates that 30 percent of all new energy last year came from wind. This year, wind energy will constitute 1 percent of the U.S. electrical supply, AWEA says, with the capability of powering 4.5 million homes.
All of this wind power, however, is on land, concentrated mainly in Texas and California and scattered throughout the Midwest and Northwest. But wind experts say coastal areas have a lot to offer. Walt Musial and Sandy Butterfield, both of the National Renewable Energy Laboratory in Golden, Colo., estimate that offshore areas within about 90 kilometers of the United States have winds strong enough to produce 907 gigawatts of electricity — about 90 percent of the country's current electrical capacity. The East Coast alone has enough wind potential to power half the country, Jacobson says.
European countries bordering the North Sea have already started to exploit the benefits of offshore wind, beginning in 1991, when Denmark installed the world's first offshore wind farm. What makes offshore wind energy advantageous in these countries, researchers say, also holds true on this side of the Atlantic.
One of the advantages of offshore wind is that it has the potential to produce more electricity than onshore wind farms. "Offshore wind projects can have higher performance — with stronger, more constant wind — than onshore," says Ryan Wiser, a renewable energy analyst at the Lawrence Berkeley National Laboratory in Berkeley, Calif. In fact, in 2005, Archer and Jacobson analyzed wind potential around the world and found that, at the height of a wind turbine, offshore wind is on average 90 percent stronger than onshore wind. That's because hills, trees, buildings and other structures don't get in the way of winds blowing over the ocean, says Willett Kempton, a marine policy scientist at the University of Delaware in Newark.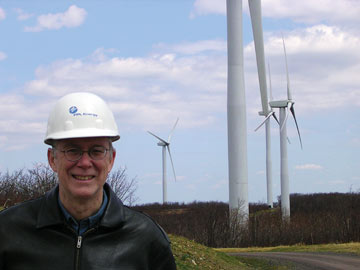 University of Delaware
Willett Kempton, a marine policy scientist, has studied the potential of offshore wind energy in the Atlantic Ocean, as well as public opinion regarding offshore wind farms.
What's really promising about offshore wind energy is that the best offshore winds, unlike onshore, are close to some of the most densely populated parts of the United States, Wiser says. In Texas, for example, most of the state's wind farms are in the sparsely inhabited west, where energy demands are relatively low and wind farms produce more electricity than is consumed. Bringing some of this extra electricity to large Texas metropolises would require investing in costly new transmission lines. Electricity from a wind farm a dozen kilometers off the Gulf Coast, however, could more easily be brought onto the electric grid to help power large nearby cities like Houston.
Challenges
Offshore wind energy is not without its challenges, Patterson says. Intermittent winds causing irregular electrical generation are a real concern for many people, as are price and technology.
Both Wiser and Jacobson say the intermittent winds argument really isn't as big of a problem as people might think. Even with traditional forms of energy, Wiser says, power companies have to manage some uncertainty in matching electrical production to consumer use. At least in the foreseeable future, he says, they should also be able to manage any uncertainty caused by wind energy.
Linking wind farms together with transmission grids to form a larger, interconnected array of wind farms would also minimize problems with intermittent winds, Jacobson says, because the probability that all wind farms over an extended area would experience similar or unexpected changes in wind patterns is quite low. Connecting wind farms with each other — or with other forms of energy such as solar or geothermal — would thus ensure a continuous flow of electricity. And as an added benefit, Patterson says, studies also show that the strength of offshore winds often peaks during the day in tandem with peak energy use.
Economic and technological issues remain real obstacles to a successful offshore wind energy industry, however. Operating a wind farm in the ocean is more costly than operating one on land, Wiser says. Factoring in the added difficulties and extra costs of transporting and installing on the seafloor several dozen 80-meter-tall wind turbines, the expense of running underwater electrical cables from the turbines back to shore and the extra safeguards needed to protect the turbines from the force of ocean waves means that "the cost can be 50 to 100 percent higher for offshore wind than onshore wind," he says.
Another problem with the budding offshore wind industry is that the technology used to build the wind farms still has a long way to go. Currently, for example, supports used to anchor the turbines to the seafloor have only been designed for use in shallow waters no deeper than about 30 meters, but Musial and Butterfield found that almost 90 percent of the 907 gigawatts of potential wind energy off the United States is over deeper waters. To build deepwater wind farms, developers will probably initially have to rely on attaching turbines to anchored structures similar to those used in the offshore oil and gas industry, but eventually they may need to develop floating platforms for use in really deep waters— something that could happen within the next 15 years, says Mike Dvorak, a graduate student at Stanford, who has studied California's offshore wind potential.
Schellstede and his company are already beginning to address these technological problems. They've engineered a turbine with special blades designed to withstand the stronger forces of offshore winds and they've also developed one of the first marine platforms made specifically to support a wind turbine. Other offshore wind developers across the country have already expressed interest in these designs, Schellstede says.
Coming to a Coast Near You?
In the United States, efforts to build offshore wind farms are not limited to the Gulf Coast. The country is home to another coastline with an abundance of strong winds over shallow waters: the stretch of the Atlantic Ocean that spans from the Mid-Atlantic to New England. The Great Lakes and parts of the Pacific coastline, especially along California, also show potential, although offshore wind developers have yet to express interest in these regions.
The U.S. offshore wind energy movement first took off when Energy Management Inc. (EMI) decided it wanted to build a wind farm off New England. After assessing and modeling the New England coastline, the company thought it had found the perfect site: Horseshoe Shoal in Nantucket Sound off Massachusetts' famed Cape Cod. The site had all the right features: strong winds, shallow waters, close proximity to the electric grid and natural protection from storm waves.
In 2001, EMI proposed putting 130 wind turbines on this spot, about nine kilometers away from the nearest shore. They called their project "Cape Wind." EMI promised Cape Wind would provide enough electricity to meet three-fourths of the energy needs of the residents of Cape Cod, Martha's Vineyard and Nantucket.
Seven years later, however, the Cape Wind project is still struggling to make it past the permitting phase of its plan. The vocal opposition of local residents, most notably Sen. Edward Kennedy, D.-Mass., has kept the project on hold.
A proposed wind farm off the coast of Delaware has been met with a more favorable reaction. In 2006, Delmarva Power, a Mid-Atlantic power company, sought proposals for a new Delaware power plant. Wind energy developer Bluewater Wind proposed building a wind farm more than 17 kilometers offshore. From the vantage point of Delaware's beaches, the turbines would appear to be tiny structures half the size of a thumbnail. Kempton says opinion polls show that more than 90 percent of residents want the wind farm, which could provide enough electricity to power as many as 100,000 homes. But politics and special interests have stalled the final power purchase contract, making the wind farm's fate still undecided.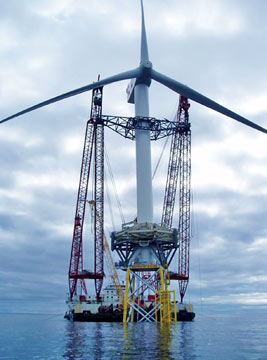 REpower
Installation of a wind turbine in the Beatrice Field off Scotland's northeast coast.
Things are quieter on the West Coast. Dvorak, Jacobson and Archer have analyzed wind potential off California. The summer winds off populous Southern California are too weak to sustain a wind farm, and the winds off San Francisco are strong but over deep water, Dvorak says. Strong winds over shallow waters exist in Northern California, but the region is less densely populated with fewer transmission lines. But Dvorak, Jacobson and Archer have proposed building a wind farm in Cape Mendocino, not too far from Eureka.
Most opposition to these proposed projects is nothing more than a textbook case of the NIMBY (Not In My Back Yard) syndrome, wind proponents say. But Audra Parker, director of strategic planning for the Alliance to Protect Nantucket Sound, an environmental organization that opposes Cape Wind in particular, says these concerns are legitimate and go beyond not wanting to see turbines alter Cape Cod's picturesque, million-dollar views.
One potential problem for Cape Wind, for example, could be its geology. Horseshoe Shoal's unsteady glacial sediments suggest that the region might not be the most stable location in which to place giant turbines. But other concerns have received much more attention.
For one, residents who will receive electricity from offshore wind farms don't want to pay the premium price of wind energy to power their homes, Parker says. She says wind advocates have downplayed the higher cost of offshore wind energy relative to less expensive forms of traditional energy, such as coal or natural gas. She points out that a recent assessment by the Minerals Management Service, the government agency responsible for overseeing federal offshore energy resources, estimates electricity from Cape Wind would cost $122 per megawatt whereas the average market price in New England is more like $66 per megawatt.
Apprehension about the high cost of wind energy has already ended the prospects of at least one offshore wind farm in the United States. Last August, the Long Island Power Authority released a study that compared the economics of building a wind farm off New York's Long Island to building a natural gas power plant. The study concluded that the cost of building the wind farm and connecting it to the electrical grid could top $800 million. Over a 20-year period, the wind farm would cost users an extra $66 million per year.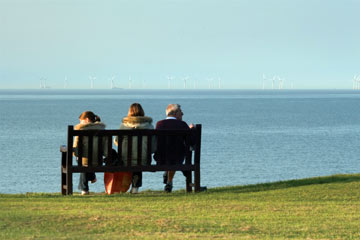 Steve Ford Elliott
A family looks at offshore wind turbines off the coast of Swalecliffe, Kent, in southeastern England.
Wind analysts, however, say the cost of wind power really isn't prohibitive. It's the most cost-competitive form of renewable energy, Kempton says. "Even compared with existing fossil electricity prices in this region, the contract in hand here in Delaware is at market rates or a little above, but not more than 10 percent [above projected market rates]." And owners of offshore wind farms can promise their customers long-term price stability, says Mark Rodgers, communications director for Cape Wind, because wind is a stable, renewable energy source that's not subject to the inflation or market volatility that plagues fossil fuels such as oil or natural gas.
Wiser, who has followed the U.S. wind energy market for the last 13 years, thinks it's a bit premature to forecast what the cost of offshore wind energy will really be. "Presumably the cost will go down as technology improves over time," he says. This was true of the onshore wind industry, which has seen an 80 percent drop in the price of its generated electricity since the early 1980s, according to AWEA. But a carbon tax, which may be imminent, could help level things out sooner, as wind farms don't produce any carbon emissions, Schellstede says.
Offering people a clean form of energy was one reason why EMI thought Cape Wind would be a good idea in the first place. "We felt we were being responsive to long-standing calls by environmental organizations to have more renewable energy," Rodgers says. Cape Wind is a step toward taking "real action against global warming."
In fact, offshore wind energy can go a long way toward "solving climate change without huge amounts of money," Kempton says. Kempton and his colleagues reported in a 2007 paper in Geophysical Research Letters, that there's more than enough wind energy off the Atlantic to supply all the energy needs of residents from North Carolina to Massachusetts. Replacing all fossil fuels with offshore wind energy — which would include replacing fuel-powered cars with electric cars — would reduce the region's carbon dioxide emissions by 68 percent. This isn't going to happen anytime soon, but building at least a few wind farms is a step in the right direction. "Other solutions are just futuristic and we hope [they] will work, but we already know wind energy works," Jacobson says.
Ironically, critics of Cape Wind and other proposed offshore wind farms have claimed these wind farms may actually cause more environmental harm than good: Birds could be killed by the turbines' powerful blades or marine wildlife could be disturbed by the dozens of turbines embedded in the ocean, which could then disrupt local fishing economies. But wind developers say they take these factors into consideration when scouting out possible offshore locations. And wind analysts say turbines are no more of a threat to bird populations than skyscrapers, communication towers or other human-made structures. In January, the Minerals Management Service sided with wind developers, releasing a favorable draft environmental impact study of Cape Wind.
Now that it has claimed this victory, Cape Wind's developers are "cautiously optimistic" that they'll receive all their permits by the end of the year, Rodgers says. If they do, construction on the wind farm could begin in 2010 and be completed by 2011. If the Delaware wind farm survives its own political process, Kempton predicts it could be up and running as soon as 2013. And offshore wind may also be in New Jersey's future. In March, the state announced that it had received three proposals for a grant to fund a pilot offshore wind project.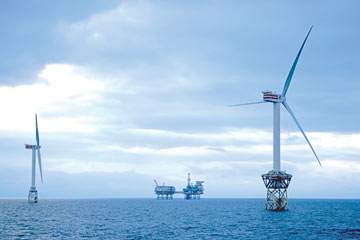 REpower
The world's first deepwater wind farm is located in the Beatrice Field off the northeast coast of Scotland.
Considering all the proposed wind farms, Kempton says it's unlikely that they will all be built. But these first few attempts are a good start for an "industry that will be evolving for at least another 30 years," he says.
Moving Ahead
While projects on the East Coast remain mired in politics and the West Coast faces technical barriers for now, development along the Gulf Coast is moving forward. The opposition to offshore wind farms on the East Coast is "flabbergasting," Patterson says. Schellstede feels fortunate that WEST is dealing with the state of Texas. "We feel like we're living in heaven compared to the hell [Cape Wind] is going through," he says.
Things may be a bit easier in Texas, in part, because the Gulf Coast is a working coastline, so adding a few turbines to the mix of oil and gas platforms and drilling rigs hasn't caused much outcry, Archer says. "It's ironic to think that Texas, traditionally an oil state, has put so much effort into renewables that it might be the first state with an offshore wind farm."
That offshore wind farm could be up and running soon. WEST has been collecting meteorological data on its Galveston lease for almost eight months now and the data show the area is "in a very good wind zone," Schellstede says. The next step is to install an actual wind turbine this summer to collect some more data, he says, which could then lead to a working offshore wind farm by the beginning of 2010. All the electricity generated by the wind farm could be sold to one of several companies, such as Wal-Mart, that have expressed interest in the project. But ultimately, Schellstede says he would like to see his offshore wind farms owned and operated by a power company so that the most renewable power reaches the most people.
---
Links:
Cristina Archer's Web site
Mark Jacobson's Web site
American Wind Energy Association
Willett Kempton's Web site
Mike Dvorak's Web site
Cape Wind
Alliance to Protect Nantucket Sound