Subscribe

Archives

Classifieds

Advertise

Customer Service

Geotimes Search
---
---
---
NEWS NOTES
---
Lights out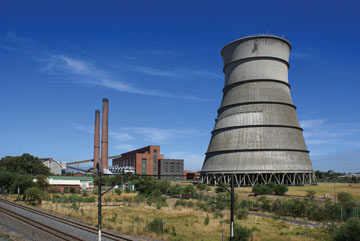 DanieVDM on www.flickr.com
The coal-fired Athlone power station outside Cape Town, South Africa, commissioned in 1961, has not generated any electricity since 2003. As of 2007, the plant was set to be decommissioned to make way for new development.
South Africa has fallen on dark times. The country's demand for power has begun to outstrip supply, leading to rolling blackouts that are expected to last for the next several years. In January, the situation reached a critical level when a power outage in Cape Town left more than 30 people stranded in a cable car. Three days later, several of the country's mines shut down and the government declared a "national electricity emergency."
South Africa's energy crisis has been brewing for at least a decade. In the 1970s and 1980s, the country overbuilt its energy infrastructure, enabling it to produce far more electricity than could be consumed. As a result, several of the plants were forced to close. Yet the government knew as early as the 1990s that trouble was on the horizon. In a 1998 white paper, officials from the Department of Minerals and Energy predicted that South Africa's "generation capacity surplus would be fully utilized by 2007" — and thus the country would be running out of power. But rather than allowing the state-owned utility, Eskom, to build new plants, the government decided to open the field to private investors. Few investors came forward, however, and by 2004, when Eskom finally got permission to build more public plants, it was too late.
South Africa hopes to have its power woes resolved by 2012, when the first of several new power plants will come online. Eskom plans to double its generating capacity to 80,000 megawatts by 2025. In the meantime, the company is working to bring several of the coal-fired plants that were mothballed in the 1980s back into full production and is ramping up generation at a few newer diesel-fueled plants. The utility is also asking South Africans to reduce their power consumption by 10 percent — and to be patient. Rolling blackouts will be a reality for at least the next four or five years.
While the blackouts have been confined to South Africa and a few neighboring countries, the effects are being felt worldwide. South Africa is the world's largest producer of platinum, accounting for 75 percent of the world's annual production. But the mines can't function without electricity. In late January, Eskom told the mining industry that it couldn't guarantee a steady supply of power. Rather than risk miners being trapped underground during a power outage, most of the mining companies shut down their operations for several days. "We estimate we lost 30,000 ounces of refined platinum due to the event," says Trevor Raymond, a spokesperson for Anglo Platinum, South Africa's largest platinum mining company.
The mines are up and running again, but they've agreed to cut power consumption by 10 percent, which will likely mean layoffs and lower than expected production. As a result, platinum prices have skyrocketed from about $1,500 an ounce in December 2007 to more than $2,100 in February 2008.
Platinum is most visible shining on the fingers of the betrothed, but the majority actually goes to the automobile industry. U.S. automakers have been using the metal since the 1970s, when they first began fitting cars and trucks with catalytic converters. These devices contain a thin film of platinum that transforms pollutants such as nitrogen oxides and carbon monoxide into their less toxic cousins. Analysts say that demand for platinum is expected to grow as new pollution regulations take effect and more people in developing nations buy cars.
Catalytic converters can also be made with palladium, a closely related but less-expensive metal, but palladium doesn't work in diesel vehicles, which represent a growing share of the market in Europe and China.
South Africa has been a model of African progress for more than a decade. Since 2005, the economy has grown at a rate of 5 percent a year. Analysts at Global Insight in South Africa predict that the country's power shortage will only slow economic growth in 2008 by 0.3 percent. "[But] the longer term implications are much more severe," says Thea Fourie, an economist for Global Insight. "The biggest loss to the country is the loss in foreign investor confidence."
Links:
www.flickr.com