---
NEWS NOTES
---
Funding a nuclear surge
---
Read more about the budget and the so-called nuclear renaissance
---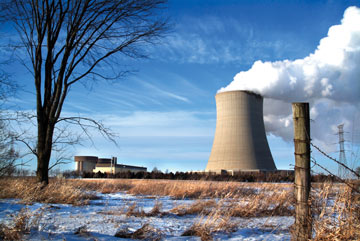 NRC/Courtesy of Exelon Nuclear
Byron Nuclear Power Plant in Illinois
On Feb. 4, President Bush unveiled his proposed budget for fiscal year 2009, which allocated $25 billion to the Department of Energy (DOE) — a 4.7 percent increase over the 2008 budget that Congress passed in January. While spending on renewable energy received cuts, research on nuclear energy and clean coal received big boosts, underscoring the administration's belief that nuclear power and clean coal are the best ways to combat climate change and meet the country's growing energy needs.
Under the proposed DOE budget, the Office of Energy Efficiency and Renewable Energy would get a 27 percent funding decrease, with a total budget of $1.25 billion. In contrast, the Office of Fossil Energy would receive a nearly 25 percent funding increase, with a total budget of $1.1 billion. A large chunk of that money — $623.7 million — would go toward researching and developing new, cleaner coal technologies. For example, the Clean Coal Power Initiative would get a nearly 23 percent increase, the Carbon Sequestration research program would get a 25 percent increase and the restructured FutureGen's budget would more than double.
But the big energy winner was nuclear power, which DOE says is on the verge of a "renaissance" in the United States. To encourage the growth of this carbon-free energy source, DOE requested $1.4 billion (a 37 percent increase) for the Office of Nuclear Energy. DOE's Nuclear Power 2010 — an industry cost-sharing program aimed at expediting the development, licensing and building of new nuclear power plants — would get a nearly 81 percent increase in funding.
DOE's budget also allocates nearly $500 million for the continued development of a long-term, underground nuclear waste repository at Yucca Mountain in southern Nevada. Originally set to open on Jan. 31, 1998, the repository has been fraught with controversy and setbacks that have jeopardized its future. Most recently, Congress drastically cut President Bush's 2008 funding request for Yucca. With vocal opponent Sen. Harry Reid, D-Nev., in charge of the Senate, Yucca's funding is likely to be slashed again next year.
Yucca Mountain's uncertain future, however, "is not a deal breaker" for the U.S. resurgence of nuclear power, says Mitch Singer of the Nuclear Energy Institute in Washington, D.C. The nuclear energy industry has already "adjusted to the realities of what's been happening at Yucca Mountain," he says, and in the short-term is prepared to continue storing nuclear waste onsite at nuclear power plants.
Other short-term solutions include finding ways to reduce the volume of nuclear waste and developing advanced reprocessing techniques to recycle spent nuclear fuel — something that DOE's Advanced Fuel Cycle Initiative is trying to do.
But even with advanced nuclear reprocessing strategies, there will always be nuclear waste, Singer says. So even if Yucca Mountain fails, the federal government will eventually have to find a way to fulfill its contractual obligation to take ownership of the country's spent nuclear fuel and nuclear waste, he says.

Read more:
"2009 budget tightens purse strings," Geotimes online, Web Extra, Feb. 6, 2008
"Nuclear in a Carbon-Based World," Geotimes, January 2008
"Nuclear Power Is No Michael Jordan," Geotimes, January 2008