Subscribe

Archives

Classifieds

Advertise

Customer Service

Geotimes Search
---
---
---
NEWS NOTES
---
Where's the wheat?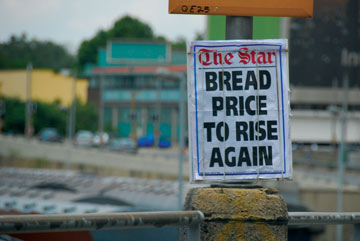 Paul Keller www.flickr.com/photos/paulk/
A poster on a bridge in Johannesburg, South Africa, shows a recent headline from The Star, a local newspaper.
Bakeries around the world are fighting to survive as the price of wheat — and consequently flour — skyrockets. In the past six months, wheat prices have nearly doubled, climbing from $6.04 per bushel last August to $11.04 in February. Blame the rising cost of wheat on a wheat shortage, but don't blame the wheat shortage on the biofuels industry, experts say.
Biofuel critics often argue that, as farmers devote more of their land to fuel crops, food will become scarce and costly. But farmers have yet to abandon wheat in favor of corn. In the United States, the amount of farmland devoted to wheat has actually increased by almost 3 million acres since 2005 and is expected to increase another 3 million acres this year, says Kim Anderson, an agricultural economist at Oklahoma State University in Stillwater.
The problem isn't acreage, it's yield, Anderson says. For at least two years, the fields haven't been producing what they should because of freezes and droughts during the growing season and rain at harvest. Meanwhile, demand for wheat from rapidly developing countries like India and China has increased. Lower than expected supplies coupled with high demand have led to wheat deficits. U.S. wheat reserves are the lowest they've been since the late 1940s and world reserves are down to 1970s levels — thus the high prices.
This story originally appeared on Geotimes online on Feb. 28, 2008. Read the full story.

Links:
www.flickr.com/photos/paulk/