---
Web Extra
Tuesday March 26, 2002, last updated on March 29.
---
Shallow earthquake hits Afghanistan, thousands injured and homeless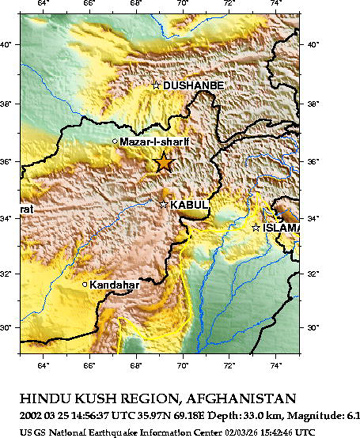 An earthquake of magnitude 6.1 originated from a depth of 33 kilometers below the surface in northern Afghanistan Monday evening local time, followed by a magnitude-5.0 earthquake Tuesday morning. The quake destroyed 90 percent of the mud-brick homes and buildings in the city of Narin. Strong aftershocks followed; a magnitude-5.6 temblor striked the region on Wednesday.
News reports indicate fewer people may have died during event than the original 1,800 Interior Minister Yunus Qanuni believed had been pulled from the rubble on Tuesday. But rescue workers are still searching.
While earthquakes are common in the Hindu Kush region - a dozen of magnitude 3.8 or higher have struck so far this month - most are around 200 kilometers deep. Monday's shallow quake struck at 35.97 North latitude and 69.18 East longitude - not far from the 1998 magnitude-6.9 quake that was also 33 kilometers deep and struck at 37.106 North latitude and 70.11 East longitude. The 1998 quake left more than 5,000 people dead.
Early this month, on March 3, a stronger earthquake of magnitude 7.4 destroyed homes and buildings, killing 150 people. The depth, however, was 256 kilometers.


Visit the USGS Earthquake Bulletin site for more information.
Also, read Afghanistan: Geology in a Troubled Land from the February 2002 Geotimes.
Christina Reed

---