Subscribe

Archives

Classifieds

Advertise

Customer Service

Geotimes Search
---
---
---
News Notes
---
Hydrology
Tree rings reveal overestimate in Western water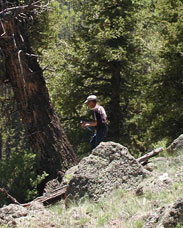 When a severe drought hit the Colorado River Basin area between 2000 and 2004, people began to question whether current practices for managing the river would be adequate for managing future water demands. One recent study suggests an answer: probably not.
Mark Losleben of the University of Colorado obtains a growth-ring sample from a Douglas fir tree at a site southwest of Denver, in the Colorado River Basin. The growth rings provide evidence of the river's past water flow. Photograph is by Connie Woodhouse.
Seven Western states, which include growing cities such as Las Vegas, Phoenix and Denver, depend on the Colorado River as a source of water. In 1922, the states and the federal government created the Colorado River Compact to guide management of the water resource. The compact's provisions and subsequent treaties and agreements, however, are based on measurements made of the river's flow during the 20th century and "don't take into account the range of natural flow conditions that have occurred over a longer period of time," says Connie Woodhouse, a physical scientist for the National Oceanic and Atmospheric Administration in Boulder, Colo.
In the May issue of Water Resources Research, Woodhouse and colleagues present a reconstruction of flow conditions in the river's upper basin over the past 500 years. According to their reconstruction, Woodhouse says, "the period of record upon which the compact was based is pretty unusual" in that it was one of the wettest. What's more, she says, droughts like the recent one "are not unprecedented, and even more persistent droughts have occurred" in the past. Overall, the researchers' findings suggest that current allocations of the Colorado River's water are based on an overestimate of the river's average water supply.
Woodhouse's team used a statistical model to reconstruct flows from 1490 to 1997 for Lees Ferry — the dividing point between the river's upper and lower basins and the measurement location used for the management guidelines. The model incorporated data on the widths of annual tree rings from core samples of about 1,200 moisture-sensitive trees in the area that date back to at least 1490, and measurements of actual flows at Lees Ferry between 1906 and 1995. The tree rings provide a good proxy for years in which no measurements exist, Woodhouse says — the narrower a tree ring, the drier the year and the lower the river's flow.
The work "updates previous reconstructions of the upper Colorado River Basin" by covering more years and sampling a greater number of trees than past studies, says Hugo Hidalgo of the Scripps Institution of Oceanography in La Jolla, Calif. It also puts the river's more recent flow patterns "into the perspective of long-term hydrological variability for the basin," he says. Future studies, Woodhouse says, will reconstruct flows back 1,000 years or more.
Jennifer Yauck