Subscribe

Archives

Classifieds

Advertise

Customer Service

Geotimes Search
---
---
---
Web Extra Wednesday, August 8, 2007
---
Quake shakes Jakarta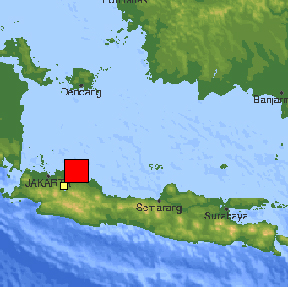 U.S. Geological Survey
A magnitude-7.5 earthquake struck just offshore Jakarta, Indonesia, on Thursday at 12:04 a.m. The quake was deep enough not to cause severe damages but was felt all over the region.
A powerful magnitude-7.5 earthquake struck off the coast of Indonesia, 100 kilometers from the nation's capital Jakarta, at just after midnight local time on Thursday, according to the U.S. Geological Survey (USGS). The quake awakened residents in the capital city, shaking tall buildings and scaring residents, The Associated Press is reporting, but no immediate damages have been reported.

The earthquake occurred about 290 kilometers below the Java Sea. It was strong enough to be widely felt, USGS says, but deep enough underground not to cause severe damages. Additionally, because of the depth, the threat of a tsunami is considered minimal and no tsunami warnings were issued.
Indonesia lies in one of the most seismically active regions of the world, experiencing hundreds of earthquakes per year, including the magnitude-9.0 earthquake in December 2004 that set off the Indian Ocean tsunami. That quake, however, was only 10 kilometers below the seafloor.
This seismic activity comes on the heels of heated discussion over whether earthquakes in Utah caused a mine to cave in on Monday, trapping six miners, or whether the mine cave-in itself registered as an earthquake on seismometers in the area, The Associated Press reports. USGS scientists suggest that the mine cave-in was the source of the seismic measurements, while Murray Energy, the mining company, suggests that natural earthquakes caused the cave-in. Rescue workers are still trying to reach the trapped miners.
Megan Sever
Links:
The Associated Press story on the Jakarta quake
The Associated Press story on the Utah mining disaster
U.S. Geological Survey Earthquake Hazards Program

Back to top