Subscribe

Archives

Classifieds

Advertise

Customer Service

Geotimes Search
---
---
---
GEOLOGIC COLUMN
---
Catching Humpty Dumpty
Fred Schwab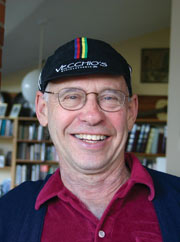 Claudia Schwab
Few of us brag about how well we floss our teeth each day, or, for the older set, how much we enjoyed our latest doctor's appointment. We don't encourage neighbors to come see our new roof or furnace, nor do we fondly recall the time we had the lawn dug up to replace corroding water and sewage lines. These tasks represent preventative maintenance of our "personal infrastructure." We put them off as long as possible, begrudgingly digging into our wallets often only after catastrophe strikes, and then only investing the minimum sum necessary.
Our nation is every bit as irresponsible when it comes to maintaining its infrastructure. America helped reconstruct Europe after World War II. Now we rebuild Afghanistan and Iraq, as our own national infrastructure continues to deteriorate. Like Humpty Dumpty, our infrastructure sits precariously on the wall. Can we come to the rescue before "a great fall"?
National infrastructure is the underlying system of public works. It consists of basic resources, namely personnel, buildings and facilities on which the quality of day-to-day life and commerce depends. In 2005, the American Society of Civil Engineers (ASCE) evaluated 15 categories of infrastructure — including bridges, roads and other transit systems, dams and levees, inland waterways, drinking water and wastewater systems, parks and recreation areas, and the national electric power grid — and assigned an overall grade of D to their condition and capacity. More than 3,300 unsafe dams, half of the 257 locks on the more than 20,000 kilometers of inland waterways, one-quarter of almost 600,000 bridges and up to 350,000 chemically contaminated waste sites have major deficiencies.
Considerable sums must be spent to correct these rapidly deteriorating facilities. ASCE estimates that we will need to invest $1.6 trillion over a five-year period to bring our nation's infrastructure up from barely passing to good condition. Incidentally, this would create as many as 5 million jobs.
Consider the estimated annual cost (over 20 years) of bringing just four components up to snuff in the United States: $9.4 billion to eliminate all bridge deficiencies (2008 budget provides about half that amount), about $8 billion to upgrade America's drinking water treatment plants (2008 budget provided $0.7 billion), $12 billion to $13 billion to maintain and upgrade the national rail system; and $10 billion (in just the next five years), twice what we normally budget, to ensure the reliability of the national power grid. These four components alone would total $40 billion yearly, or about $3 billion per month.
The money is there, but our money is spent on other things. We spend $12 billion a month (about $5,000 per second!) on the Iraq War and another $4 billion monthly in Afghanistan. Penny-wise and pound-foolish? Despite our reluctance individually and as a nation to invest in timely upgrades, the truth is it's cheaper to do preventative maintenance rather than wait until systems completely break down. In August 2003, a three-day blackout that cut power to 50 million Americans in the Midwest and Northeast cost the economy $6 billion. The Electric Power Research Institute blames the unreliability of our nation's power grid for annual economic losses of $100 billion, 20 times as much as what we presently budget for upkeep!
Stephen Flynn, a senior fellow with the National Security Studies Program at the Council on Foreign Relations, makes a compelling case for restoring our neglected and crumbling infrastructure in his 2007 book, The Edge of Disaster. Flynn suggests that our nation is vulnerable to both terrorism and natural catastrophes, but argues that natural catastrophes are more likely and have more dire consequences. He argues that the United States must immediately make the considerable financial investment necessary to produce a more resilient infrastructure. "The gravest source of danger for Americans derives not from acts of God or acts of terror," Flynn writes. "It is largely our own negligence that has placed us on the edge of disaster."
The geological community can help improve national infrastructure, first and foremost, by helping convince the public that the best defense is a good offense. To promote greater public awareness of our flawed infrastructure requires each of us to brush up on its present nature and condition. Government responds when led by an educated public that insists on action and consents to a means of systematic funding. We could also help convince the private sector to become more involved by making it aware of the substantial profits possible by doing so. We need to get our infrastructure "off the wall" before it "takes a great fall."
---