Subscribe

Archives

Classifieds

Advertise

Customer Service

Geotimes Search
---
---
---
NEWS NOTES
---
Redrawing Australia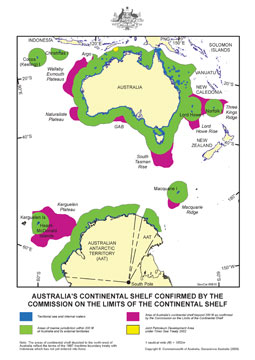 Copyright Commonwealth of Australia, Geoscience Australia (2008)
In April, the United Nations granted Australia territorial control over an additional 2.5 million square kilometers of seabed. The map shows the areas Australia already controlled (in green) and the newly added areas (in purple).
In April, the United Nations ruled that Australia's continental shelf extends beyond the limits set by international law. The country now controls an additional 2.5 million square kilometers of seabed — an area almost five times larger than France.
Under the 1982 U.N. Convention of the Law of the Sea, a country retains rights over its continental shelf out to 370 kilometers beyond its coastline. But countries that can demonstrate that their continental shelves reach farther can extend their borders by petitioning the United Nations. Over the past year, the Law of the Sea — which 155 countries have ratified (the United States is not one of them) — has made headlines due to territorial disputes among Arctic countries hoping to gain more access to potential oil and gas buried beneath the Arctic Ocean and control over the Northwest Passage. But the recent ruling makes Australia the first country to successfully broaden the boundaries of its continental shelf.
"This is a major boost to Australia's offshore resource potential and also to our ability to preserve the marine environment on the seabed," Australia's Minister for Resources and Energy Martin Ferguson said in a press statement. Several areas are suspected to hold oil and gas resources, such as the Wallaby Plateau off Western Australia, says Mark Alcock, project leader of the Law of the Sea and Maritime Boundaries Advice Project at Geoscience Australia.
To define the limits of its continental shelf, Australia conducted 17 marine surveys over eight years, Alcock says. Seafloor topo­graphy helps a country make its case, but Australia relied mainly on seismic data, he says, which allowed geologists to image cross-sections of the crust to more precisely determine the edge of the continental shelf, delineated by where Australia's continental crust ends and oceanic crust begins.
In November 2004, Australia submitted the results of its surveys in a 20,000-page report that included 100 charts. After three years of biannual meetings, the U.N. Commission on the Limits of the Continental Shelf issued its decision. It was a proud day for the geologists who worked on the project. "Very few people get the opportunity to redraw the border of their country," Alcock says, "especially scientists."