Subscribe

Archives

Classifieds

Advertise

Customer Service

Geotimes Search
---
---
---
NEWS NOTES
---
Midwest deluge: Another 500-Year Flood?
---
Water, Water Everywhere: An excerpt from Meyer's blog about his flood experience
---
At Wisconsin's Lake Delton — one of the state's most popular tourist attractions and home of the Tommy Bartlett Water Ski Thrill Show — the rising waters burst through the shoreline, carving a path to the Wisconsin River and turning the once-deep lake into a giant mud hole.
Strong storms pummeled the Midwest in May and June, dumping more than 30 centimeters of rain on some areas. The deluge caused widespread flooding across the nation's breadbasket. Swollen streams and rivers breached more than 23 levees, inundating businesses, homes and cropland.
The last time the region faced such widespread flooding was in 1993, when many of the same cities and towns experienced what scientists term a "500-year" flood — a flood that has a one in 500 chance of happening in a given year.
Such probabilities are based on records of historical water levels, which go back decades or even a century. Using these records, scientists calculate the odds that the waters will reach a given level, in a given year, at a given location. For one town, the 500-year flood mark might be five meters above the normal water level; for another, it might be 15.
Because new data are constantly added to the records, scientists frequently revise their calculations. Two large floods in the span of 15 years will likely drive the 500-year flood mark up, says Robert Holmes, the U.S. Geological Survey's National Flood Specialist. "A year from now, when we redo the statistics on flood probabilities, this will not necessarily be a 500-year flood event."
Many places saw more water this year than they have ever recorded before. In general, flooding was worse in the north than in the south. "It's all location dependent," Holmes says. "In some places, it's already been worse than 1993." The Cedar River in Cedar Rapids, Iowa, crested at nearly 10 meters — 3.7 meters higher than the previous record.
Whether or not the flooding surpasses the 500-year level, the results are still devastating. At press time, floodwaters had displaced an estimated 38,000 people and killed 24, causing more than $3 billion in expected damages. And economists expect the crop damage to drive already high food prices even higher. Although the water has begun to recede in the hardest hit areas, many Midwesterners face months of reconstruction and cleanup before they can move back into their homes.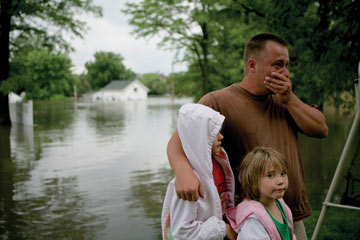 Talia Frenkel/American Red Cross
In Cedar Rapids, Iowa, an estimated 24,000 people were forced to evacuate when the Cedar River overtopped its banks and flooded approximately 400 city blocks. Joe Northrup comforts daughters Jordan and Cody, near their flooded home.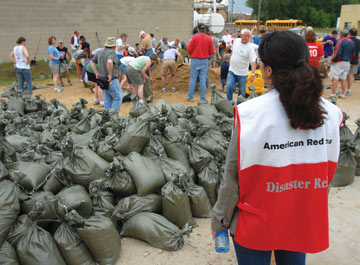 Marty Robey/American Red Cross
In Cedar Falls, Iowa, an estimated 3,000 volunteers banded together to fill the sandbags that prevented the downtown from flooding.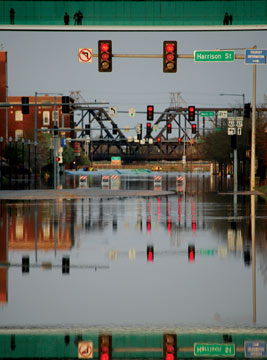 Photo courtesy of Josh Wiley
City officials in Davenport, Iowa — on the banks of the Mississippi — estimate that repairing damaged public infrastructure will cost nearly $3 million. The city plans to devote another $1.5 million to flood protection and cleanup.
Water, Water Everywhere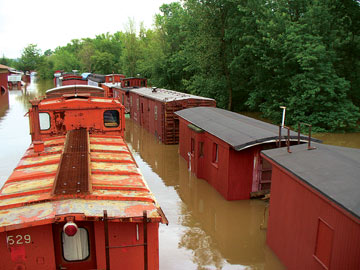 Jim Connor
Water from the Baraboo River left trains at the Mid-Continent Railway Museum in the 600-person town of North Freedom, Wis., halfway submerged. Museum manager Don Meyer says the flooding won't stop them from celebrating the museum's 50th anniversary next year.
In June, floodwaters inundated much of the Midwest. Don Meyer, manager of the Mid-Continent Railway Museum in North Freedom, Wis., chronicled the flood's impact on the museum in his blog. Meyer's story is unique, but his situation is not: All over the Midwest, people are surveying damage, meeting with insurance adjusters and cleaning up what the rivers left behind. This is an excerpt from Meyer's blog. Visit www.midcontinent.org to read more about the cleanup efforts.
Tuesday, June 10, 2008

This past weekend's series of storms created a flood problem for our area of major proportions. Our beautiful setting along the east bank of the Baraboo River has betrayed us. No longer content to define the eastern boundary of our rail yard, the river has reached out to cover virtually every square foot of land occupied by buildings, track and rolling stock.

My sleep was not troubled by concerns over what the future holds for our museum. I was too exhausted to care. My day began with a futile attempt to protect the depot with sandbags and ended with an extended drive just to get back to the Village of North Freedom, a mere quarter mile but an hour's drive away thanks to several road closures.

But now the daylight hours bring me back to working through the process of taking the next steps in getting back to business, only there will be no "as usual" appended to that phrase. For now, we are closed to normal operations. And when we do reopen, it will no doubt be to a new definition of normal.

---

Friday, June 13, 2008

Like any good chief executive would, I made a tour of the flood damage at the museum. Since I am not the president of the United States, I was not able to do this by air. Mine was a walking tour, as befitting my lowly status as a museum manager.

Inside each building, the scene is both eerie and depressing. The high water mark is easily discernable. Everything above it is clean. Everything below is covered with a muddy film, meaning every surface on the property will have to be cleaned, a process made all the more difficult since we are dealing primarily with wood versus metal.

Long after my arrival home the rain kept falling, and not gently. I have not troubled myself to look at a weather forecast this morning. I do not need the potential discouragement of knowing another shower, however slight, is on the way.

---

Monday, June 16, 2008

It is Monday morning at Mid-Continent and the scene is surprisingly peaceful. The ground is dry in many places, a little damp in others. A walking tour is no longer a hazard, just discouraging. Stuff, and by that I mean everything the water could move, is now scattered around the property.

We are still cautioning people, even those who are intent on helping with the cleanup, to stay away just now. Our water supply is likely contaminated and our sanitary facilities are extremely limited.

Today starts the first of our guided tours. Our exclusive guests these next two days will be insurance adjusters. Like most homeowners, I am feeling a bit apprehensive about what they are going to tell me. All the years I have been associated with Mid-Continent our main concern has been the possibility of destruction by fire. We minimized in our thinking the possible threat of flooding in order to keep our premiums low. Now we know better.

---

Wednesday, June 18, 2008

Yesterday I toured the property with one of our insurance adjusters. He was both amazed and dismayed at the current appearance of our operation. His amazement was at the size of our collection and the extent of what has been accomplished in creating this setting of a vintage short-line railroad. His dismay was at the extent of the recovery work ahead of us.

This tension between two distinct impressions lead to the inevitable question: Do you intend to keep this place running?

Such questions really reflect a lack of understanding as to the character of this organization. Mid-Continent is more than just a collection of objects. It is a family whose generations have sacrificed a lot to establish what you see when you tour the grounds, visit the Web or read our publications. Closing, even bankruptcy followed by a reorganization program, is not an option. We are simply the current caretakers with a heritage that prevents us from giving up as the result of a moment's adversity.

Next year we will celebrate Mid-Continent's 50th anniversary as a historical society. We may not be able to do it to the fullest extent we had dreamed of just a few days ago. But we will be here and there will be train rides given over the same route we have been running on since the members arrived here in 1963.

---
Back to top
Links:
www.flickr.com/chrisbenson
Mid-Continent Railway Museum