---
Geomedia
---
Geotimes.org offers each month's book reviews, list of new books, book ordering information and new maps.

Check out this month's On the Web links, your connection to earth science friendly Web sites. The popular Geomedia feature now available by topic.

Book Reviews:
On the Shelf for the Holidays
Books for the western traveler

Maps:
New maps from the U.S. Geological Survey

---
On the Shelf for the Holidays
If you can't quite figure out what to get the geologist on your holiday gift list, try one of our book picks below. Or if you're the geologist, and have long been looking for a gift to draw a non-geologist into the world you know so well, these books might just be the perfect solution.
The Seashell on the Mountaintop: A Story of Science, Sainthood, and the Humble Genius Who Discovered a New History of the Earth, by Alan Cutler.
Dutton (Penguin Group), 2003. ISBN 0 525 94708 6. Hardcover: $23.95.

Nicolai Steno started out in medicine in Denmark in the 1650s, mid-Enlightenment. He ended up becoming, as Alan Cutler writes in his biography, geology's very own saint (the scientist was beautified 1988), an anatomist of the Earth who may have discovered more had he not entered the priesthood. Cutler argues Steno changed the world of geology by creating a new history of Earth at a time when science and religion were intricately entwined and biblical sources established the age of the world. The biography is solidly in the tradition of Dava Sobel's Longitude and Simon Winchester's Map that Changed the World, and Cutler's prose constructs a readable web of history and entertaining ideas about science and religion.
Children of the Stars, by Daniel R. Altschuler.
Cambridge University Press, 2002. ISBN 0 521 81212 7. Hardcover, $28.00.

Daniel Altschuler weaves an engaging story of us, the "children of the stars," born out of celestial events 15 billion years ago. The book presents not only the evolution of Earth and life, but also the evolution of scientific thought over the centuries — the beautiful and sometimes painful marriage of physics, chemistry, paleontology and biology that has crafted our understanding of the universe and earth science. Altschuler's heart clearly lies in the world of astronomy, but he gives fair time and simple explanation to all Earth-shaping processes. The book is complete with beautiful images of distant galaxies, pulsars and other cosmic wonders, entertaining cartoons, and useful diagrams to explain key scientific concepts. The book could do without some cutesy lines used to break up more technical sections, but on the whole, it does not disappoint: Open it and you will not be able to close it.
A Celebration of the World's Barrier Islands, by Orrin H. Pilkey with Original Batiks by Mary Edna Fraser. Columbia University Press, 2003. ISBN 0 231 11970 4. Hardcover, $44.95.

Featuring batiks by an artist who shares a passion for barrier islands with the geologist who wrote the text, this hefty book provides a vivid profile of many of the world's dynamic coastlines. Orrin Pilkey begins with the role natural hazards play and moves on to discuss the many threats humans pose to barrier islands worldwide — from the Gulf of Mexico to Iceland, Russia, Vietnam and Venice. This scientifically sound survey of barrier islands is an asset for geologists and students alike — and also provides a layperson an interesting read. Spectacular aerial photographs, digital maps and descriptive illustrations make this a stunning coffee table book.
Water Wars: Drought, Flood, Folly, and the Politics of Thirst, by Diane Raines Ward.
Riverhead Books (Berkley Publishing Group, a division of Penguin Group), 2002.
ISBN 1 57322 995 4. First paperback edition, $14.00. Hardcover, $24.95.

Violent wars have been and will be fought over water, but the water wars that Diane Raines Ward takes her reader around the world to visit are quieter, though no less grand in conflict. These battles to ensure a source of water for drinking, agriculture, and other human needs rage across the planet — from India, with its droughts and water-borne disease (where Ward works with her husband on conservation issues), to Holland and its floodgates, to Wyoming and its desiccated farms. The wars Ward describes, impending or already passed, encompass politics and engineering. Though her bias may be environmental, Ward treats her subject both personally and as an objective reporter, with a decade of research stocking her pen.
Earth Science in the City: A Reader, edited by Grant Heiken, Robert Fakundiny, John Sutter.
American Geophysical Union, 2003. ISBN 0 087590 299 5. Hardcover, $57.00.

Although the image of geology is tied to remote field areas and rugged mountains, the greatest challenges that our science can help address lie where people live. With the tremendous growth of urban populations, resource needs and environmental impacts are soaring as is the vulnerability of urban dwellers to natural hazards. This book, which sprang from a session convened by the editors at an AGU meeting in 2000, includes chapters focusing on a variety of natural hazards confronting urban centers, the contributions made by engineering geology, hydrology and remote sensing, and the challenge of integrating geoscience information into urban planning. Several chapters provide case studies from cities in the United States and abroad.
Coal: A Human History, by Barbara Freese.
Perseus Publishing, 2003. ISBN 0 7382 0400 5. Hardcover, $25.00.

As attorney general of Minnesota, Barbara Freese encountered energy and pollution debates more than once — drawing her into the world of coal. She became fascinated with the rock's history, especially the human aspect. She traverses time and continents to provide an illuminating insight into the world of coal usage, production, environmental impacts and social controversy. The author takes readers on a ride from the initial formation of coal 300 million years ago to its more recent history with humans — Bronze Age use in China, inspiration of the British Industrial Revolution, importance in the U.S. Civil War, and its present-day use and attending controversy worldwide.
Killer Dust, by Sarah Andrews.
St. Martin's Minotaur, 2003. ISBN 0 312 30196 0. Hardcover, $24.95.

Geologist Sarah Andrews' latest venture into the world of fiction is the newest in a series of eight detective stories following forensic geologist Em Hansen, who this time takes on a deadly cloud of dust that threatens national security. Plausible? Perhaps — she begins the novel with a disclaimer: While the scientific investigations are based on factual efforts, the characters and storyline are her own inventions, not based on her geologist sources. If the fascinating field of forensic geology isn't enough for you, maybe the side story of the relationship between the heroine and her FBI-agent boyfriend who is also investigating the sinister dust will keep you absorbed.
Back to top
---
Books for western travelers
These four books cover a large chunk of the landscape of the western United States at scales ranging from city to state to region. They should interest geologists living in the West, those planning a trip out West or those looking for an armchair journey.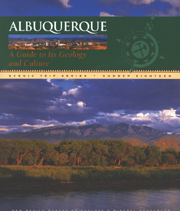 Albuquerque: A Guide to Its Geology and Culture, by Paul Bauer, Richard P. Lozinsky, Carol J. Condie, L. Greer Price
New Mexico Bureau of Geology and Mineral Resources, 2003. ISBN 1 883905 14 1. Paperback, $14.95.
Anyone planning a trip to central New Mexico should consider the latest scenic guide put out by New Mexico's state geological survey. The 18th in a series that began 50 years ago, this newest installment has the look and feel of a trade-press guidebook, full of beautiful photographs and colorful diagrams. In addition to road logs for six car trips (and one by tram to the crest of the Sandia Mountains), this highly accessible book includes chapters introducing geology to the layperson and reviewing the area's geologic history as well as chapters on water resource use in the Albuquerque basin and human settlement of the region.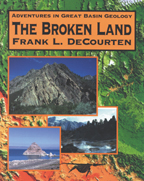 The Broken Land: Adventures in Great Basin Geology, by Frank L. DeCourten.
University of Utah Press, 2003. ISBN 0 87480 751 4. Paperback, $29.95.
The romance of field geology and wide open spaces suffuses DeCourten's examination of this desert landscape that covers nearly all of Nevada, a sizeable hunk of Utah and parts of several neighboring states. Although written for the layperson, the level of detailed discussion of the geology and paleontology of the region may challenge the attention span of the casual reader, but make the book a strong candidate for use as supplementary material in the geology classroom. Black and white photographs and illustrations are well-chosen and informative.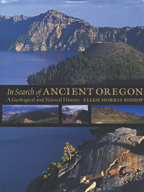 In Search of Ancient Oregon: A Geological and Natural History, by Ellen Morris Bishop.
Timber Press, 2003. ISBN 0 88192 590 X. Hardback, $39.95.

Unlike the other books in this section, In Search of Ancient Oregon relies almost exclusively on photographs to help tell the story. And what photographs they are! The text provides a narrative of the state's Phanerozoic history with a particular emphasis on paleoclimate and paleolandscapes. The stunning images (taken by the author using a large-format camera) achieve Bishop's goal of bringing "long-vanished landscapes to life." From the coast to the Cascade volcanoes and the Columbia River gorge to the eastern desert, you will never see Oregon the same way again.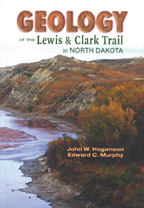 Geology of the Lewis & Clark Trail in North Dakota, by John W. Hoganson and Edward C. Murphy.
Mountain Press Publishing Company, 2003.
ISBN 0 87842 476 8. Paperback, $18.00.
In this bicentennial year of Lewis and Clark's historic expedition, numerous books, maps and television specials have covered their journey. But this book provides a new perspective: a look at the geological wonders that the explorers witnessed along the way. Armed with a wealth of modern geologic knowledge, a geologist and a paleontologist set out down Lewis and Clark's trail. The authors detail the geologic context behind the sights the explorers noted (such as burning coal veins and petrified trees), and provide some subsequent finds (dinosaur fossils and glacial channels) in the Missouri River valley. They also provide an excellent regional guide, should you find yourself traveling through the northern plains. Equal parts history book, geology text and travelogue, this well-written book is chock full of photographs and maps, engaging to any reader.
Back to top
---
Maps
New Maps from the U.S. Geological Survey

MF-2327-C. NEVADA. Geochemistry, geochronology, mineralogy, and geology suggest sources of and controls on mineral systems in the southern Toquima Range, Nye County, Nevada, by D.R. Shawe and J.D. Hoffman, with a section on Lead associations, mineralogy and paragenesis, and isotopes, by D.R. Shawe, B.R. Doe, E.E. Foord, H.J. Stein, and R.A. Ayuso. 2003. Four color sheets and one black and white sheet with 65-page text.

Sheet 1 (Maps showing the distribution and abundance of gold, silver, mercury, arsenic, and antimony), color, scale 1:48,000, 88 X 54 inches. Sheet 2 (Maps showing the distribution and abundance of zinc, copper, lead, molybdenum, and bismuth), color, scale 1:48,000, 88 X 54 inches. Sheet 3 (Maps showing the distribution and abundance of titanium, vanadium, and cobalt), color, scale 1:48,000, 66 X 54 inches. Sheet 4 (Maps showing the distribution and abundance of beryllium, boron, fluorine and sulfur), color, scale 1:48,000, 66 X 54 inches. Sheet 5 (Maps showing the locations of rock samples), black and white, scale 1:24,000, 66 X 54 inches.

Available for $20.00 per sheet from USGS Information Services or free at pubs.usgs.gov/mf/2003/mf-2327-c/.


MF-2381-A. NEVADA and CALIFORNIA. Geologic map of the Death Valley ground-water model area, Nevada and California, by J.B. Workman, C.M. Menges, W.R. Page, E.M. Taylor, E.B. Ekren, P.D. Rowley, G.L. Dixon, R.A. Thompson, and L.A. Wright. 2002. Scale 1:250,000. Two color sheets with 46-page text. Sheet 1, 46 X 63 inches. Sheet 2, 26 X 36 inches. Available for $20.00 per sheet from USGS Information Services or free at pubs.usgs.gov/mf/2002/mf-2381/.

MF-2412. ARKANSAS. Geologic map of the Ponca quadrangle, Newton, Boone, and Carroll Counties, Arkansas, by M.R. Hudson and K.E. Murray. Scale 1:24,000. One color sheet, 50 X 39 inches. Available for $20.00 from USGS Information Services or free at pubs.usgs.gov/mf/2003/mf-2412/.

I-2765. IDAHO. Geologic map of the Salmon National Forest and vicinity, east-central Idaho, by K.V. Evans and G.N. Green. 2003. Scale 1:100,000. Two color sheets with 19-page text. Sheet 1, 41 X 58 inches. Sheet 2, 34.5 X 58 inches. Available for $14.00 from USGS Information Services or free at pubs.usgs.gov/imap/2003/i-2765/.

I-2789. EASTERN and CENTRAL U.S. Map of surficial deposits and materials in the eastern and central United States (east of 102 degrees west longitude), by D.S. Fullerton, C.A. Bush, and J.N. Pennell. 2003. Scale 1:2,500,000. One color sheet 51 X 47 inches with 46-page text. Available for $7.00 from USGS Information Services.

To order USGS maps: contact USGS Information Services, P.O. Box 25286, Denver, Colo. 80225. Phone: 888-ASK-USGS (888/275-8747).

---
Randall Orndorff compiles the Maps section and is the Associate Program Coordinator for the USGS National Cooperative Geologic Mapping Program. Email: rorndorf@usgs.gov.
Back to top
---