---
Profiles: News about people from AGI and its 41 member societies
---
Archive of past Society Page/Profiles stories by date
---
Climbing the Hill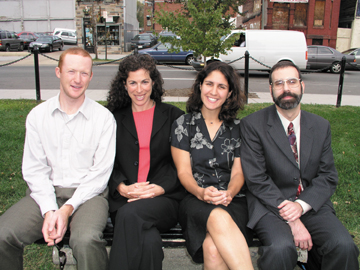 Each year, a handful of geoscientists comes to Washington, D.C., joining a class of 30 scientists and engineers who take part in year-long congressional fellowships, sponsored by a variety of membership organizations and overseen by the American Association for the Advancement of Science (AAAS). The geoscience fellows serve in a congressional office for a senator, representative or committee. This year, five earth scientists have ascended Capitol Hill.

From left to right, the four new geoscientists on Capitol Hill: Kevin Vranes, Eloise Kendy, Michèle Koppes and Lee Hirsch.
Worldly perspective
The congressional fellows have already noted how few scientists work on the Hill. Anecdotally, they have found that their colleagues in the issues they lean toward tend to be environmental lawyers, but the fellows are not at a disadvantage. "Having a background in research gives you the ability to think through the issues," says Michèle Koppes, this year's Geological Society of America/U.S. Geological Survey (USGS) congressional fellow.

Koppes works in the office of Rep. Jay Inslee (D-Wash.). Although she currently hails from Seattle, where she is a doctoral candidate in glaciology at the University of Washington, Koppes is a Dutch citizen who has lived in Greece, Canada, Japan, and Scotland, to name a few of her homes. She has studied glaciers in Alaska, Central Asia and the Antarctic, and taught glaciology and wilderness skills to high school girls in summer courses in the Cascade Range in Washington.

Koppes first came to the United States to study at Williams College in Williamstown, Mass., to pursue a liberal arts degree instead of being tracked through the Dutch university system. She tracked herself to geology. Her interest in policy, she says, is centered on "the societal impact of what we do as earth scientists." Her work in Inslee's office will range from climate change issues and wilderness area designations to forest issues and initiatives.

Koppes has completed all but her dissertation, based on her research in the Antarctic, where she drilled to the base of ice streams to study subglacial hydraulics and the marine geology of Antarctic fjords. She plans to return to the University of Washington once she has completed her fellowship.
Making the switch
Kevin Vranes hopes to continue his involvement in policy work for the rest of his career, wherever he may be, starting with his term as the American Geophysical Union congressional fellow.

Vranes grew up in California, almost on top of the San Andreas Fault, as it cuts up the peninsula south of San Francisco. He studied geology at the University of California at Davis as an undergraduate. "I had really good classes where, of course, the science was brought up, but so were the implications, especially concerning water issues," he says.

Davis is in close proximity to Sacramento, California's capitol, and Vranes says his advisor, Jeff Mount, was heavily involved in water issues. Mount emphasized the intersections of science and society, he says. "Ever since then, I couldn't think about science without thinking about societal impacts."

After working as a UNIX systems administrator in Portland, Ore., Vranes served as a GIS specialist for a Columbia River basin mapping project, documenting the whole basin for fish studies. When he returned to school to get his Ph.D., Vranes chose Lamont-Doherty Earth Observatory at Columbia University, in Palisades, N.Y., where he studied air-sea interactions during El Niño and monsoon seasons in Indonesia. That specialization, which he calls "oceanography in climate," gave him a highly detailed perspective of the science behind climate change, as well as the credibility he wanted in order to work on science policy.

This year, Vranes will work for Sen. Ron Wyden (D-Ore.), covering energy, the environment, and other issues, potentially including the Internet and the Clean Water Act — though not oceanography, which is fine, Vranes says. "I'm ready to focus on something different."
Geophysics and human health
Lee Hirsch, this year's congressional fellow from the American Institute of Physics, was also looking for something different. Hirsch, who works in the office of Jim McDermott (D-Wash.), is a geophysicist. He also is a mineral and rock physicist, former petroleum researcher and, more recently, a Peace Corps volunteer.

Hirsch's interest in geology started with a high school earth science elective, taught by a former oil geologist. After getting his bachelor's in geology (working on rock mechanics) at the University of Illinois at Urbana-Champaign, Hirsch studied the upper mantle for his doctoral work in tectonophysics at the University of California at Berkeley. He went on to research mantle mineral transport properties as a post-doc at Los Alamos National Laboratory. Hirsch then spent a decade at Exxon (which became Exxon Mobil Corp. during his tenure there), "working on something totally different every two years," he says, including flow in porous rocks, hydrothermal testing, percolation theory and geostatistics.

But Hirsch wanted to do something more in the public realm. So he joined the Peace Corps and went to Tanzania, where he taught advanced high school physics for two years. When he returned, he spent a semester at Northeastern Illinois University in Chicago, teaching introductory earth sciences, until he received the congressional fellowship.

His Peace Corps experience, Hirsch says, was his introduction to government and made him want to continue in public service. While in Africa, Hirsch became interested in issues surrounding HIV and AIDS. He hopes to pursue some of those issues in his work with McDermott, who is one of the few doctors in Congress (a psychiatrist) and is active regarding such issues in the United States and abroad.
Soil interfaces, policy interfaces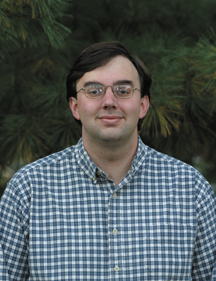 Michael Schmidt notes that there are even fewer scientists in Congress. Schmidt himself recognizes that the process of decision-making with regard to scientific issues may be more political than technical. "I was always interested in the interface between policy and science," Schmidt says. "This is an ideal position — seeing in real life how policy is made and how science works or doesn't work into the process." The question he hopes to answer while working as a congressional fellow, he says, is "how best to use my talents to protect the environment — is it to do research and let other people use that research, or in the policy realm?"

Michael Schmidt is the American Society of Agronomy, the Crop Science Society of America, and the Soil Science Society of America fellow, and he will start working for Sen. Charles Schumer (D-N.Y.) in January. Photo courtesy of Michael Schmidt.

Schmidt grew up just outside Washington, D.C., in suburban Virginia, where he participated in a 4-H club. As a high school senior, Schmidt took on a soils remediation project on a mine reclamation site in southwestern Virginia, applying sewage as a soil treatment. He finished the project for his undergraduate thesis at the Virginia Polytechnic Institute and State University (Virginia Tech) in Blacksburg.

Schmidt then pursued his master's, also at Virginia Tech, comparing natural wetlands to human-made wetlands created for mitigation under federal law, working with the Virginia Department of Transportation. After receiving a Fulbright scholarship, Schmidt left Virginia for the University College London, for his second master's. He compared sewage sludge remediation policies in the United Kingdom and the United States, as well as public perceptions of them, and how the media and policy-makers present the issues involved.

Now, recently returned to Virginia, Schmidt will serve as the congressional fellow to Sen. Charles Schumer (D-N.Y.), starting in January. He is co-sponsored by the American Society of Agronomy, the Crop Science Society of America, and the Soil Science Society of America.
Politics at last
Eloise Kendy, the American Geological Institute congressional fellow, had decided in high school that she wanted to be in politics. Advised that a degree other than in political science would be useful, Kendy instead discovered the geological sciences as an undergraduate at the University of California at Santa Barbara. "The camaraderie and diverse field trips" to sites in Southern California, from folded coastal strata to inland deserts to fault traces, she says, "energized me to continue on to grad school at Wisconsin, where I focused on hydrogeology."

After two years of hydrological consulting in Montana, Kendy traveled for two years in Asia (hitchhiking through China, among other places), Australia and the United States. When she returned to Montana as a hydrologist for the USGS, she was politically active, serving on a local water board while making sure she avoided conflicts of interest with her work. In 1999, she returned to graduate school to get her Ph.D., with the intent of becoming a congressional fellow. At Cornell University, in Ithaca, N.Y., she addressed policy and groundwater issues in China, working to link the two to achieve sustainable water-use practices in the North China Plain.

Kendy works for Sen. Harry Reid (D-Nev.). She has discovered that working on the Hill might differ from her expectations of politics. After three weeks of orientation under the tutelage of the AAAS, Kendy says, "we relearned everything we thought we knew about government."

Naomi Lubick
---