---
For Students
---
Dangerous Field Encounters
Callan Bentley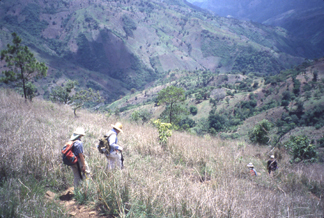 The fieldwork aspect of geology offers the potential for countless disasters. Only by relentlessly applying clear thinking and common sense can geologists avoid the pitfalls inherent to their profession. Sometimes, all the preparation in the world won't help: Sometimes it's just a matter of luck.

Virginia Sisson, Russell Seitz and two local guides walk down a trail to find jade in Guatemala, where drought and hardship have made outsiders unwelcome guests. Photo courtesy of George Harlow.

When Andy Masterson broke his ankle this past summer in Minas Gerais, Brazil, he was lucky that he was not alone. Masterson, an undergraduate geology major at the University of Maryland, was acting as field assistant to doctoral student Barry Reno, who was working on the metamorphic petrology of central Brazil. When the two men were descending a steep forested hillside in search of a schist outcrop, Masterson suddenly dropped out of sight into a gorge below. He landed on his ankle, which shattered on impact.

Dense vegetation and loud rapids made it impossible for Reno to determine how far down Masterson was or how best to get him out. Because there was no easy way down, the two students spent the entire day trying to find each other, with Reno hiking both up-canyon and down, and Masterson painfully crawling up the other side of the gorge.

When Reno finally found Masterson and got him to their vehicle, the car got stuck on an outcrop of the very rock they were studying. "It just got progressively worse and worse and worse," Reno says. It was midnight before Reno was able to deliver his field assistant to a doctor and several days before Masterson's leg was set.

Virginia 'Jinny' Sisson had a similar episode in graduate school. Sisson is a professor at Rice University who works on jade deposits through a research associate program at the American Museum of Natural History. In 1980, in her first summer working on her doctorate at Princeton, she was crossing a snowfield as part of her fieldwork in British Columbia. Suddenly, the snow crumbled under her crampons. "I tumbled several hundred feet down the snowfield and talus slope," she says.

When Sisson's supervisor Glenn Woodsworth at the Geological Survey of Canada and another field assistant, Tom Heath, came to her rescue a few minutes later, Sisson was impressed with their competence and first-aid know-how. "I realized that I didn't know anything compared to these two," Sisson says.

When Sisson returned to Princeton that autumn, she found that several other graduate students had similarly scary experiences over the summer. Collectively, they decided that a handbook was needed: a comprehensive guide to field safety. Sisson and fellow graduate student Karen Kleinspehn (now an associate professor at the University of Minnesota) polled professional geologists and compiled their responses into a book. The American Geological Institute (which publishes Geotimes) hired Gerald O'Reilly to polish up the results and published it as Planning for Field Safety in 1992.

Despite the sound advice in the book and its rapid dissemination to a generation of field camp attendees, accidents still happen. Chips of rock fly into eyes when hammers are used improperly, backs are strained carrying packs full of heavy samples, exposed skin gets frostbitten, and scalding pots of dinner are spilled off wobbly camp stoves onto unprotected skin. Rattlesnakes continue to bite, the sun continues to burn, and myriad diseases lurk in tropical jungles. Volcanologists have a particularly risky specialty: Eruptions at Galeras, Mount Unzen and Mount St. Helens have all claimed the lives of scientists studying them.

Even routine travel can lead to peril. A van accident in May 2003 killed undergraduate student Raquel Vieira de Savariego and professor Robert Goldhammer of the University of Texas at Austin, as they drove toward their first stop of summer fieldcamp (see Geotimes, July 2003). It is important, says Lee Krystinik, founder of the geological consulting company Krystinik Litho-Logic, to remember these folks who lost their lives and "did not make it home with stories to tell."

The world has become increasingly dangerous, Sisson says, with a new global culture and technological developments allowing geologists to penetrate into areas where they might not be welcome. For example, petroleum geologists are at risk if they work in politically hostile areas. Some places, such as Iraq, are considered so dangerous that many companies are refraining from sending anyone into harm's way.

Today, "your interactions with people are potentially much more dangerous than any natural hazards," Sisson says. This hit home for her when she was doing research in Guatemala. At the end of a sweaty day of fieldwork, Sisson's crew stopped in a village for a cold drink. As Sisson wearily moved to open the door, her translator stopped her. He pointed out that all the villagers were carrying machetes. "I was pretty naive," Sisson says, "but then I looked around and noticed that several people also had guns stuck in their waists."

Local residents, who were under strain from drought and resulting poor crops, did not welcome outsiders, including other Guatemalans. To them, some outsiders were coming in and "taking away their resource — jade — without fair compensation," Sisson says. So despite the fact that her team was paying for the jade it collected, they elected to move on: As refreshing as a soda would be, it wasn't worth confronting an armed and agitated populace.

Sometimes not being able to interact with people in their native language can also endanger geologists overseas. Clifton Farrell, a senior program manager at the Nuclear Energy Institute in Washington, D.C., was a graduate student at Harvard in the late 1970s when he was awarded a scholarship to study the Kuroko mining district in northern Japan. In spite of taking an intensive Japanese language course prior to his departure, key phrases were still missing from his vocabulary.

One day, Farrell was underground in the Hanakoka mine near the city of Ohdate. "The mine was not in active production," Farrell says, and therefore he expected little danger. "I heard a miner pass by quickly, speaking some words that I did not understand. I did not pay attention to this man," he recalls, "but shortly after he passed, a blast occurred in a different section of the mine, and a large section of the roof came tumbling down right beside me. The rock obliterated my field notebook, but I was not injured, except for having the living daylights scared out of me."

Afterward, Farrell scrutinized mine roofs before he entered. He also learned some new words: "I expanded my vocabulary with more mining-related words, [and] some rather spicy, ungentlemanly terms of shock."

Scientists have also had to learn lessons in the wilderness, through some terrifying encounters with large predatory animals. Kerry Sieh, now a professor at Caltech, and Dennis Bird, now a professor at Stanford, were undergraduates at field camp when they were attacked by a mountain lion in 1971. The two were walking along a ledge of limestone in the Roberts Mountains of Nevada. "I heard a whimpering sound and looked up. There was this big tawny animal crouched on the ledge" above Bird, Sieh recalls.

The mountain lion pounced on Bird, knocking him onto a pile of talus. Although seriously injured from the fall and the cat's claws, Bird had the good sense to play dead. Sieh jumped off the cliff and began throwing limestone cobbles at the big cat. Several of his missiles missed their mark. As Bird recalls, "He missed my head by a few inches and nearly took me out!"

"I never was much of a baseball player," Sieh says, but he finally hit the lion between the eyes. It bounded away.

Sieh then turned to Bird, who was bleeding profusely. "Literally, he was soaked in red, head to torso," Sieh says. Worried that the big cat might circle around and attack them again, the two hiked out 5 miles. Sieh got their supervising professors and a car. Together, they drove Bird 120 miles to the nearest hospital, in Ely.

Cynthia Dusel-Bacon, a research geologist with the USGS Mineral Resources Program in Menlo Park, Calif., had an even more traumatic animal attack. Dropped off by a helicopter in east central Alaska to map by herself in 1977, Dusel-Bacon was unarmed, following the strongly held view of her supervisor. A black bear popped up out of the brush 10 feet away. "The bear was startled and in predatory mode," Dusel-Bacon says. Although she spoke in a firm voice and waved her arms, the bear ran around behind her and knocked her down.

"It immediately tried to put my head in its mouth," she says. She tried to radio for help, but the radio was inaccessible in a buckled pocket of her pack. The bear ripped open her right side and dragged her by her right shoulder. "My only recourse was to play dead," Dusel-Bacon says. "The whole time, either my head or my body was grasped by the teeth of the bear." When it took a break, she used her uninjured left arm to retrieve the radio and call for help. "At that point, the bear saw I wasn't dead, and came over, and mauled my other arm."

A rescue crew arrived by helicopter, buzzed the bear and evacuated her to a hospital. Both of her arms were amputated. In spite of this tragic encounter, she is still a geologist today. "What happened to me was a very natural thing in the animal world," Dusel-Bacon says. "I don't hold it against Alaska, and I don't hold it against the bears. It certainly hasn't dampened my interest in geology."

Dusel-Bacon still returns to Alaska for summer fieldwork. She brings her geologist husband, Charlie Bacon, who functions as a gun bearer and sample collector. "The moral of all these stories is 'don't work alone,'" she reflects. "And yet some people still do."
---
Bentley is a Geotimes contributing writer and a graduate student in geology at the University of Maryland.

Link:
"University of Texas mourns loss," Geotimes, July 2003



---