Subscribe

Archives

Classifieds

Advertise

Customer Service

Geotimes Search
---
---
---
Travels in Geology December 2006, posted December 18, 2006
---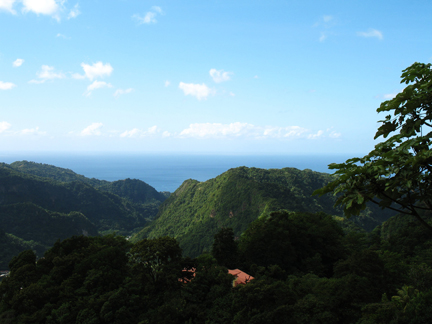 Dominica: The Caribbean "Nature Island"
Melissa Barton

Approaching Dominica by sea, it's easy to see how Victorian writers could imagine remnant populations of dinosaurs surviving in the tropics, as described in novels like Sir Arthur Conan Doyle's The Lost World. The island looks primeval and pristine, craggy and dense with rainforest — its rugged interior is almost uninhabited, leading to the nickname "Nature Island." Located between Martinique and Guadalupe in the Lesser Antilles, Dominica is one of the youngest islands in the volcanic Caribees and it is still being formed by volcanic activity, making it an ideal destination for the geologically minded traveler.

Nicknamed "Nature Island," Dominica is nestled between Guadalupe and Martinique in the eastern Caribbean. It is a hot eco-tourism spot, boasting abundant wildlife and a rugged, untamed countryside. All photos by Melissa Barton.

Dominica's two airports are small, so visitors from the mainland United States must catch connecting flights from other islands, including Martinique and Barbados, or from San Juan, Puerto Rico. Melville Hall Airport is about an hour and a half from the capital city of Roseau, and Canefield Airport is about fifteen minutes from Roseau. Travelers visiting multiple islands may want to take a ferry from Martinique or Guadalupe. After arrival, you can rent a car, but be aware that you will have to drive on the left side of the road and that you will need a Dominican driver's license ($12). To get a license, you need to be over the age of 25 and have at least two years' driving experience. Taxis are an affordable alternative, and tour companies offer a variety of options to suit every interest.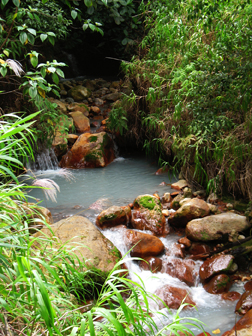 Once on the island, make your way to your choice of lodging — Dominica has accommodations to please both luxury and budget-conscious travelers, from inexpensive guesthouses and hotels to secluded rental cottages, but you won't find large resorts to interfere with the tranquil scenery. Relax for a bit and take in the flower-scented air and the sounds of birdsong, and then prepare to head into the rainforest that covers two-thirds of the volcanic island.
A good place to start is the must-see Trafalgar Falls, about a 20-minute drive from Roseau. At the falls, visitors can see a thick volcanic deposit called the "Roseau ash," created during the most recent large-scale explosive eruption of a Dominican volcano. About 28,000 years ago, the Morne Trois Pitons-Micotrin volcanic center erupted violently, producing a thick ignimbrite deposit of ash and pumice fragments that blanketed the island and extended out over the seafloor.
Dominica is known for its geothermal springs, many of which visitors can dive and swim in. The springs arise from the volcanoes forming the island.

At Trafalgar Falls, the Roseau ash deposit is welded — boulders below the falls exhibit rounded lithic fragments and flattened pumice. Take a few minutes to swim in the cool waters of the lower falls, or soak in the hot springs of the higher falls. Trafalgar Falls is a popular tourist destination that can be visited in an afternoon, as well as a good area for sighting wildlife such as lizards and native birds.
After Trafalgar Falls, rent some snorkel gear and go for a dive at Champagne Hot Springs, an underwater hydrothermal area and coral reef about five kilometers south of Roseau. Warm, bubbling water and sand discolored by dissolved minerals mark the location of the springs. The reef itself is small but healthy, and is inhabited by trumpet fish, seahorses, squid, sand sharks and other marine life. Champagne Hot Springs is a safe, easy dive or snorkel appropriate for beginners. No guide or certification is necessary, as the reef is shallow and close to the shore.
Hiking through the Valley of Desolation to reach Boiling Lake is a must-do activity on Dominica, but it's not for the faint of heart. Be sure to wear old clothes and sturdy boots, and hire a guide. The 26-kilometer hike passes through the jungle and traverses fumaroles, hot springs and steep, muddy terrain.
For more adventurous travelers, the 26-kilometer roundtrip hike to Boiling Lake through the Valley of Desolation is a must. Boiling Lake is the second-largest volcanic lake in the world, located in an active geothermal area filled with acid hot springs and fumaroles. This is a steep, difficult, muddy hike, and travelers should allow at least three hours each way. Sturdy hiking boots, old clothes, plenty of water and a guide who knows the way are vital. Hire a guide in Roseau before you head out.
The hike begins at Ti Tou Gorge, the last place to fill up your water bottles. The first part of the hike climbs for almost an hour, crossing several high ridges as the trail winds through a rainforest loud with birdsong. There are no switchbacks; much of the trail is slippery and steep enough to require stairs.

You'll then climb another 760 meters in elevation, only to leave the rainforest and begin the descent into the Valley of Desolation. Vegetation is sparse here due to the hot, acidic environment — lush, vivid green moss is the most common plant. Steaming geothermally heated streams wind down the valley past sulfur- and iron-oxide-encrusted rocks. The waters are often blue-gray from kaolinite and other dissolved minerals, and some of the pools are rimmed with green, probably a type of extremophilic red algae such as Galdiera or Cyanidium. In some areas there are deposits of black pyrite, and clouds of warm, sulfurous steam from the hissing fumaroles blow over the trail, alternating with cool breezes.
Boiling Lake itself is nestled among small hills away from the fumarole field. The waters, which range from dark blue to turquoise, are often partially obscured by steam, but the violent bubbling of the lake is easy to see and hear. The lake occasionally undergoes periods of reduced water levels and geothermal activity — the water temperature can be quite cold at these times — most recently in December of 2004. Researchers at the University of the West Indies Seismic Research Unit are studying the causes of these periods of drainage.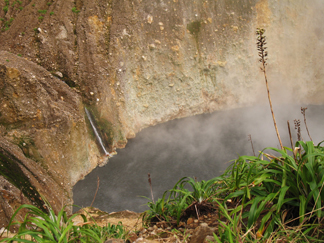 It's a good idea to plan a quiet day relaxing on the beach or other low-key activities after the grueling hike to Boiling Lake. Dominica is known for its many beautiful lakes and waterfalls, as well as the abundant birdlife. The island is also one of the best places in the Caribbean for spotting whales, particularly sperm whales, which calve in the coastal waters year-round. You could also spend the day touring Roseau and checking out the spicy, Creole-influenced local cuisine.
Boiling Lake is located at the bottom of the Valley of Desolation. The bubbling lake is in the crater of a volcano.

After recovering, avid hikers can tackle one of Dominica's nine volcanoes, many of which offer hiking trails. Morne Diablotin, in the west, is the highest, but Morne Aux Diables, Morne Anglais and Morne Trois Pitons are also popular. A guide is required for some of these hikes. Guides are easy to find in any city and often near trailheads, but visitors who like the details planned ahead of time may prefer to hire the services of an established guide company.
Other popular activities on the island include horseback riding, ATV adventure riding, biking and of course, snorkeling and diving off the coasts. Aerial tram rides through the rainforest canopy offer birdwatching opportunities. Any number of tour companies can set you up with the tram ride, as well as guided hikes and other eco-tours.
Packing and preparing for a trip to Dominica can take a little forethought, due to the island's rugged nature. But if you bring appropriate hiking gear and research your routes in advance, rest assured that your trip to the Nature Island will run smoothly and be an adventure to write home about.
---
Barton is a Colorado-based science and travel writer, who has previously written for Transitions Abroad and the Colorado College Alumni Bulletin. She has a degree in geology from Colorado College.
LINKS:
Dominica Travel Guides — for places to stay and things to do on the island:
Visit Dominica
A Virtual Dominica
Dominica Guide
Ken's Hinterland Adventure Tours

University of the West Indies Seismic Research Unit
Smithsonian Institute Global Volcanism Program