---
Highlights 2006
---
Top energy news stories of 2006

---
Offshore drilling debate unresolved
BP's woes continue
Tensions in Latin America energy sector
For a complete list of energy headlines from 2006, see the December 2006 print issue.

---
Offshore drilling debate unresolved

Lawmakers are still at a standoff when it comes to oil and natural gas exploration and production in areas off the coasts of the United States. Although both houses of Congress passed bills last summer to allow drilling offshore, they were not able to reach agreement on specifics before breaking for a pre-election recess.

In June, with some bipartisan support, the House passed an extensive bill that would relax a decades-old moratorium on drilling in parts of the Gulf of Mexico and off most of the East and West coasts, as well as in Alaska. The bill would allow drilling in all areas of the outer continental shelf more than 160 kilometers (100 miles) off any coast. In a later plan, House drilling advocates suggested a compromise that would allow states to "opt out" of the drilling.

Meanwhile, in August, the Senate passed its own bipartisan offshore plan. That plan would allow exploration and production in 8.3 million acres in the Gulf, including part of the Lease 181 area.

Since then, the two sides have been working toward a compromise, to no avail. They are unlikely to reach any such agreement during the lame-duck session following elections either, according to congressional aides in a Sept. 29 E&E Daily story — meaning that legislation on opening parts of the outer continental shelf is likely dead in the water.

In addition to disagreeing over how much U.S. coastline should be leased for oil and gas production, lawmakers have also been battling over revenue sharing from offshore petroleum production. Furthermore, they have been renegotiating the royalties that the federal government collects from energy companies producing in federal waters, in light of noted lapses or irregularities in companies' payments for offshore leases for oil and gas extraction (see Geotimes, April 2006).

Megan Sever

Links:
"Royalties flushed," Geotimes, April 2006
---
BP's woes continue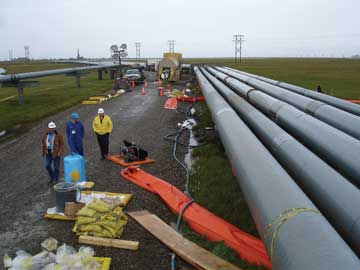 BP came under fire this year for everything from allegations of price manipulation of crude oil and propane to allegations of severe negligence. Perhaps the events that garnered the most attention this year were an oil spill in March that poured 270,000 gallons (5,000 barrels) of oil onto the tundra on Alaska's North Slope, and the shutdown of transit pipelines in August that temporarily disrupted Alaskan oil production (see Geotimes online, Web Extra, Aug. 7, 2006). While some of these issues have been addressed, others remain problematic for the embattled company.
Following a large oil spill in March and a small leak noticed in transit pipelines in August, both due to pipeline corrosion, BP shut down its production in the Prudhoe Bay field on Alaska's North Slope. Production has since been ramped back up. Photograph is courtesy of BP.
The oil spill in March was the worst spill ever on the North Slope, and BP found that it was the result of corrosion in the transit pipelines that carry oil from the Prudhoe Bay oil field — the largest in the United States — to the Trans-Alaska Pipeline. Following the spill, BP ran a series of diagnostic tests on other pipelines in their system, and found that parts of some of the pipelines in the eastern part of the field had lost 70 percent of their mass due to corrosion. The company immediately shut down production in all of its pipelines in Prudhoe Bay — halving the amount of oil coming off the North Slope — to prevent further leaks, testified Steve Marshall, president of BP Exploration Alaska, in front of a House Energy and Commerce subcommittee hearing on Sept. 7.
Further tests revealed that the BP pipelines in the western part of the Prudhoe Bay field were generally fine, so BP quickly ramped back up half of its production. It took longer for the eastern side of the field where the worst corrosion was found, but by last month, BP had finally restored its oil production in the Prudhoe Bay field to pre-August levels, as the corroded pipes were fixed or bypassed.
Meanwhile, BP is running corrosion tests throughout its pipelines, including "pigging," which identifies where corrosion is beginning, and ultrasonic testing, which gives a much more in-depth look at the extent of corrosion, says a BP spokesperson. The company has also agreed to replace about 16 miles of oil transit lines this winter, and to spend $195 million on maintenance in 2007.
Congress called BP executives to testify before several committees this fall to examine the causes of the spills and the shutdown, especially given that some employees are saying that they had warned executives of excessive corrosion due to inadequate maintenance several years ago. At the same time, Alaska's state government has been considering measures to make BP pay back the lost revenue for the state due to the shutdown. And BP shareholders have filed suit against the company's executives over the shutdown.
"BP's operating failures are unacceptable," testified Bob Malone, U.S. operations chief for BP in front of the House subcommittee hearing. "They have fallen short of what the American people expect of BP and they have fallen short of what we expect of ourselves."
Company executives have pledged to make things right in the coming year. "In the future, we will have a better system to protect our pipelines and we have already gained important new operating knowledge," Marshall told the House subcommittee.
Megan Sever

Links:
"BP halts North Slope oil pipeline," Geotimes online, Web Extra, Aug. 7, 2006
---
Tensions in Latin America energy sector

The Latin America energy sector is changing, causing some tension with the United States. U.S. companies had to rethink their investment strategies, especially as Venezuela and Bolivia began nationalizing their vast oil and natural gas reserves this year (see Geotimes, March 2006).

With continued anti-American rhetoric, some energy analysts have been wondering if the United States can continue to rely on Venezuela to supply oil. The latest rhetoric includes veiled threats from Venezuelan leaders such as Energy Minister Rafael Ramirez to stop sending oil to the United States if the U.S. government continues the so-called hostile policies toward Venezuela.

Venezuela, with the most oil in the Western Hemisphere, is the fourth-largest supplier of crude oil to the United States, according to the U.S. Energy Information Administration (EIA). But the Venezuelan ambassador to the United States has said that the country would only cut off supplies to the United States if the U.S. government were to take an aggressive stance against Venezuela's government and president, Hugo Chavez, as reported in the Financial Times on July 31. But despite the tensions, Venezuela continues to provide an important source of oil, says Matthew Cline, an energy analyst with EIA.

In the meantime, Chavez (through Venezuela-owned Citgo) is sending 100 million gallons of discount heating oil to poor U.S. residents in 17 states. Unlike last year, however, when most recipients of the cheaper wintertime oil gladly accepted the help, some communities, such as four villages in Alaska, are now rejecting Chavez's handout because of his inflammatory comments, as reported in the Sept. 29 Anchorage Daily News.

Additionally, this fall, Citgo and 7-Eleven went their separate ways, ending a 20-year partnership. Some analysts suggested it was because of the ill relations between the United States and Venezuela, though both companies said it was a business decision (see Geotimes, November 2006).

Besides the war of words, the other big story in Venezuela this year was the transition of oil production contracts that has been occurring, Cline says, following a 2001 rule change that gave the Venezuelan government more control and a higher stake in the profits from oil produced in the country. Despite the less-favorable contracts, most foreign companies have been signing new contracts, he says. "It would be really tough to say" whether or not these changes will have much effect on oil production in the country, he adds; so far, the changes have not affected production in any measurable way.

Changes in Bolivia, however, have affected natural gas production in that country. Bolivia's reserves of natural gas are second only to Venezuela in South America, according to EIA. Last spring, Bolivia's new president, Evo Morales, seized the nation's oil and gas reserves owned by international companies, forcing those companies to sign new production contracts.

Morales' nationalization began dramatically, Cline says, but has since operated in "fits and starts," slowly turning over new contracts. "It has been interesting to watch how this change has been affecting Bolivia and its relations with its neighbors," he says, citing the tension between Bolivia and Brazil, which receives a good portion of its gas from Bolivia.

While many such contracts have not been settled yet and some production has slowed as a result, Cline says, the fallout in foreign investment that some analysts expected has not really occurred. "Anything can happen, though," he adds.

Megan Sever

Links:
"Turmoil in Latin America," Geotimes, March 2006
"7-Eleven and Citgo part ways," Geotimes, November 2006 Print Exclusive