Subscribe

Archives

Classifieds

Advertise

Customer Service

Geotimes Search
---
---
---
What's in the print version of Geotimes this month ...
---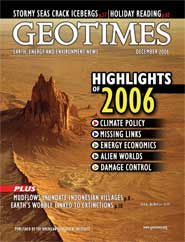 Click the image above to view a high-resolution version of the cover.
December 2006
vol. 51, no. 12

FEATURES

18 CLIMATE: CLIMATE POLICY
Wading Into Heated Politics: Q&A with Gerald North
The recent chair of a National Academy of Sciences committee to study climate change discusses the continuing controversy surrounding some key climate studies, including recent congressional hearings on the topic.
Plus! A new public face for climate change, debate over storms, thawing ice and other climate stories
26 PALEONTOLOGY: MISSING LINKS
Finding a Fishy Connection: Q&A with Jenny Clack
This year's discovery of a 375-million-year-old transitional fish fossil is changing how scientists think about the evolutionary transition from water to land.
Plus! Filling in hominid gaps, probing into fossils, dinosaur finds and more paleontology stories
32 ENERGY: ENERGY ECONOMICS
Global Supply and Demand: Q&A with John Felmy
The chief economist for the American Petroleum Institute discusses the oil market's ups and downs this year and how global events continue to shape prices.
Plus! Offshore drilling still unresolved, BP's woes, tensions in Latin America and more energy stories
40 SPACE: ALIEN WORLDS
Finding Earth Analogues in Space: Q&A with David Stevenson
A small moon orbiting Saturn that has unique Earth-like qualities, is the big planetary science story this year, according to one researcher.
Plus! Titan's earthly features, new space technologies, Mars roundup and other space stories
46 NATURAL HAZARDS: DAMAGE CONTROL
Watching for the Waves: Q&A with David Green
Efforts have ramped up this year to enable global tsunami warnings, and new technologies are helping, according to one tsunami program manager.
Plus! Looking into landslides, levee concerns, spreading wildfire and more hazards stories
---
NEWS & VIEWS


---

7 COMMENT
Don't Prioritize: Mainstream Hazard Reduction Into Economic Development Aid
Geoscientists have a role to play in helping policy-makers and international aid organizations realize that funding natural hazards risk reduction programs is worthwhile.
Arthur Lerner-Lam


8 NEWS NOTES
Mudflows inundate Indonesian villages * Gold mine deposited rapidly * Dates help paint picture of early migration * Wobbling Earth linked to mammal extinctions * Debate continues over dinosaur demise * Lab experiment reveals earthquake ruptures * Cave discovery dazzles national park * New explanation offered for Delphi trances * Methane budget to become off-balance

17 POLITICAL SCENE
A Look Back at the 109th Congress: Like Oil and Water
Partisanship and a focus on emergency spending were largely to blame for Congress' stalling on legislation to manage the long-term interests of U.S. resources.
Linda Rowan

56 GEOPHENOMENA
African dust hampers storms
Stormy seas crack icebergs

60 ENERGY & RESOURCES
Mineral resource of the month: Bismuth
OPEC cuts oil output

61 BENCHMARKS
December 14, 1911: Amundsen makes it to the South Pole

62 GEOMEDIA
Books: Holiday reading picks
On the Web: Earth science and geologic time visualized

66 PROFILES
Congressional science fellows: Broadening horizons

84 GEOLOGIC COLUMN
Why Fester? Let's Sequester!
Learn how a coal enthusiast became a carbon sequestration booster.
Fred Schwab

DEPARTMENTS

---

4 From the Editor
6 Letters: Perspectives from readers
54 Where on Earth?
68 GeoMarketplace
70 Classifieds: Career opportunities


Want to attend a geoscience meeting? Visit the online Calendar.



Click here to subscribe.