Subscribe

Archives

Classifieds

Advertise

Customer Service

Geotimes Search
---
---
---
NEWS NOTES
---
Technology
Itís a Small World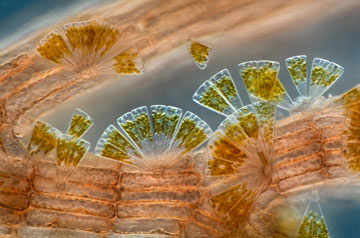 Charles Krebs, Charles Krebs Photography,
Photo courtesy of Nikon Instruments Inc.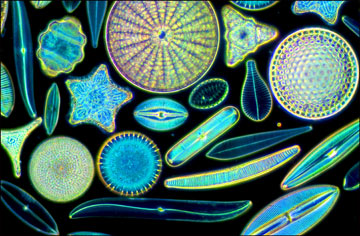 Dr. Robert Berdan, Science & Art Multimedia,
Photo courtesy of Nikon Instruments Inc
Using a "dark field" technique to distinguish even the most elusive objects, this image highlights the diversity of diatom shapes in all their star-, orange slice- and seed pod-shaped beauty (magnified 400 times).
In October, Nikon Instruments announced the winners of its 2007 Small World Photomicrography Competition, a chance for amateur and professional photographers to capture artful, colorful and complex snapshots of tiny life through the lens of a light microscope. Any type of light microscopy technique goes, from polarized light to fluorescence to dark field techniques. The entries are judged by a panel of experts on the basis of originality, technical proficiency and visual impact. Some of the winners and most striking images, including the two shown here, drew inspiration from the earth sciences.