---
Web Extra Tuesday, February 24, 2004, last updated February 25 at 12:00 p.m. EST

---
Earthquake rocks Morocco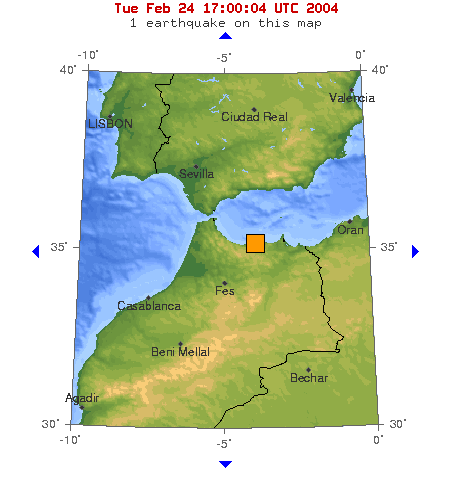 At 2:27 a.m. local time on Feb. 24, a magnitude-6.5 earthquake struck the northern coast of Morocco. CNN reports that close to 600 people have died and hundreds more have been injured or left homeless. And the numbers of those dead and injured continue to rise, as rescuers reach the remote, mountainous villages on the north coast and search for survivors.
The populated area closest to the epicenter is the Mediterranean port city Al Hoceima — in which most buildings are built to withstand earthquakes — so the damage is slight, according to Reuters. However, villages around Al Hoceima, where most buildings are constructed of primitive mud-brick, are badly damaged, with some reports suggesting whole towns were demolished. Many people likely are still buried under the rubble of their collapsed homes, and rescuers worry that time to find survivors may be running out.
Today, a magnitude-6.5 earthquake rocked northern Moroccans as they slept. Courtesy of USGS.
Roughly 300,000 to 400,000 people live in the region, most of whom live in the mountainous villages outside of Al Hoceima. Rescuers have had trouble getting to these affected areas, which on a good day can take several hours to reach by car. Officials say the casualties are mostly in these rural areas and are mostly women and children as most of the area's men work overseas, according to Al Hoceima's mayor in a CNN report.
On Feb. 25, Morocco's King Mohamed VI visited the region after mobilizing a rescue effort including soldiers, police, firefighters and helicopters. Furthermore, the United States, Spain, France, Italy, Portugal, Belgium and Algeria have all offered financial aid or workers to Morocco, and an international Red Cross team has arrived in the region.

The shallow earthquake occurred roughly a mile deep in the Strait of Gibraltar along the boundary of the African and Eurasian plates — the most seismically active region of Morocco. The U.S. Geological Survey says that a preliminary determination of the earthquake's origin reveals that this quake likely occurred as a slip along one of the many northeast-southwest trending faults in the Strait. The tremor was felt as far away as southern Spain.
The last major earthquake to hit North Africa was a magnitude-6.8 quake that struck neighboring Algeria on May 21, 2003, killing more than 2,200 people (Geotimes, May 23, 2003).

Megan Sever
Links:
U.S. Geological Survey Earthquake Hazards
Reuters quake story
AFP quake story
CNN quake story

---