---
Profiles: News about people from AGI and its 44 member societies
---
Archive of past Society Page/Profiles stories by date
---
Margaret Kivelson: Magnetically Minded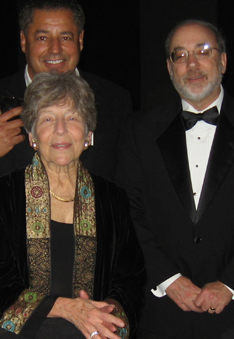 When a scientist assesses her own professional contributions to science, it's "not always the things that other people would choose that you like the best yourself," Margaret Kivelson says with a soft laugh. One of the things the geophysicist prefers to cite is her work in the 1980s on resonations in Earth's magnetic fields. But Kivelson's colleagues take a more universal view: They cite her contributions to space science with regard to the magnetic fields of Jupiter and its moons, in addition to Earth's, and her efforts to encourage women in science.

Margaret Kivelson, a geophysicist at the University of California, Los Angeles, was flanked by colleagues Dan Winterhalter (left) and Howard Singer, after receiving the Fleming medal at the American Geophysical Union annual meeting in December. Image by Pamela Davis-Kivelson; courtesy of Fran Bagenal.

They also value "her charm, wit, integrity and brilliance," said Howard Singer, now at the National Oceanic and Atmospheric Administration's Space Environment Center, who is both a co-worker and Kivelson's first graduate student, at the December meeting of the American Geophysical Union in San Francisco. This year, Kivelson received the society's John Adam Fleming medal in recognition of her research in geomagnetism and space physics.

Kivelson majored in pure physics "at a time when physics was regarded as the direction to go in the future," she says, because of exciting jumps in technology and discoveries in quantum electrodynamics. "There was no question that this was where I wanted to be." She recalls that even though she loved math most in high school, she studied physics in college while also pursuing all the coursework she might need to go to medical school, just in case the profession caught her fancy. But science won, and she finished her undergraduate degree in 1950 at Radcliffe-Harvard.

Kivelson says she was the only woman in her physics department, and treated "almost like a mascot." And though astronomy may have been more open to women as a field, physics was her love, just as it was her mother's, she says. Kivelson's mother had started an undergraduate physics degree and had to leave school to help her family, returning to college only after Kivelson herself went to college. Kivelson says that her family supported her throughout her own education, as did her husband, Daniel Kivelson, a physical chemist.

Her husband, she says, would make her sit down and work on her thesis after she came home from her day job. "I had a wonderful husband who was very committed to making sure I got a chance to do what I wanted to do," Kivelson says.

Kivelson wrapped up her theoretical physics Ph.D. work in 1957 with Nobel-prize-winner Julian Schwinger at Harvard, after her family moved to California, where her husband began his lifelong position as a professor at the University of California in Los Angeles (UCLA). Her son, now a physicist at Stanford University, was 3 months old and she was 5 months pregnant with her daughter when she defended her thesis, while working part-time at the newly established RAND Corporation in Santa Monica, Calif.

When she started working at RAND in 1956, the company was an "exciting place to be," Kivelson recalls, filled with "a lot of young people with lots of great ideas." In addition to solving the problems the company had been hired to address, she was able to work on plasma physics research.

Yet as her research group within the company gradually limited its focus to weapons research, Kivelson began looking for the opportunity to reinvent herself. While her husband spent a sabbatical year at MIT, she spent a year at Harvard, from 1965 to 1966, through the Radcliffe Institute. She returned to Los Angeles with her husband and immediately approached UCLA, which, with the money floating around from NASA-related projects at the time, was "looking for somebody to come do some space physics." So, she says, "I turned myself into a space physicist," starting the space physics program with a batch of graduate students also new to the field.

Among her various research projects, Kivelson became involved with the UCLA group that was building particle instruments, which, she says, led to her position as principal investigator for the magnetometer instrument aboard the Galileo mission to study Jupiter and its moons. Among other findings, Kivelson and her co-workers confirmed that the Jovian moon Ganymede had a magnetosphere — a planet-enveloping magnetic field driven by an internal dynamo. Kivelson continues her work as a part of the magnetometer team for the Cassini mission to study Saturn and its moons.

Kivelson says that her philosophy as a teacher comes from an excellent and challenging math teacher in high school: "He had a wonderful phrase that I often think of: 'Education is that which remains after the facts are forgotten,'" she says. "When I teach, I want people to understand why, not just what — to understand, not just to remember the facts, but to be able to go more deeply, to understand why the processes that they are describing occur."

"She's very generous in terms of sharing data, sharing the credit and giving credit to other people, and encouraging people and thinking about the benefits to the field," says Fran Bagenal of the University of Colorado in Boulder, who in addition to working on similar science problems, has also tackled the status of women in science, particularly in physics, with Kivelson. Bagenal says that Kivelson combines "very rigorous expectations with a friendly face that is very inspiring and really brings out the best in people."
Naomi Lubick


---