Subscribe

Archives

Classifieds

Advertise

Customer Service

Geotimes Search
---
---
---
News Notes
---
Science and Society
USGS says no hush orders given
---
Gore speaks at AGU
---
The U.S. Geological Survey (USGS) is not muzzling scientists, agency officials say. Countering reports of an allegation made in December by a USGS biologist that a new peer review process may border on "censorship," agency officials are asserting that the new policies have been standard practice at several divisions within USGS for decades and are not a mask for censorship by the Bush administration.
The December news reports centered around statements by Jim Estes, a wildlife biologist at USGS' Santa Cruz field station, who told the Associated Press on Dec. 13, 2006, that recent changes to USGS' peer review process gave him the feeling that "they're doing this to keep us under their thumbs," and that "our findings could be embarrassing to the administration."
Estes' statements mark the latest in a series of allegations that the Bush administration is restricting the publication of information from scientists at various U.S. agencies, including NASA and NOAA. Also in December, the U.S. Environmental Protection Agency announced plans to close several of its libraries, a move that opponents say could restrict public access to critical environmental information.
The policies in question at USGS, however, pre-date the Bush administration and have actually spanned many administrations, says Patrick Leahy, USGS' chief geologist. On July 24, 2006, he says, the agency instituted new revisions to its Fundamental Science Practices, which include the peer review process. The revised policy states that peer reviews must include at least two "qualified scientists with no stake in the outcome of the review," after which the information must be approved by a Bureau Official prior to official release.
That official is not a political appointee, but a USGS staffer, says Robert Hirsch, head of the water resources division at USGS and chair of the USGS committee that drafted the policies. USGS includes multiple disciplines, from geology to water resources to biology, and for many years, each division's research had been subject to a different peer review and approval process. The goal of the new policy was to establish a common policy for all the disciplines — and because a peer review process similar to the new policy has already been in place for decades in the geological and water divisions, the changes are largest in the biological division, he says.
Hirsch also notes that USGS scientists are not supposed to make policy recommendations in their reports, in line with the agency's mission to "just provide the facts." Still, he says, "a wide variety of things that might be considered politically controversial have been published under these policies," including reports on global warming and links between pesticide use and endocrine disruption.
Sue Haseltine, a senior biologist at USGS and head of the division that includes Estes, has also disparaged the allegation, releasing a statement in December that called the news reports "off base and misinformed" about the peer review changes at the agency.
Such allegations can deeply hurt the reputation of the agency and thereby undermine its mission to provide solid, unbiased science available to multiple parties "for contentious issues," Leahy says. "It's a reputation piece," he says. "Once your reputation is damaged, it's very hard to restore. So this is something that every single one of our scientists takes to heart."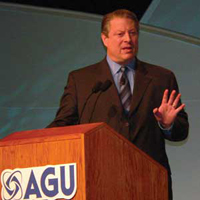 Photograph is by Jonathan Lifland, AGU.
Al Gore addressed more than 7,000 attendees at the American Geophysical Union's annual meeting in San Francisco on Dec. 14, 2006. His speech, a call to arms for the assembled scientists in which he urged them to become more active in communicating their results to the public, also touched on recent concerns that the Bush administration may have suppressed controversial research by some scientists at NASA, NOAA and, most recently, USGS.

Back to top
Carolyn Gramling