Subscribe

Archives

Classifieds

Advertise

Customer Service

Geotimes Search
---
---
---
What's in the print version of Geotimes this month ...
---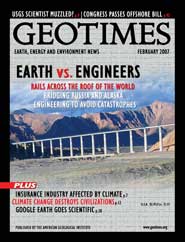 Click the image above to view a high-resolution version of the cover.
February 2007
vol. 52, no. 2

FEATURES

18 Prevention Is the Best Medicine: Doing Site Evaluations to Prevent Geological Hazard Catastrophes
Preventing loss from the failure of structures and resisting the impact of geological processes is of paramount importance to public safety. To help prevent such losses, engineering geologists and geological engineers investigate sites for geological hazards prior to development.
Scott Burns
24 Rolling Across the Roof of the World
In July 2006, the railroad linking China and Tibet opened for business, in what is likely to be one of the greatest geotechnical engineering achievements of the 21st century.
James C. Cobb, Lanmin Wang, Edward W. Woolery, Zhenming Wang, Zhijian Wu
30 Building bridges with icy challenges
Building a bridge across the Bering Strait might seem fanciful, but the technology to create it is sound — and the bridge has some practical applications, such as transporting natural resources from Russia to North America.
Kathryn Hansen
---
NEWS & VIEWS


---

7 COMMENT
Science, Catastrophe Risk Models and Insurance
Geoscientific research is quite important in the insurance industry's catastrophe risk models, and is growing ever more important as the climate changes.
Richard J. Murnane


8 NEWS NOTES
Water responsible for martian landscape? * USGS says no hush orders given * Surprise! Stardust lands actual stardust * Creating a formula for the Northern Lights * Cassini sees lakes on Titan * Escape from snowball Earth * Climate to blame in cultural collapses * Past El Niños portend future climates * Did you know? "Plutoed" is word of the year * Shifting winds shift warming trends?

36 GEOPHENOMENA
Heavy Hawaii spawns twin earthquakes

38 TRENDS & INNOVATIONS
Google Planet: With Virtual Globes, Earth Scientists See a New World
Scientists and nonscientists alike are increasingly utilizing the user-friendly Google Earth to connect and share data with each other and to watch the planet in motion.
Carolyn Gramling

42 ENERGY & RESOURCES
Offshore drilling approved
Mineral resource of the month: Vanadium
Did you know? Human fat may be used as biofuel

46 GEOMEDIA
Books: Mining for Information: Q&A with Tom Henry about Following the Boulder Train
Books: Mark Twain's "Lost Cement Mine" no longer lost?
On the Web: Earth from space in real time

50 PROFILES
Susan Cannon: Watching for flowing mud

51 BENCHMARKS
February 1, 1953: The Great Dutch Flood

60 GEOLOGIC COLUMN
Does Geology Kill You?
What you don't know about geology could kill you — spread the word before the diseases spread.
Fred Schwab

DEPARTMENTS

---

4 From the Editor
6 Letters: Perspectives from readers
34 Where on Earth?
52 GeoMarketplace
53 Classifieds: Career opportunities


Want to attend a geoscience meeting? Visit the online Calendar.



Click here to subscribe.