Subscribe

Archives

Classifieds

Advertise

Customer Service

Geotimes Search
---
---
---
Energy & Resources
---
Offshore drilling approved
Mineral resource of the month: Vanadium
Did you know? Human fat may be used as biofuel Print Exclusive

---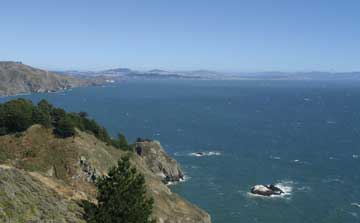 Although House members wanted to open up further coastal areas, such as off the coast of California, as pictured here, the final offshore drilling bill that Congress passed in December limited oil and gas exploration to the Gulf of Mexico only. Photograph is by Mark Stephenson.
President Bush wrapped up 2006 by signing a bill on Dec. 20 that addressed a hodgepodge of "pro-growth" issues, including a much-debated expansion of offshore drilling. The bill's other energy-related provisions include the launching of oil and gas revenue sharing with four Gulf Coast states and extended tax-relief measures for renewable energy projects, according to a White House news release.
The bill, called the Tax Relief and Health Care Act of 2006, calls for 8.3 million acres of the Outer Continental Shelf in the eastern Gulf of Mexico to be opened to drilling for oil and gas — a prospect that had been contentiously debated in the 109th Congress, and until mid-December looked to have no chance of passage. The House had passed a far-more expansive plan in June 2006 that would have allowed leasing in other coastal areas beyond 160 kilometers from shore, while also expanding exploration in the gulf. The Senate passed its own offshore plan in August that stuck to exploration only in the gulf. In the end, sensing that passing any bill in the 110th Congress might be even more difficult, according to observers, the lame-duck Congress passed the bill that the president signed, which closely resembles the original Senate bill.
Opening the 8.3 million acres in the gulf will allow access to an estimated 1 billion barrels of oil and 6 trillion cubic feet of natural gas, according to the White House. The acreage is part of the Lease Sale 181 area.
The Lease Sale 181 area's history dates back 1999, when the Minerals Management Service (MMS) first announced that an environmental impact statement would be prepared for the lease of almost 6 million acres. That area was scaled back to 1.5 million acres, however, after talks with concerned residents and officials of affected states, said MMS director Johnnie Burton in a Feb. 16, 2006, statement before the Senate. That acreage holds an estimated 185 million barrels of oil and 1.25 trillion cubic feet of natural gas.
Provisions were included in the 2006 bill, however, to appease affected states. For example, drilling and leasing activity is prohibited within 200 kilometers (125 miles) of the Florida coastline — an important resource for the state's tourism industry. In addition, Gulf Coast states Louisiana, Alabama, Mississippi and Texas will see financial benefit, as 37.5 percent of royalties from the leases will be directed toward those states.
The revenue shared with Louisiana will help the state with projects to restore wetlands and protect against hurricanes, said Mary L. Landrieu (D-La.) in a Dec. 8 news release. "After almost 60 years, Louisiana will finally receive a fair share of the oil and gas revenues produced off our shores," she said. "This dedicated revenue stream is necessary to restore our coastal wetlands, build levees and construct an effective flood control system — all of which will fend off hurricanes rising in the Gulf."
Of the remaining revenue, 50 percent will go to the U.S. treasury, while the final 12.5 percent is allocated for the Land and Water Conservation Fund, which was designated in 1965 to receive annual portions of offshore lease payments and put them toward the protection of national parks, forests and wildlife areas.
The royalty sharing allocations follow closely an early version of the bill put forth by the Senate, contrasting with a broader version of a bill previously passed by the House. The early House bill called for the sharing of 63.75 percent of royalties collected within 19 kilometers (12 miles) from shore, and 42.5 percent of royalties collected beyond 19 kilometers, according to a July 24, 2006, story in the San Francisco Chronicle.
The early House bill spurred controversy among environmentalists and California officials who were concerned that the bill would end the moratorium on drilling off the Pacific and Atlantic coasts, and would not forward the exploration of alternative fuels, according to the Chronicle story. Speaking to such concerns, the new bill extends tax credits for investments in renewable energy sources, and encourages the development of clean coal fuels, while at the same time reducing U.S. dependence on foreign oil, according to the White House.
Meanwhile, MMS continues to work out royalty payment issues that date back to purchases from 1998 and 1999 (see Geotimes, April 2006). During those years, royalty revenues were lost when the royalties agreement was accidentally dropped from 1,000 agreements drafted during those years, Walter Cruickshank, deputy director of MMS told Geotimes in April.
On Dec. 14, 2006, MMS signed agreements with BP, ConocoPhillips, Marathon Oil Company, Shell, and Walter Oil and Gas Corporation to pay royalties on oil and gas produced under the 1998 and 1999 agreements. "While these agreements we signed today are a step in the right direction, we look forward to continuing to work with Congress on this issue," said Stephen Allred, assistant secretary of Land and Minerals Management at MMS, in a press release. "We encourage the remaining companies that have not yet agreed to sign to join us in resolving this issue."
As soon as possible but within a year, MMS will begin selling leases in the 8.3 million acres approved in the bill, including more than 1 million acres of the Lease Sale 181 Area off Florida.
Kathryn Hansen
Links:
"Royalties flushed," Geotimes, April 2006
---
Mineral resource of the month: Vanadium

Michael J. Magyar, the vanadium commodity specialist for the U.S. Geological Survey, has prepared the following information on vanadium, which is an important component of steel.

Vanadium, the name of which comes from Vanadis, a goddess in Scandinavian mythology, is one of the most important ferrous metals. Vanadium has many uses, but the metal's metallurgical applications, such as an alloying element in iron and steel, account for more than 85 percent of U.S. consumption. The dominant nonmetallurgical use of the metal is as a catalyst for the production of maleic anhydride and sulfuric acid, ceramics, vanadium chemicals and electronics.

Vanadium is considered to be a minor element, but is rather abundant worldwide. Its abundance in Earth's crust is on the order of 100 to 150 parts per million, about twice that of copper and zinc, and 10 times that of lead. It occurs mainly in silicate rocks, but it does not form an important part of any common rock-forming mineral.

Vanadium was discovered by Andrés Manuel del Río (a Spanish mineralogist) in Mexico City, in 1801. The French chemist Hippolyte Victor Collet-Descotils incorrectly declared that del Rio's new element was only impure chromium and del Rio accepted the statement. In 1831, Sefström of Sweden rediscovered vanadium in a new oxide he found while working with some iron ores, but later that same year Friedrich Wöhler confirmed del Rio's earlier discovery. Metallic vanadium was isolated by Henry Enfield Roscoe in 1867, who reduced vanadium chloride with hydrogen.

Most vanadium is consumed as ferrovanadium, which is used to introduce vanadium into steel, improving the steel's strength and toughness. In 2005, production of carbon, full-alloy and high-strength low-alloy steels, in nearly equal amounts, accounted for more than 90 percent of domestic vanadium consumption. Nonmetallurgical applications such as catalysts, ceramics and vanadium batteries were produced from vanadium pentoxide.

In 2005, the United States consumed a reported 3,910 metric tons of contained vanadium, 3 percent lower than in 2004. Also in 2005, the United States imported 11,900 tons of ferrovanadium, and 1,556 tons of other vanadium oxides and hydroxides, collectively valued at $190 million. Total imports for consumption of these vanadium materials increased by 222 percent from 2004, driven largely by ferrovanadium imports. The United States exported $40.2 million worth of ferrovanadium and other vanadium oxides and hydroxides — an increase of 49 percent over 2004.

In 2005, the price for domestic ferrovanadium ranged from $22.00 to $61.00 per pound of contained vanadium, compared with $6.20 to $23.00 per pound reported in 2004. The price rose from about $22.00 per pound at the beginning of the year, gradually increased to about $43.00 per pound by the end of April, spiked to about $61.00 per pound in May, and then gradually dropped to $22.00 per pound by the end of December.

Nearly all vanadium is produced from primary sources. Five countries recovered significant quantities of vanadium from ores and slag, or petroleum residues. In 2005, the leading vanadium-producing nations remained China, Russia and South Africa, where the mining and processing of magnetite-bearing ores was the predominant source of vanadium production. Japan and the United States were believed to be the only countries to recover significant quantities of vanadium from petroleum residues.

Visit http://minerals.usgs.gov/minerals for more information on vanadium.