---
GEOLOGIC COLUMN
---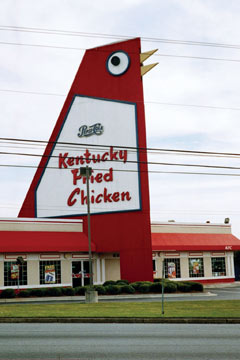 Kevin Baker
Directions in Marietta, Ga., revolve around the Big Chicken.
Another important life skill is being lost to technology.
We've already lost several. The ability to "do" math has, arguably, already been lost to the hand-held calculator and to a generation of users who believe the display over logic. ("What do you mean that the area of this classroom can't be 100,000 square feet? That's what the calculator says!") And the skill of writing legibly is being lost to automatic spell-check software and the contractions of text-messaging.
Now, the ability to give — or use — directions is fading with the rise of global positioning system (GPS) devices. A few years ago, most of the people who owned and used GPS units needed to know their locations accurately: pilots, boaters, soldiers, hikers and, of course, geologists. In some cases, such as military use, knowing could be a matter of life or death. The first time a GPS vendor had a display at a national Geological Society of America meeting in the late 1980s, the company offered free beer to persuade geologists to view its wares. The GPS unit was the size of a brick, and it provided information about latitude and longitude. No maps, no interactive features, no voices and no advertising.
For a time, the sport of "geocaching" actually encouraged people to use handheld GPS units to learn about orienteering and outdoor exploration. The sport appealed to a niche market, with limited instruments and relatively high prices.
But now GPS has gone mainstream. In the last year, the price of a handheld unit has dropped by about 40 percent. The variety of devices has expanded significantly, and people are increasingly familiar with GPS technology. For many people, their first introduction is on the dashboard of a rental car; Kansas-based Garmin considers this a specific marketing strategy. As the technology has become more accessible, its use has moved from active to passive.
There is a distinction between being able to use a handheld GPS unit to navigate and having a piece of technology order you around. The navigational systems that are being installed in cars now have voice directions that tell you, turn by turn, how to travel from point A to point B. No need to think ahead, anticipate moves or plan. Just respond.
The increasing dependence on GPS units and mapping programs such as Google Maps and MapQuest carries a serious risk of diminishing our ability to give or understand directions. Personal directions and hand-drawn maps are a record of human interaction with the environment. What's included and omitted tells a story about the values and features that one believes are important. In Marietta, Ga., for example, all directions given by the locals are relative to the Big Chicken: a 17-meter-tall red sheet-metal chicken with rolling eyes and a snapping yellow beak that rises above a KFC restaurant.
Consider these two sets of directions from Point A (an office supply store) to Point B (a supermarket):
"Start out going southeast on Cobb Pkwy SE/US-41/GA-3 toward Radar Cir NE (<0.1 miles). Turn right on Roswell St SE/GA-120. Continue to follow GA-120 (1.7 miles).
Stay straight to go onto Whitlock Ave NW/Whitlock Ave SW/GA-120 (1.6 miles).
End at [912-1073] Whitlock Ave SW."
Or:
"Head south on Cobb Parkway and take a left at the Big Chicken onto Roswell Road. The name of the road will change to Whitlock Avenue, but stay with it. You'll see Kennesaw Mountain to your right. In about three miles, you'll pass a McDonald's with a space shuttle on top. Go though the next traffic light and turn right into the Kroger parking lot."
The first comes from MapQuest. The second is what you might hear from a local resident. Which set of directions provides more sense of place, or geography, or history or culture?
GPS technology has an important role in science, travel and military operations. Here's hoping it does not become a crutch that eliminates human ability to be aware of one's environment and to interact with it. A colleague with multiple academic degrees and a lofty title recently admitted to me that she had gotten lost in an underground parking garage. "I live by the GPS in my car," she said. "I've come to depend on it, so I don't pay any attention to where I'm going. But I'm hopeless underground. Did you know that my GPS won't work there?"
Yes, I did. How do you think a global positioning satellite system works?
---