---
Geomedia
---
Geotimes.org offers each month's book reviews, list of new books, book ordering information and new maps.

Check out this month's On the Web links, your connection to earth science friendly Web sites. The popular Geomedia feature now available by topic.

Television:
Forensic geology on the small screen

Book Reviews:
On the Shelf: Forensic Geology
Rock of Ages: Ancient Earth, Ancient Skies

Mapping:
South Dakota Mapping

---
Forensic geology on the small screen

Golfers find a dead body in a sand trap at an exclusive golf course in Miami. Investigators descend on the crime scene, collecting sand grains from the dead man's clothing for possible comparison. They are later able to match sand grains from the deceased to sand grains found on a suspect's clothing, thus helping break the case.

This case did not happen in real life — it is a plotline that aired on CSI: Miami, a CBS TV drama. But the writers drew their idea from reality — soil and sand analyses are frequent in criminal investigations. "It's a delicate blend of fiction and nonfiction," says Marc Dube, a writer for CSI: Miami.

Of the many criminal dramas gracing the small screen, including Crossing Jordan and Law & Order, the CSI shows, including CSI: Miami, CSI: NY and the original CSI: Crime Scene Investigation, entertain viewers "while making science and lab work sexy," says Tim Ku, a geologist who teaches a course on forensic geology at Wesleyan University in Connecticut. Looking through a microscope usually would not be considered interesting enough for television, he says, but thrown together with witty banter, appealing actors, exciting locales such as Las Vegas and Miami, and a murder, forensic science can be vastly entertaining.

On CSI: Miami, the show's creators and writers prefer to start with true stories, Dube says. They look to major metropolitan newspapers such as the Los Angeles Times, the New York Times and the Miami Herald for their ideas. The writers also get plotlines and scientific and technical ideas from books such as the Clinical Textbook on Toxicology, magazines such as Popular Science and journals such as the Journal of Forensic Sciences, Dube says. After reading about an interesting case in the news, the writers set about crafting their stories into four acts, building suspense and providing "dramatic moments for our characters," he says.

The writers also rely heavily on actual crime scene investigators in writing the science in the episodes, Dube says. CSI: Miami Supervising Producer Elizabeth Devine spent 15 years as a forensic scientist in Los Angeles before joining the television team. John Haynes, a technical advisor and writer, also worked with the Los Angeles sheriff's office before joining the show. Devine's and Haynes' personal experiences with and connections to the forensics world are "invaluable" when it comes to writing the scientific aspects of each episode, Dube says. The writers also have a suite of outside experts to whom they can turn with questions, he says — scientists with the FBI and at the crime lab in Miami have been exceptionally helpful.

Some forensic scientists, such as Skip Palenik, president of Illinois-based Microtrace (a forensic microscopic trace laboratory), find the crime-scene dramas difficult to watch because of scientific inaccuracies and technical gaffes. For example, a TV criminal investigator might touch a bottle tip to paper when sampling a liquid, which in reality would contaminate the evidence, Palenik says. Also frustrating to Palenik is that the roles of detective, crime scene investigator and forensic scientist are blurred into one. In reality, he says, forensic scientists do the lab work, rarely go out into the field and never interview suspects. It's the crime scene investigators who gather evidence and take photos of the site — they usually are not trained scientists, he says.

Other forensic scientists also take issue with how easy everything appears on the shows. "A single piece of evidence doesn't usually solve a case — it's just another fact in the case," says Chris Palenik, a geologist at the forensic science research unit of the FBI in Quantico, Va., and Skip's son. Sometimes in the shows, for example, a single hair fiber or soil grain will solve the case. Actual investigations are rarely that simple, he says. Furthermore, he says, the shows tend to gloss over or simplify the scientific analyses.

Another big difference between fact and fiction is that TV criminal investigations move much faster than in real life. On some of the shows, obtaining warrants and results of DNA analyses take no time at all (in reality, DNA analyses can take a week or more), and crimes get solved in an hour, says Ku of Wesleyan. But that speed is to be expected because it is TV — "it's entertainment," he says.

Dube says that the audience realizes that these liberties are necessary to make a one-hour television show entertaining from week to week. "One has to suspend disbelief to some extent," he says.

Still, the shows' science is usually within the suspension of disbelief, says Jack Crelling, a coal petrologist who teaches a course in forensic geology at Southern Illinois University in Carbondale and watches several of the popular crime-scene dramas. "I love these shows," he says. But while geoscience topics do pop up from time to time, such as a case involving human-made diamonds, Crelling says that the shows do not include as much geology as he would like to see. Diatom and soil analyses, however, frequently are incorporated into the shows, with pretty realistic technologies and scientific techniques.

And the shows continue to draw viewers. In the November sweeps weeks, CSI: Crime Scene Investigation and CSI: Miami topped the Nielsen list of most-watched shows, with CSI: NY also in the top 15.

Megan Sever
---
On the Shelf: Forensic Geology
Evidence from the Earth, by Raymond C. Murray. Mountain Press Publishing Company, 2004. ISBN 0 87842 498 9. Paperback, $20.00.

Looking for more background and stories on forensic geology? Then look no further than Raymond Murray's recent book Evidence from the Earth. Following up on Forensic Geology, the 1975 groundbreaking guide to how geology can be of use in criminal investigations, Murray's new book takes readers behind the scenes of some notorious and interesting cases that geology has helped solve. He weaves together anecdote and hard science to explain how soils and other "earth materials" can be used as evidence and then how scientists collect and analyze the evidence. An entire chapter covers examination methods and instruments — a good overview for anyone thinking about getting into the field or anyone who is looking for updated techniques. The book also has a number of illustrations and a glossary. It is an easy and interesting read for anyone curious about criminal investigations or geology.
Earth Colors, by Sarah Andrews. St. Martin's Minotaur, 2004. ISBN: 0 3123 0197 9. Hardcover, $23.95.


Earth Colors is the ninth fiction novel in the Em Hansen mystery series by author and geologist Sarah Andrews (see stories). Hansen, a forensic geologist, is called upon to investigate a famous Frederick Remington painting. Using pigment analysis and various other methods, Hansen is determined to find out whether or not the painting is a fraud, a case that takes her from Wyoming and Utah to Pennsylvania, and on to Washington, D.C.

In the meantime, someone is slowly poisoning her client's family. Hansen must uncover the truth about her client, the family and a very expensive piece of art before the sinister activity turns on her. Other books in the Em Hansen series include Killer Dust and Bone Hunter, which Geotimes has reviewed in past issues. All are page-turners that include a healthy dose of science.
Detachment Fault, by Susan Cummins Miller. Texas Tech University Press, 2004. ISBN 0 8967 2520 0. Hardcover, $24.95.

In another geology murder mystery, Detachment Fault — the second by geologist Susan Cummins Miller — Tucson geologist Frankie MacFarlane investigates her second murder, after discovering a body during a fishing trip to Mexico with her brother and his girlfriend. The girlfriend, Carla, goes missing, and upon Frankie's return home, she learns that her favorite student was murdered on the college campus, and found wearing a ring much like the one Carla owned. Following the antiquities trade and money-laundering schemes, Frankie has to figure out if the two murders are related to each other or to Carla's disappearance. Miller's first book, Death Assemblage, follows Frankie as she unravels a mystery involving fossils, a murder and a manuscript while working on her dissertation. These are fun and easy reads, interspersed with some science.

Links:
"Science in the Mainstream Media," Geotimes, January 2004
"Fiction Meets Fact: A Visit to the FBI Lab," Geotimes, January 2004
"Book review: Bone Hunter," Geotimes, June 2000
"Mystery writer wins Shea award," Geotimes, November 2001


---
Book review
Ancient Earth, Ancient Skies: The Age of Earth and Its Cosmic Surroundings.

by G. Brent Dalrymple. Stanford University Press, 2004.
ISBN 0 8047 4933 7. Softcover, $17.95.

---
Rock of Ages
Harry Y. McSween Jr.

Geologists know that the rock on which we live is ancient — some 4.55 billion years old according to accepted measurements. The cosmos in which our small rock resides is even older, 13 to 15 billion years. Yet the chronology of the creation of Earth and the universe can be a contentious subject. Brent Dalrymple's new book, Ancient Earth, Ancient Skies, helps elucidate the debate by providing a scientific explanation of the ages of both.

Dalrymple is well-qualified for the task as a scientist and educator, and the book was prompted by the author's expert testimony at several trials attempting to overturn laws mandating equal time for creationism in science classes in Arkansas and Louisiana during the 1980s. (A young planet is part of the creationism agenda, which also includes the instantaneous creation of all species and the denial of evolution.) Seeing the need for a review of the subject, in 1991 Dalrymple published The Age of the Earth, a scholarly monograph that received good reviews. His new book is an "updated, abridged, and greatly simplified" version of that original volume.

The book opens with a discourse on how science works and a brief overview of the origin of the universe, the Milky Way Galaxy, the solar system and Earth. This background is followed by the history of attempts to constrain our planet's age. A variety of methods — sea level changes, planetary cooling, tidal friction by the moon, salt concentration in the oceans, sediment accumulation — all turned out to be flawed, providing ages that were too young. However, the discoveries of a handful of physicists, chemists, astronomers and one lone geologist eventually allowed radioactivity to come to the rescue.

After this introduction, the book morphs into a text on radioactive isotopes and geochronology. As a student I had to wrestle (somewhat unsuccessfully) to understand uranium-lead dating, and my experience as a teacher suggests that today's students still agonize over these difficult concepts. Dalrymple provides one of the clearest explanations of uranium-lead dating that I have ever read. He then focuses on the scientists who provided the intellectual framework and hardware to measure and model the evolution of lead isotopes through time, and the remainder of the book deals with cosmochronology. A description of how scientists estimate the ages of the universe, our galaxy and the elements themselves will be especially interesting to geologists, as this is mostly new territory for us.

Ancient Earth, Ancient Skies provides lucid explanations of the clever ways in which scientists have determined the ages of the rock on which we live and cosmic surroundings that enfold it. Any geologist, in fact any scientist or college science major, will find this book interesting and informative, but it wasn't really written for us. Its preface implies that the target audience is the broader public, with the intent that it be used to inform debates about creationism and science. Unfortunately, the book does not contain the analogies, anecdotes, human interest stories, illustrations, photographs or even the humor that would have made it accessible to a much wider audience.

To be fair, geochronology is a tough subject, not easily generalized, and the book's conclusions might be misconstrued or misused if not presented with sufficient rigor. Ancient Earth, Ancient Skies is serious science but still a good read. I suspect that it may have the desired result, but perhaps only because scientists, having read it, will be better armed to face science's detractors.
---
McSween is a professor of planetary geology at the University of Tennessee, where he has worked since 1977. E-mail: mcsween@utk.edu.
Back to top
---
Mapping
South Dakota Mapping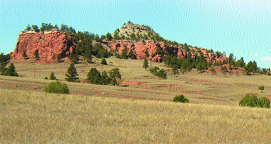 The South Dakota Geological Survey recently published two 1:500,000-scale geologic maps titled Geologic Map of South Dakota and Bedrock Geologic Map Showing Configuration of the Bedrock Surface in South Dakota East of the Missouri River. These two maps represent major revisions of previous editions, and they are important new sources of regional geologic information pertaining to water resources, mining, recreation, geologic hazards, paleontology, environmental issues and other topics.

Exposures of the Jurassic Sundance Formation in the southern Black Hills of South Dakota are portrayed on the new Geologic Map of South Dakota. Courtesy of the South Dakota Geological Survey.

The new Geologic Map of South Dakota reflects the quantity and quality of geologic information that has become available since publication of previous state geologic maps more than 50 years ago. Knowledge of the geology of the Black Hills uplift has progressed tremendously in recent decades, allowing for a far more accurate and detailed portrayal of that region than previous maps of similar scale.

Compilation of newly acquired information regarding structural features and surficial deposits throughout western South Dakota also are significant advances. The portrayal of South Dakota east of the Missouri River illustrates the most complete compilation of glacial deposits in this area to date. In addition, the digital format enables evaluation of geo-referenced data of all types (agricultural, environmental, geotechnical, etc.) with respect to the underlying geology.

Similarly, the Bedrock Geologic Map Showing Configuration of the Bedrock Surface in South Dakota East of the Missouri River also represents a significant advancement in knowledge over the past half century resulting from thousands of wells and test holes drilled in this region. Because nearly all of South Dakota east of the Missouri River is mantled with glacial sediments, this map is an important new resource for understanding South Dakota's subsurface geology and, in turn, is important in the exploration for natural gas and mineral resources. It is also a fundamental tool for water resource investigations in eastern South Dakota, through the assessment of Pleistocene sediments and the configuration of the underlying bedrock surface.

These maps are available for purchase from the South Dakota Geological Survey. Call 605-677-5227, or visit the survey online at www.sdgs.usd.edu, where PDF versions of the maps are available at no charge.
---
Foster Sawyer and Derric Iles of the South Dakota Geological Survey contributed this month's Maps column.


Back to top

---