<![if !supportLineBreakNewLine]>
<![endif]>

---
Travels in Geology January 2006
---
Belize: The ins and outs
<![if !vml]>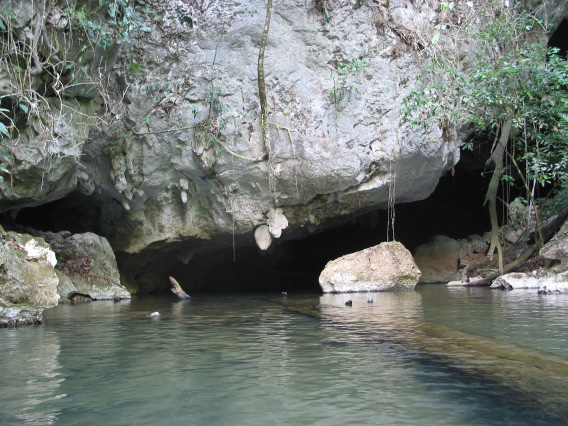 <![endif]> Following a busy hurricane season, reports of ravaged resorts and washed away beaches may deter you from heading to Mexico's Gulf Coast. But before giving up hope for a midwinter respite, don't forget to consider the unscathed countries farther south. A week or two of exploring Belize's inland jungle caves and Maya ruins will please adventurers, while Belize's cayes (islands), just off the coast, will satisfy snorkelers, divers and beach loungers.

River Cave is one of many caves within the jungles of Belize. Beneath the overhang shown here is the only entrance and exit for tourists who wish to see the cave formations and Maya artifacts inside. All images courtesy of Ben Babusis, Lightscape Gallery.

The best time to visit Belize's islands or mainland is during high season (also the dry and warm season), which runs from the end of November through April. Keep in mind, however, that Christmas, New Year's Day, Good Friday, and Easter Sunday are official holidays observed in Belize. Airline tickets might be more expensive around these dates, and transportation and services in Belize could be difficult to come by.
Most travelers fly into Phillip S.W. Goldson International Airport, which can be reached via direct flights from Miami. From here you can rent a car or take a taxi to Belize City or to the capital city Belmopan, from which you can find any number of tour groups that will take you into the jungle.<![if !vml]>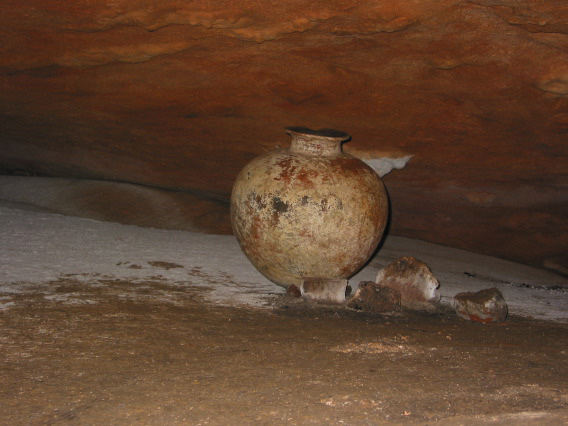 <![endif]>

One such group is the Caves Branch Jungle Lodge, a mere 19 kilometers south of Belmopan and located on privately owned 58,000 acres of pristine jungle. Once here, you will not find much reason to leave. Experienced guides can take you on tours that include caving, mountain biking, kayaking, diving and snorkeling, as well as outings to explore Maya ruins.

A Maya pot is precariously perched inside River Cave in Belize. Found in one piece almost 18 years ago at the same time that the cave was discovered, it likely transported water and food.
Caves and sinkholes at Caves Branch formed over thousands of years, as the Caves Branch River and acidic rain carved away the limestone. Archaeologists have found Maya artifacts in many of the caves, which they think were used for the culture's rituals, including sacrifices. Look for pottery shards and pieces of human remains as you maneuver around stalagmites and stalactites of River Cave, and use ropes to climb the waterfalls (and get soaking wet) in Waterfall Cave. Just be certain that you don't touch any formations — oil from your skin will kill formations, some of which grow as slowly as a tenth of a millimeter per year.<![if !vml]>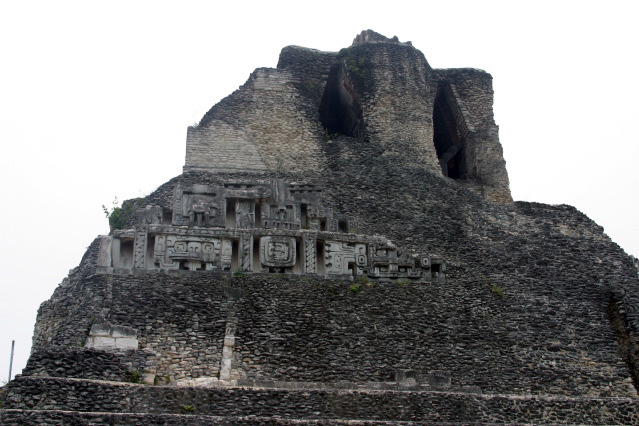 <![endif]>

Tours from Caves Branch also provide transportation to Maya ruins throughout the country, such as Xuanantunich and Cahal Pech. Climb through the excavated temples or visit a Maya "ball court," a site where Maya priests would compete to kick a ball through a small vertical hoop, similar to a cross between modern soccer and basketball. Unlike today, however, the "winner" of this game would be sacrificed, which the Maya viewed as an honor and a quicker way to ascend the nine levels of the afterlife.

This 40-meter-tall Maya temple is located within the Xuanantunich ruins in Belize. The Caves Branch Jungle Lodge offers tours of this site, as well as many others.
The jungle can become oven-like, however, with the hottest days reaching 42 degrees Celsius (108 degrees Fahrenheit) with high humidity. For a break from the heat, take Maya Island Air to any of the cayes, located between Belize's mainland and the barrier reef, and relax in the cool tropical breezes.

<![if !vml]>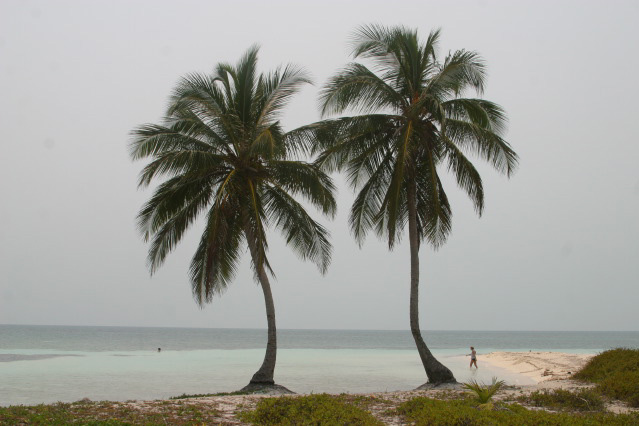 <![endif]>Palm trees grow on a desolate island near Ambergris Caye. Cooler temperatures and sandy beaches are a stark contrast to the humid jungle of inland Belize, and are only a short flight away from Belize City.
The largest of the islands, Ambergris Caye, boasts a wide selection of hotels and restaurants. While visiting Ambergris, schedule a short boat trip out to Shark-Ray Alley. Friendly sharks and rays still gather here, which used to be the site where fishermen would dispose of fishing waste. Don't let the fearsome look of the nurse sharks keep you from taking a snorkel or a dive to feel their sandpaper-like skin — fish, not humans, are their preferred food.
Kathryn Hansen
Links:
Caves Branch Adventure Co. & Jungle Lodge
Ambergris Caye.com
Frommer's, Belize

Travels in Geology

<![if !supportEmptyParas]> <![endif]>
---