---
Profiles: News about people from AGI and its 44 member societies
---
Archive of past Society Page/Profiles stories by date
---
Gerald Friedman: Sediment historian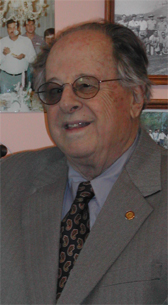 Gerald M. Friedman is a man of lists. The sedimentary geologist and earth sciences historian can name the state geologists who were trained by geologist Amos Eaton, founder and first professor of the Rensselaer School in 1824 (almost two dozen); the places he himself visited in 1975, for example, to teach courses on sedimentary geology (at least two dozen); and the number of students he has taught over his career (more than four dozen doctoral students alone).

Gerald M. Friedman is a leader in sedimentology and earth science history. Image courtesy of Sue Friedman.

Friedman can now add to his own list of honors the Legendary Geoscientist Award, given by the American Geological Institute (publisher of Geotimes) at the Geological Society of America (GSA) annual meeting in Salt Lake City, Utah, last October. At the same meeting, he also accepted GSA's Mary C. Rabbitt Award, presented for "exceptional scholarly contributions" to the history of geosciences.

"I think Gerry is one of the people who has invented modern sedimentology," says Michael Rampino, who worked with Friedman on his Ph.D. thesis and is now a geology professor at New York University. Best known for his work on carbonate rocks, Friedman has always been interested in a wide variety of subjects, from coastal geology and water geochemistry, to oil and gas consulting for petroleum companies (in addition to his love of history). "He's sort of a jack of all trades," who has extraordinary amounts of energy, Rampino says.

That energy is evident in his world travels: Friedman recalls short and long courses taught in diverse places, including Israel, France, Thailand and Texas, within the space of several months of 1975, all while teaching full-time and conducting research in the field.

"He was such an engaging lecturer," recalls Teresa Jordan, one of Friedman's undergraduate students at Rensselaer Polytechnic Institute in Troy, N.Y., in the early 1970s, and now chair of the geology department at Cornell University, in Ithaca, N.Y. Jordan says that many of her classmates went on to become sedimentary geologists — herself included. Friedman, who says he has taught more than 10,500 people in his career, still advises two Ph.D. candidates, despite the fact that he is now retired.

The geologist says that he was almost a chemist. Born in 1921 in Berlin, he recalls going to the city zoo with his family, where his interest in the animals slowly migrated to the rocks that surrounded them. His family moved to London before World War II, where Friedman studied chemistry for his work and geology for love at Chelsea College, University of London. He moved to the United States in 1946, working for a year as a pharmaceutical researcher, before going back to school in geology at Columbia University in New York. "In the United States," he says, he discovered that "you can really become a successful geologist."

Friedman's career shifted into high gear before he even defended his Ph.D., as he moved to the University of Cincinnati in 1949 to take a teaching position. From his field work in the Canadian Shield during that time, Friedman came into contact with a variety of industry geologists, and he soon moved to form a uranium mining company, Harico Mining and Development. After the Canadian uranium market was shut out of the United States, Friedman went on to work at Amoco-Standard Oil of Indiana (now BP) as a field and lab scientist.

But Friedman always knew he would return to academia, and the only place he wanted to teach was at Rensselaer Polytechnic Institute, Eaton's former Rensselaer School and the birthplace of North American geology. Friedman and his wife Sue, who he calls an integral partner in his life and work, moved there in 1964, and he spent 1964 to 1984 teaching. In Troy, he established the Northeastern Science Foundation, an organization that publishes two science journals he initiated; he also started Earth Sciences History, and was a co-founder of the History of Earth Sciences Society. Friedman taught at Brooklyn College (City University of New York) from 1985 to 2004.

Part of Friedman's impact in both science and history comes from his publications. He has edited various journals, including the Journal of Sedimentary Petrology (now Sedimentary Research, published by SEPM, of which he is a past president). Friedman also co-authored a landmark textbook with John Sanders of Columbia University: the long-used Principles of Sedimentology, published in 1978 after at least half a decade of painstaking work.

The textbook "was very influential" and "the first modern book" on sedimentology, Rampino says, recasting sedimentology from a view that mostly categorized modern deposits to a broader methodology. "Gerry and John took a more process[-oriented] approach," he says. "They were very different people, [with] very different styles," who maintained a strong working relationship for many years, says Naresh Kumar of Growth Oil and Gas, in Richland, Texas, who also had Friedman and Sanders as advisors while at Columbia.

Friedman is "a character," Kumar says, pointing out that he has a black belt and taught judo for 30 years. "The contact that people have with him, even if just four to five days, lasts for a long time."

Naomi Lubick


---