---
News Notes
---
Impacts
Meteorite pre-dates solar system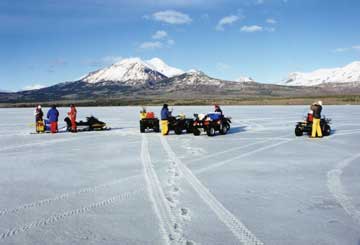 When the Tagish Lake meteorite crashed to Earth in 2000, researchers suspected that it would provide one more clue to the origin of life, but instruments were not yet sophisticated enough to confirm a connection. That connection could soon turn up, as a team of NASA researchers reported finding organic material in the meteorite fragments that pre-dates the solar system.
Researchers have been reexamining the Tagish Lake meteorite, and have found organic material in the meteorite fragments that may pre-date the solar system. Photograph is copyright University of Western Ontario and the University of Calgary.
Researchers have long speculated that comets and meteorites could have brought the basic ingredients of life to ancient Earth, especially some important simple organic molecules such as amino acids. Organic materials, such as those found by the NASA team, might have played some role in the pre-biotic development of early life, the team reported Dec. 1 in Science. "We may be one step closer to knowing where our ancestors came from," says Keiko Nakamura-Messenger of NASA's Johnson Space Center, and lead author of the new study.
The meteorite may have originated either in the Kuiper Belt — the family of bodies orbiting beyond Neptune — or more likely, in the molecular dust cloud that would later collapse to form the solar system, the researchers reported.
Sally Adee
Geotimes contributing writer
For more about the meteorite, read the original story posted online Dec. 4, 2006, in the Geotimes Web Extra archive at: www.geotimes.org/WebextraArchive.html.