Subscribe

Archives

Classifieds

Advertise

Customer Service

Geotimes Search
---
---
---
---
Travels in Geology January 2008
posted January 25, 2008
---
Geo-temptations on the Emerald Isle
Callan Bentley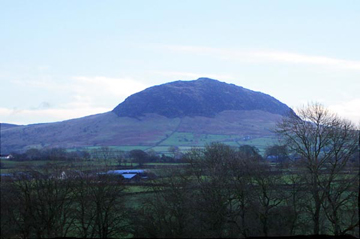 Callan Bentley
Mount Slemish in Northern Ireland is an ancient volcanic plug.
Northern Ireland is a land more famous for political strife than geology, but since the 1998 Good Friday Agreement, the once-turbulent area has calmed. Today, the Emerald Isle's slice of the United Kingdom offers some tangible and historic treasures for the traveling geologist. Being winter, this is a good time to visit as crowds are limited. (The weather is cool and drizzly year-round, so you're not missing anything by visiting in winter instead of summer, when more tourists visit the area.)
Begin your travels in Belfast, which is a tidy little city. You can fly directly in from several U.S. cities, or fly through London or Dublin on your way. Once there, get settled in your accommodations (types vary significantly, but bed and breakfasts are a great option) and head out for a tour. Tours in town will show you political murals from "the Troubles" (as the political violence pitting the IRA against the British government is quaintly referred to) or the history of the Titanic, which was built here almost a hundred years ago. The huge yellow cranes of the Harland and Wolff shipyard (famous for building the Titanic) can be seen from many points in town, making it an ideal landmark for navigation. After your walk, nip into the Crown Liquor Saloon on Great Victoria Street for a pint of Ireland's famous Guinness stout and enjoy the elaborate Victorian architecture. Before leaving Northern Ireland's capital, be sure to stop by Cave Hill, which looms above town to the northwest. At 370 meters in elevation, it is another landmark visible from the streets of Belfast. The mountain is supported by basaltic lava flows that weather out in a stair-step-like profile. (Its "caves" are artificially carved.)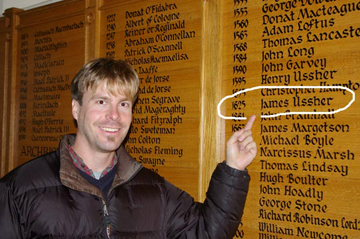 Callan Bentley
Author Callan Bentley points to the name of Archbishop James Ussher, a Protestant leader of St. Patrick's Protestant cathedral in Armagh who is famous for his calculation of the age of Earth.
Now get out and see the countryside. Rent a car and drive yourself west and north. Start in the town of Armagh (pronounced "Ar-maa"), about 70 kilometers away, where two cathedrals (one Catholic, one Protestant) offer intrigue to geologists. Both are called St. Patrick's, as St. Patrick himself decreed that Armagh would be the religious seat of Ireland. The Catholic cathedral, erected from 1840 to 1904, is made of limestone replete with fossils. A walk around the exterior gives good views of crinoids, corals and other marine invertebrates from the Paleozoic. The Protestant cathedral (Church of Ireland), which has been destroyed and rebuilt 17 times, most recently in 1840, is made of sandstone showing superb liesegang banding: iron oxide staining in zebra-stripe patterns.
More than the building stones, geologists will appreciate perusing the list of past archbishops inside. Next to the year 1625, you will find Archbishop James Ussher, famous for his calculation of the age of Earth. Ussher used genealogical information in the Bible to determine that the moment of "Creation" was the evening before Oct. 23, 4004 B.C. This deduction was later supplanted in scholarly circles by the development of geological reasoning, but it survives today as the basis of "Young Earth Creationism." It's interesting to fathom how different geology might be without that hilltop cathedral of sandstone.
Next, head for County Antrim at the coast. You will notice a large mountain to the south. This is Mount Slemish, an ancient volcanic "neck." This basalt plug was once the center of a volcano that erupted lava all over this vicinity. Because the massive basalt in the volcano's "throat" was tougher than the surrounding stratified rock layers, it resisted erosion, and now rises to 437 meters in elevation, dominating the local landscape.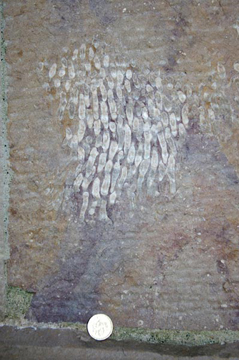 Callan Bentley
St. Patrick's Catholic cathedral in Armagh is made of limestone replete with fossils, such as corals and crinoids.
Heading up the Antrim coast, stop at Garron Point, where large slump blocks reveal several of the most important geologic layers. The chalk layers so famously exposed at the White Cliffs of Dover are on display here, though here they are not technically "chalk." Weight from overlying layers has compressed it into a white limestone. Riddled with flint nodules, "the Chalk" is one of the classic geologic strata of the British Isles. Atop it, you will see thick black layers of basalt: Approximately 60 million years in age, this basalt erupted over the landscape, probably from a volcanic vent like Mount Slemish. Nesting on this sheer cliff faces are large numbers of fulmars, sea birds with "tube noses" to get rid of excess sea salt.
A bit farther north, the Giant's Causeway, on the coast near Bushmills, is Northern Ireland's most visited geological feature. It is a UNESCO World Heritage site due to the unique landscape of basalt columns. Here, a series of lava flows are exposed by the North Atlantic's pounding waves. As the lava cooled 60 million years ago, it contracted, producing a series of cracks that interlocked in a pattern of six-sided columns. It is a world-class example of columnar jointing. The same process gave Devils Tower in Wyoming its fluted look. The visual effect is of a jetty built of interlocking hexagonal tiles: a fantastic landscape that inspired an ancient Irish myth about a giant building a causeway to Scotland. In more modern times, the weird columnar jointing patterns at the Giants Causeway were used on the cover of Led Zeppelin's album Houses of the Holy (1973).
After exploring the Causeway and hiking along the coast, you may find yourself cold and wet from the Irish weather. To warm up, head to the nearby Bushmills Distillery for a tour and tasting of their fine whiskey.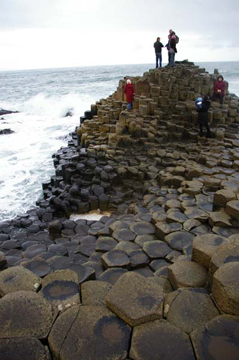 Callan Bentley
Massive basalt columns give Giant's Causeway its unique landscape.
The nearby town of Portrush (sometimes spelled Port Rush) is an ideal spot to stay on the Northern Irish coast. It has good restaurants, comfortable accommodations and spectacular sea views. It is also a site of fantastic interest to historians of geology. When geology was being developed as a science in the 18th century, two schools of thought argued over the origin of strata like basalt. The "neptunists," championed by Abraham Gottlob Werner, suggested that basalt was a sedimentary rock, precipitated from the ocean. Opposing this idea were the "plutonists" like James Hutton, who said that basalt was of volcanic origin. Observations from active volcanoes in the Mediterranean region suggested the plutonists had it right.
However, in 1786, the discovery of an outcrop in Portrush changed all that. Along the western side of town, in an area protected today as a National Nature Reserve, were hard, fine-grained rocks that bore unmistakable fossils of ammonites. Neptunists interpreted the rock as basalt (same as the Giant's Causeway). This interpretation posed a huge challenge to the plutonists: How could ammonites live in molten lava? The discovery breathed a last gasp of life into the neptunist philosophy.
It turns out that the rocks were not in fact basalt, but instead the Waterloo Shale (often called the Lias in Europe), which had been baked to hornfels through contact metamorphism. The neptunists misidentified them in a classic case of people seeing what they wanted to see. The actual outcrops are few, but worth visiting because they are of such historic value in the evolution of geologic thought. They are within easy walking distance of downtown Portrush.
Perusing the geological wonders of Northern Ireland for a few days imparts an appreciation for the landscape and a satisfying brush with the history of our science.
---
Bentley is a geology instructor at Northern Virginia Community College and a Geotimes contributing writer.
Links:
Geological Sites in Northern Ireland (Earth Science Conservation Review)
UNESCO's page about the Giant's Causeway
Portrush National Nature Reserve
St. Patrick's Cathedral, Armagh (Church of Ireland)
St. Patrick's Cathedral, Armagh (Catholic)
"Summer roadtrip: Driving to 'West Dakota,'" Geotimes online, Travels in Geology, July 2006

Back to top