Subscribe

Archives

Classifieds

Advertise

Customer Service

Geotimes Search
---
---
---
NEWS NOTES
---
Texas: Where the wind comes sweepin' down the waves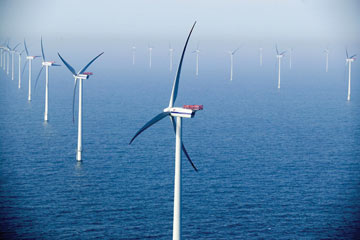 Sandia National Laboratories
Offshore wind farms, similar to this one, will soon provide electricity to Texans along the Gulf Coast.
Although more well-known for statuesque oil derricks dotting the plains, Texas has gained prominence over the past several years as the nation's leading wind producer. The state recently awarded the first competitive offshore wind leases in the country, which may soon provide electricity to Texans along the Gulf Coast.
On Oct. 2, the Texas General Land Office, which manages the state's waters out to nearly 17 kilometers in the Gulf of Mexico, awarded a total of 73,098 acres across four offshore tracts to Louisiana-based Wind Energy Systems Technology (W.E.S.T.), the only bidder in the public auction. "This was the first, but won't be the last," Land Office Commissioner Jerry Patterson said of the auction in a press statement on Oct. 2. "The future of offshore wind power in the U.S. is right here in Texas, and the Land Office is open for business."
W.E.S.T. is not new to offshore wind power in Texas. Prior to the public auction, the company already owned the country's only offshore wind power lease, which was not purchased through a competitive auction, off the coast of Galveston. W.E.S.T. will conduct research on its leases over the next several years before building wind farms that are expected to produce between 250 megawatts and 350 megawatts of electricity per lease — which could power about 75,000 homes per lease. Patterson says that these new wind farms are just one example of wind power's rise in Texas. He estimates that the number of wind-powered homes in Texas will jump from the current 1 percent up to as high as 10 percent over the next decade, according to the Daily Texan on Oct. 3.
Until now, Texas wind power has been concentrated on land, as is most wind power in the United States. But building wind farms offshore has several advantages. In many places, winds are much stronger offshore than on land, and consequently offshore wind farms don't take up as much space given the same generating capacity, says geographer Martin Pasqualetti of Arizona State University in Tempe, who has written widely on the subject.
Not everyone shares Patterson's enthusiasm for offshore wind power, however. Several proposed offshore wind farms along the East Coast, most notably one about 8 kilometers off Cape Cod, have been met with vocal opposition from local residents, who often cite environmental concerns and energy costs as their reasons against these projects. Pasqualetti also thinks aesthetics plays a big role. While various industrial activities already line the Gulf Coast, the East Coast is largely a recreational area, home to vacationers and retirees who don't appreciate the thought of rows of nearly 80-meter-tall wind turbines interfering with their picturesque seaside views, he says.
In the future, wind power advocates may need to be more strategic about where they focus their efforts, Pasqualetti says. Although a strong advocate for wind power, he says that selecting a world-famous locale like Cape Cod was one of the "worst moves" wind developers have made. "Don't try to ram it down people's throats," he says. "There are plenty of places where people are begging for it." Pasqualetti says many Midwestern farmers would be more than happy to make room for wind turbines on their fields, just as ranchers have in western Texas. For now, in Texas, W.E.S.T. will begin its exploratory process while the state considers offering other leases.