To help the EPA and others understand where concentrations of naturally occurring arsenic are found, the USGS assessed arsenic data collected over 25 years from 18,850 samples of groundwater that was used as a source for public water supply systems. The survey estimated that 13.6 percent of all water systems (which are not necessarily current sources of drinking water) exceeded the targeted arsenic concentration of 5 parts per billion.

Homeowners with wells are less likely to know if their water is tainted with high arsenic levels, says Alan Welch, a co-author on the USGS report released in May. Residents living in rural areas of Michigan, Wisconsin, the upper Midwest and also Minnesota, the Dakotas and southeast Oregon may all be surprised to find their counties marked dark brown on the map. Understanding the geochemical conditions that mobilize arsenic may help explain its presence: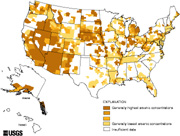 Click here for a larger image.