Annual Highlights Issue:
1999 Discoveries and Research Trends
All 28 highlights articles are available in the print version.


News Notes

WEB EXTRA: Animal engineering * More tsunamis? * Yellowstone hot spot * Diversity mandate
Political Scene
Creationists Open a New Front
Advocates of intelligent design theory bring their message to Congress.

Geophenomena
A magnitude-7.5 earthquake hits Indonesia while the Kavachi seamount builds an island in the Pacific Ocean.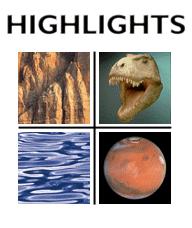 Top left: Geotimes file photo. Top right, a fleshed-out model of the skull of the Tyrannosaurus rex Sue, on display at the Chicago Field Museum of Natural History. Bottom left: Geotimes file photo. Bottom right: Mars, as seen by the Hubble Space Telescope (NASA).

From the Editor
Society Page
Where on Earth?
Geomedia
Calendar
Classifieds