---
---
Society Page
---
News about people and
announcements from
AGI's 35 member societies
______________________
To post news in Society Page, send e-mail to geotimes@agiweb.org with the subject: Society Page.
Contents:

Special awards presented to 'Junior Nobel Laureates'
The American Geological Institute (AGI) presented special awards to International Science and Engineering Fair 2000 participants on May 13. Carolyn Morgan Tewksbury, 14, a freshman at Clinton Senior High in Clinton, N.Y., won AGI's first place prize of $300 for her project: Shield Volcanoes, Coronae and Lithospheric Evolution on Venus.
AGI awarded its second place prize of $200 to Vanessa McGee Crawford, 17, a senior at Tucson Magnet High, Tucson, Ariz. Vanessa won for her project: Cyanobacteria vs. Mars — Can Cyanobacteria Survive Mars-Like Conditions?
María Piedad Rossi, 16, a sophomore at Colegio de la Salle in Talca, Septemia Region, Chile, won AGI's third prize of $100 for her project: Nucleation Process and Isomorphism in Ionic Salts.
Austin Anthony DeCock, 18, a senior at Lake Park/Audubon High School in Lake Park, Minn., won an AGI honorable mention for his three-year study: Simulating Hydric Conditions in Non-Hydric Soils to Redoximorphically Define Wetlands.
Cassandra Lynn Koemer and Lynnessa Kellogg, both 16-year-old juniors at Stevensville High School in Stevensville, Mont., won AGI honorable mentions for their two-year study: Effects of Land Use on Geomorphology and Water Quality of North Burst Fork Creek.
Joy Claire Womack, 17, a senior at Billings West High School in Billings, Mont., won an AGI honorable mention for her project: Effects of Bank Stabilization on the Yellowstone River.
The Association of Engineering Geologists (AEG) also presented a special award to Garl H. Germann, 19, a senior at Ennis High School in Ennis, Mont., for his project: Properties of Snow — Snow Crystal Metamorphism (Phase III). Garl received a technical volume in Engineering Geology and his teacher, Marcus Elser, received a one-year membership in AEG.

The Coalition for National Science Funding showcased more than 30 research and education projects supported by the National Science Foundation in a May 17 exhibition on Capitol Hill. The ocean's role in abrupt climate changes, from decades to millennia, was the focus of an exhibit cosponsored by AGI and the American Geophysical Union (AGU). Lloyd D. Keigwin and James Luyten of the Woods Hole Oceanographic Institution presented to members of Congress how changes in the ocean's circulation pattern may be linked to periodic changes in Earth's climate.
"We need to know more about the ocean's role in climate on the interdecadal timescale, from modern observations, in order to do a better job interpreting the geological record of climate change," Keigwin says. "I believe that some of the climate events we observe in the ocean sediment record, such as the Little Ice Age of the past several centuries, may be long-term expressions of modern day processes." Keigwin advocates a stronger convergence between physical oceanographic research and that of paleoceanographers.
Other earth science exhibits also focused on climate. Eric J. Barron of Pennsylvania State University presented "Understanding Climate by Exploring Earth Systems History." Larry Smith of the University of California at Los Angeles presented "Sensitivity of the Western Siberian Lowland to Past and Present Climate."
Many exhibits focused on science education. The American Psychological Association presented "Virtual Reality as a Behavioral Science Tool." The American Sociological Association presented "The Social Science Web-Lab for Experiments, Education and Archiving." The Ecological Society of America presented "Environmental Inquiry: Learning Science as Science is Practiced." The Massachusetts Institute of Technology presented "NSF-funded Research: Educating the Future."


George Davis





Joaquin Ruiz

The University of Arizona may earn a new nickname with its recent announcements in May of geoscience professors George Davis as provost and Joaquin Ruiz as the next dean of the college of science. Davis specializes in the structural geology of mountain areas and Ruiz has served as head of the department of geosciences since 1995.
Davis began as an assistant professor in geosciences in 1970 and moved through the ranks to become full professor in 1982. He became vice provost for academic affairs in 1986 and interim vice president for business affairs in 1989 before accepting the position of president of the University of Vermont. He returned to the University of Arizona as full professor in 1993 after spending a year as Benedict Distinguished Visiting Professor at Carleton College in Northfield, Minn.

"These are exciting but challenging times for the University of Arizona," Davis says. "A top priority is to make sure that we retain our high-quality faculty. Outstanding faculty and scholars are key to effective teaching and set the stage for serving graduates and undergraduates."

Ruiz, who will replace current Dean Eugene H. Levy, earned his doctorate from the University of Michigan in 1983 and soon after joined the faculty at the University of Arizona as assistant professor. In 1991 he was a visiting researcher at Lawrence Livermore National Laboratoryand visiting associate professor of geosciences at the University of California at Berkeley. For the past four years he has also served as the chair of the university's Strategic Planning and Budgeting Advisory Committee.

"The college should provide the academic freedom to pursue creative research and teaching but should also make sure that its societal responsibilities are met," Ruiz says. He will focus his immediate attentions on: faculty recruitment, retention and staff support; fostering collaborations for effective teaching and research; fundraising; education of K-12 teachers and advisors; and fostering diversity.

Robbie Rice Gries
The American Association of Petroleum Geologists elected Robbie Rice Gries president-elect for 2000. Gries is president and CEO of Priority Oil and Gas in Denver and will serve next year as the first woman president in the history of the association, which started in 1917. "Actually, [I'm] the first woman to even run for the office," Gries says.

"AAPG has been focusing on responding to member needs and improving communication between committees, between itself and other societies, and between members the world over," she says. "I expect to continue this thrust, especially with the use of digital communication and digital information resources. We have placed all the AAPG publications into searchable digits and are now making an effort to get the publications of affiliated societies into our system. This will cost a lot of money and take some time, but we see it as a very necessary step in making energy information usable worldwide."
Gries graduated with a bachelor's degree in geology from Colorado State University before receiving her master's degree in 1970 from the University of Texas at Austin. She began her career teaching geology at Wichita State, and in 1973 joined the staff at Texaco Inc. in Denver. In 1992, Gries formed Priority Oil & Gas. The following year she orchestrated the merger of two Colorado companies, working as director and vice president. Since 1995 she has been president of Priority, where operations are primarily in the Mid-continent and Rockies, with other onshore gas exploration projects in the United Kingdom and Ireland.

Gries has been a member of AAPG since 1977 and an honorary member since 1998. She received the A.I. Leverson award in 1985 and the AAPG's Distinguished Service award in 1991. She joined the AAPG Foundation Trustee Associates in 1996. She is also a member of the Geological Society of America and the Society for Sedimentary Geology (SEPM).



Obituary: Gary D. Howell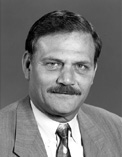 Gary D. Howell, executive director of the Society for Mining, Metallurgy and Exploration Inc. (SME), died May 19 in his home. He was 54.
Howell, a historian on the Middle East and an amateur screenplay writer, was a geologist with more than 27 years of domestic and international experience in management, marketing, publications, professional training and exploration. He graduated with his bachelor's and master's degrees in geology from Baylor University.
As executive director for SME since February 1994, Howell functioned as the chief operating officer and the SME board's representative in the active management of the society. He also served as the secretary and treasurer of the society and as a member of its board and executive committee. His vision was to enhance SME's accessibility to members, the mining community and the public. Howell had the foresight to recognize the value of online global communication and spearheaded the society's move to the Internet, an act that will stand as his legacy.
Prior to joining SME, Howell spent seven years, from 1972 to 1979, with the American Association of Petroleum Geologists. He served as assistant editor, managing editor and publications manager, and as AAPG's first science director and international development adviser.
In 1980 Howell became a director of ERICO Inc., a London-based geologic consulting firm, where he worked on projects in Texas, Oklahoma, North Africa and the North Sea. He was the resident exploration geologist for ENSERCH International in Abu Dhabi, United Arab Emirates for two years and their senior international exploration geologist in charge of the Middle East and Southeast Asia until 1987. He then joined the World Bank's Second Gas Development Project in Dhaka, Bangladesh, supervising the exploration and drilling operation as well as training National Oil Company geologists.
In 1989, he returned as science director and international development advisor to the AAPG before joining SME in 1994. Howell also served as past president of the Association of Earth Science Editors and was a member of numerous professional organizations, including the Society of Exploration Geophysicists.
Obituary provided courtesy of the Society for Mining, Metallurgy and Exploration Inc.
Associate Editor Christina Reed compiles Society Page