---
Geomedia
---
Geotimes.org offers each month's book reviews, list of new books, book ordering information and new maps.

Check out this month's On the Web links, your connection to earth science friendly Web sites. The popular Geomedia feature now available by topic.

On the shelf

Maps: Digital geologic map of Virginia

---
On the shelf

How to Read a North Carolina Beach: Bubble Holes, Barking Sands and Rippled Runnels
by Orrin H. Pilkey, Tracy Monegan Rice and William J. Neal.
The University of North Carolina Press, 2004.
ISBN 0807855103. Paperback, $12.95.
---
It's summertime, and many Americans will be traveling to the shore. What better way to turn that family vacation into something both fun and educational than by bringing along How to Read a North Carolina Beach and learning all about the mysteries of the beaches. The geologist authors explore the large-scale processes that shape North Carolina's 320 miles of Atlantic beaches, such as the interactions of wind, waves and sand, as well as smaller features, such as bubble holes and black sands. This well-illustrated book also includes a discussion on the migration of barrier islands (which form most of the North Carolina coastline) and conservation issues associated with saving beaches and property. A short and easy read, this book is sure to please the curious beachgoer of any age.

---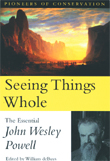 Seeing Things Whole: The Essential John Wesley Powell
edited by William deBuys.
Island Press, 2004.
ISBN 1559638737. Paperback, $16.00.
---
A renowned geologist and surveyor who traveled the West after serving in the Civil War, John Wesley Powell had the foresight to capture his thoughts, visions and experiences on paper. In Seeing Things Whole, William deBuys, a conservationist and historian, puts some of Powell's essays — some well-known, others more obscure — together in one volume. It is replete with an extensive and thought-provoking introduction to the book and shorter introductions and historical background before some of Powell's essays.
---

Pages of Stone: Geology of the Grand Canyon & Plateau Country National Parks & Monuments, 2nd Edition
by Halka Chronic and Lucy Chronic.
The Mountaineers Books, 2004.
ISBN 0898866804. Paperback, $16.95.
---
In Pages of Stone, a mother-daughter geologist team takes readers on a tour of 24 national parks and monuments in the American West, from the towering sandstone cliffs of Zion National Park in Utah to the fossil tree trunks of the Petrified Forest in Arizona. The writers also cover the usual suspects in great detail, such as the Grand Canyon and Mesa Verde, revealing both the geological and archaeological histories. This book is chock-full of easy-to-understand scientific detail, including how ancient seabeds formed Zion and what made the rocks of the Mesa Verde easy for humans to carve and inhabit. Filled with stunning pictures, this book is a great accompaniment to any trip across the West this summer.
---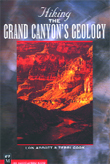 Hiking the Grand Canyon's Geology
by Lon Abbott and Terri Cook.
The Mountaineers Books, 2004.
ISBN 0898868955. Paperback, $16.95.
---
For years, the authors (two Arizona geology professors) have led hiking trips to study the geology of the Grand Canyon. Hiking the Grand Canyon's Geology allows you to take their guided trip on your own. Unlike numerous other books on the Grand Canyon that cover either the geologic history or the hiking trails, this robust book combines the two to give readers an up-close and personal "journey through time." Whatever your hiking ability or quest for adventure, this book will have a hike you can enjoy, from rugged multi-day hikes deep in the canyon to half-day walks around the rim. And along each hike, the authors explain the interesting geological sites and history, so consider bringing it along in your backpack. The book also includes important details about the hike, including permits and camping and bathroom facilities.
---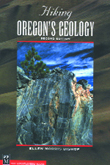 Hiking Oregon's Geology, 2nd Edition
by Ellen Morris Bishop.
The Mountaineers Books, 2004.
ISBN 0898868475. Paperback, $16.95.
---
The intricate details of Oregon's geologic history in this travel guide make it the ultimate hiking companion for outdoor-lovers traveling through Oregon. Geologist Ellen Morris Bishop takes readers on a hiking tour of 90 different sites across the state. Some sites are more well-known, such as Crater Lake and South Sister in the Cascades, and some are more obscure but equally worth visiting, such as a 14-mile roundtrip hike to a gorgeous waterfall in the Columbia River Gorge. The book is full of easy, moderate and strenuous hikes (clearly delineated), with details on each. While this book does describe the interesting geologic sites to see in the state, it is not quite as heavy on the geologic history as Hiking the Grand Canyon's Geology, which may make it easier to bring along with you on your hike.

Back to top
---
Maps
Digital geologic map of Virginia

The Geologic Map of Virginia (1:500,000 scale) and its expanded explanation is now available in digital format from the Virginia Department of Mines, Minerals and Energy, Division of Mineral Resources. Publication 174 consists of a CD, mounted on the inside of an 8.5- by 11-inch folder, in a digital format suitable for use in computerized mapping systems. Originally published in 1993 as a single large map sheet with a supplemental expanded explanation, containing formation descriptions and references, the map generally shows the rock types and geologic structures found in different parts of the commonwealth. This information will be useful to the minerals industry, teachers and students of Virginia's geology, and, to a certain extent, government agencies, planners and developers.

The data describes the bedrock geology of Virginia at 1:500,000 scale (1 inch on the map equals approximately 8 miles). Therefore, it only represents features that can be reasonably depicted at that scale and is not intended for site-specific use. Available detailed mapping is quite general, and geologic features only mappable at larger scales are absent, or exaggerated if they are of significant importance. Surficial deposits are not represented except in the Coastal Plain.

The images directory contains a tiff image, which may be viewed and printed. This new map image differs from the printed 1993 map because a few printing errors have been corrected, and it includes a road network. The Geo_Data directory contains the geospatial data in a standard format that can be imported into GIS software programs.

Publication 174 is available for $15.00 from the Virginia Division of Mineral Resources, PO Box 3667, Charlottesville, VA 22903, Telephone 434-951-6341.

---
Randall Orndorff compiles the Maps section and is the associate program coordinator for the USGS National Cooperative Geologic Mapping Program. Email: rorndorf@usgs.gov.

---