---
News Notes
---
Hydrology
Sri Lankan water post-tsunami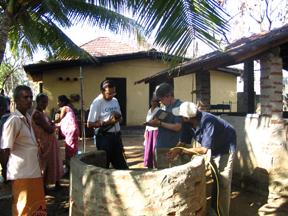 The waters of the December 2004 tsunami have long since retreated, but their impact on Sri Lanka's water supply lingers. According to a new study, tens of thousands of wells in the country's coastal areas are still contaminated with seawater and are unusable, despite last winter's heavy monsoon rains — and it may be several more monsoon seasons before the coastal aquifer can supply potable water again.
Hydrogeologists trying to pump saltwater out of a hand-dug well in eastern Sri Lanka found that pumping wasn't enough to flush the region's wells clean from the contamination left behind by the 2004 Indian Ocean tsunami. Photo is by Jayantha Obeysekera.
Most of Sri Lanka's coastal villagers rely on hand-dug wells that tap into a shallow sandy aquifer, says Jayantha Obeysekera, a hydrologist at the South Florida Water Management District in West Palm Beach. The uncovered wells provided one conduit for the tsunami's flood waves to enter the water supply, but seawater flooding the land surface also infiltrated into the aquifer and mixed with the freshwater, he says.
Obeysekera was part of a team of U.S., Sri Lankan and Danish scientists, led by Tissa Illangasekare, a hydrologist at the Colorado School of Mines in Golden, that investigated the tsunami's impact on Sri Lanka's water supply from February to September 2005. In all, the team found that about 40,000 of the country's coastal wells were contaminated, and the damage was compounded in some places by efforts to restore the wells by pumping the saltwater out.
"There was overpumping in some areas, and they pulled in more saltwater," Obeysekera says. Overpumping also caused the walls of some wells to collapse. Additionally, pumped water was often discharged too close to the wells, so "it infiltrated right back into the aquifer," he says.
Despite heavy monsoon rains in 2005, the team estimates that several monsoon seasons will be required to flush out the saltwater and recharge the wells, Obeysekera says. Furthermore, continued sustainability in the region will require significant changes in water management, the team reports in the May 9 Water Resources Research.
One long-term solution will be to provide pipe-borne water to coastal residents. The country also needs to integrate its management of surface water and groundwater, and to train local engineers and scientists to better use computer modeling to manage those resources, the researchers say.
Illangasekare's team, including Obeysekera, return to Sri Lanka this month to "see where things are," he says. From a scientific standpoint, the December 2004 tsunami provides a "one-time opportunity," Obeysekera says, to study how such an event affects coastal water supplies throughout the region, including Thailand, Indonesia, India and the Maldives.
Carolyn Gramling