Subscribe

Archives

Classifieds

Advertise

Customer Service

Geotimes Search
---
---
---
Web Extra Thursday, July 5, 2007
---
Live Earth: Scientists rock Antarctica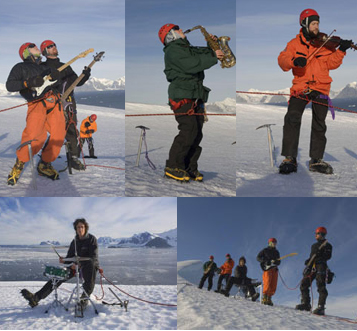 Images courtesy of British Antarctic Survey
British Antarctic researchers-cum-rockstars will perform Saturday, July 7, in Antarctica as part of the Live Earth concert series. The band practices, from top left clockwise: Matt Balmer and Roger Stilwell; Ali Massey; Tris Thorne; the entire band (called Nunatak); and Rob Webster.
On Saturday, concerts to "combat our climate crisis" will occur on all seven continents, according to Live Earth, part of a campaign led by the Alliance for Climate Protection, chaired by former U.S. Vice President Al Gore. Concerts will be held in London, England; Tokyo, Japan; Shanghai, China; Johannesburg, South Africa; Rio de Janeiro, Brazil; Sydney, Australia; Hamburg, Germany; at Giants Stadium just outside of New York City; and Antarctica — yes, Antarctica. Although the major cities will headline famous acts such as Snoop Dogg, Enrique Iglesias, Bon Jovi and Dave Matthews Band, perhaps the "coolest" concert will be in Antarctica, performed by a five-person band of Antarctic scientists.

While rockstars will perform in giant arenas filled with screaming crowds in the 24-hour Live Earth concert series, which kicks off in Sydney, the band of researchers will perform in front of their 17 colleagues at the British Antarctic Survey's (BAS) Rothera Research Station. People around the world can watch the Antarctic concert, however, via television and Internet broadcasts.

The band, called Nunatak — a Greenlandic word meaning an exposed summit of a ridge mountain or peak not covered with snow within an ice field or glacier — includes Matt Balmer, a 22-year-old electronics engineer who is the lead singer and songwriter; Tris Thorne, a 28-year-old communications engineer who manages the station's satellite technologies and ensures that the research station stays connected with the outside world, and also plays the fiddle and lead guitar; Ali Massey, a 28-year-old marine biologist who routinely ice dives, and plays the saxophone; Rob Webster, a 24-year-old meteorologist and drummer; and Roger Stilwell, a 24-year-old polar guide and bass guitarist. The indie rock band, who lists their influences from The Verge to Shakira to Metallica, was asked by Gore to play to ensure the concert series encompasses all seven continents. The Live Earth team apparently toyed with the idea of flying big-name acts into Antarctica, but winter on the continent prohibits travel (beyond research) into or out of the continent, according to BAS.

Nunatak's global debut performance will be outside of the Rothera Research Station on the ice, in temperatures about negative 10 degrees Celsius (14 degrees Fahrenheit). "I can't believe we've been invited to do this — it's a fantastic opportunity to encourage people of the world to deal with climate change," Balmer said in a statement from Antarctica. "We expected to spend our Antarctic winter here at Rothera quietly getting on with our work and maybe performing at the occasional Saturday night party. We could never have imagined taking part in a global concert," he said. The researchers spend the majority of their time in Antarctica researching the effects of climate change and exploring evolutionary biology on the Antarctic Peninsula.

Megan Sever
Links:
Live Earth
British Antarctic Survey

Back to top