Subscribe

Archives

Classifieds

Advertise

Customer Service

Geotimes Search
---
---
---
TRENDS & INNOVATIONS
---
Ice Voted off Warming Island

Courtesy of Betchart Expeditions
On Aug. 11, 1985, a satellite captured an image of Greenland and its ice sheet, which extended out to envelop what was thought to be a peninsula. By 2005, a satellite image revealed that the ice sheet had retreated, revealing that the peninsula was actually an island, which discoverers named Warming Island.
In September 2005, explorer Dennis Schmitt led a group of tourists aboard a ship that was headed for Île de France, an island off the coast of Greenland. Ice, however, prevented them from reaching their goal. Not wanting to disappoint the travelers, Schmitt, or "Ikiorti" as he was called by Greenland natives, suggested an alternative destination: a striking peninsula shaped like a hand with three fingers and a thumb jutting out into the Atlantic, to which he had traveled via dogsled only a decade earlier. The Russian captain agreed to the suggestion. Upon sailing into the fjord, however, Schmitt saw that the "hand" had lost its wrist. Momentarily disoriented, Schmitt quickly realized that he was indeed in the correct location and "like a flash of lightning," he says, understood that he was looking at the "world's newest island."
Once hidden beneath Greenland's massive ice sheet, the island had emerged as the ice receded and broke apart, revealing that the fingers of land were not attached to the mainland. Thinking that the new island would become a poster child for climate change, Schmitt says, he called his discovery "Warming Island." The name stuck, and cartographers are in the process of redrawing maps to include the landform. This fall, tourists can be among the first to set foot on Warming Island, a manifestation of climate change.
Betchart Expeditions in Cupertino, Calif., has long offered trips to exotic locales, including Greenland and Iceland. From Sept. 25 to Oct. 6, 2007, the travel company has arranged for the merchant vessel, the Aleksey Maryshev, to cruise through the Denmark Strait, where blue whales, orcas and a plethora of seabirds are commonly seen. Passengers will also be looking for narwhal in Scoresbysund, the world's largest fjord, while the ship navigates around icebergs towering up to 100 meters (about 330 feet) tall. Land adventures are also on the itinerary, which includes looking for geysers on Iceland and warm springs on Greenland, and a tour of an Inuit settlement that was abandoned about 200 years ago. Downtime while cruising can also be filled with watching the northern lights (twilight conditions will be the norm), or listening to one of Schmitt's lectures about everything from linguistics and Greenlandic history to his discovery of Warming Island. Day five of the trip features a half-day excursion on Warming Island.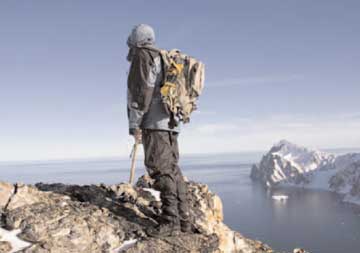 Jeff Shea, courtesy of Betchart Expeditions
Dennis Schmitt stands atop a peak on Warming Island, overlooking the mouth of a new strait that opens up into the Atlantic Ocean. The strait was once covered by ice that connected the island to Greenland's mainland.
Schmitt, who is fluent in Inuit and 14 other languages, is excited to lead the expedition, as he wants to further observe the island. An explorer since the 1960s, Schmitt has had many adventures before his discovery of Warming Island. When studying linguistics at the University of California at Berkeley, in 1965, he was sent by a prototype program of the Peace Corps to the traditional Eskimo village of Anatubic to study the native language and culture, everything from social issues to weapons use.
In 1966, Schmitt, or "Ekkayoak" as the Eskimos called him, lived in an Eskimo village on Diomede Island in the middle of the Bering Strait. One day in April, Schmitt headed out for a walk on the semi-frozen Bering Strait and kept walking. "I don't know what took me over, but I just kept going," he says. He crossed the dateline and before he knew it was on another island in Soviet territory, all the time making sure the wind did not shift, blowing the ice out to sea and stranding him. "I know this sounds crazy," he says, "but here I was in the middle of the Cold War in 1966 entering the Soviet Union, and all I was thinking about was 'is the wind still coming from the south?'"
When he walked back into U.S. territory, he found that his colleagues had grown suspicious of his wanderings and suspected that he might be a Soviet spy. After two days of interrogation by the FBI, Schmitt convinced the authorities that he was a harmless adventurer rather than a spy for the Soviet Union. From that day on, he gained fame among explorers as "the boy who crossed the Bering Strait" and has made his living guiding hunters, photographers and scientists through the wilderness. The next few decades of his life were spent mounting expeditions through the 1,100 kilometers (680 miles) of the Brooks Range in Alaska and Canada. In 1996, he mounted a search for Greenland's northernmost point, which he found existed as a new island that had formed sometime during the two weeks prior to his visit. "That set in motion a Pandora's box of searching for new islands," Schmitt says, including the discovery of Warming Island.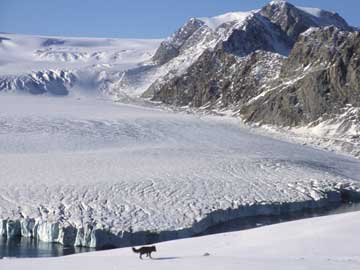 Courtesy of Betchart Expeditions
A polar fox strolls across Warming Island along the edge of the new strait that separates the new island from Greenland's mainland. Foxes are the largest mammals on the island observed by explorer Dennis Schmitt during his two expeditions there.
Betchart Expeditions is currently the only company offering tours to Warming Island. The company's aim is to gear its trips toward inquisitive people, says Bob Nansen, Betchart's field operations coordinator. More than just a holiday, the trips are educational adventures designed for a group of people who have the same goals for their journey, he says.
To target scientific clientele, Betchart has affiliated with such organizations as the American Association for the Advancement of Science and the Geological Society of America. In addition, the trip to Warming Island is affiliated with the Planetary Society, a group of scientists and nonscientists who have an interest in Earth's extreme environments, and which is slated to receive a financial contribution that is included in the trip's set price.
Climate change will be a theme of the lectures and excursions during the 12-day journey. Nansen says the expedition offers the chance to see tangible evidence of climate change. "Most everything else is theoretical, or they're talking about inches over a decade and most beachgoers don't notice it." But on Warming Island, he says, "you can actually see the change."
Ian Howat of the University of Washington at Seattle, who reported on Greenland's ice fluctuations in the March 16, 2007, issue of Science, is not surprised that a new island has turned up. "It's part of this whole phenomena of ice mass loss," he says, which happens faster at an ice sheet's margin, thinning in some places along the sheet as much as 50 meters (about 160 feet) per year. "I'm sure if you looked close enough, you'd find lots and lots of Warming Islands," he says. Similar islands have emerged off the coast of Alaska and Western Canada.
Despite the small amount of data that exists for Greenland's ice sheet, researchers think that the mass loss will likely continue. "There's going to be a lot more real estate opening up in Greenland," Howat says. Whether that real estate will help turn a profit for Betchert Expeditions or other entrepreneurial adventure seekers depends on the amount of public interest in visiting this new exotic destination.