Subscribe

Archives

Classifieds

Advertise

Customer Service

Geotimes Search
---
---
---
FEATURE
---
Exploring Karst in Guilin, China
Jordan Clary
---
A guide to help you get around
---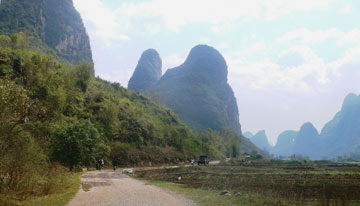 Jordan Clary
An ancient Chinese adage says, "He who travels in Guilin finds himself in a fairy land."
Traveling to China this summer for the Olympics? Don't just stay in Beijing — try straying off the beaten path a little bit. Jordan Clary, a freelance writer who recently lived in China, recommends checking out some of the more geologically fascinating areas, such as Guilin in the vast country's southeastern corner.
Guilin, China, bears an uncanny resemblance to J.R.R. Tolkien's Middle-earth. At any moment you might expect to see Gandalf the Wizard galloping across the plains on his white steed or a dragon roaring down from the sharp cliffs. Guilin, however, is no trick of a novelist's imagination. Its more than 5,180 square kilometers of karst landscape is the result of a perfect alchemy of geological conditions.
Located in the northeast of the Guangxi Zhuang Autonomous Region, Guilin is one of China's leading tourist spots. Most Western visitors spend a day or two in Shanghai or Hong Kong before coming here, which are only an hour away by plane. Many people prefer, however, to take the train rather than fly. A sleeper car gives ample opportunity to enjoy southern China's landscape at a leisurely pace. A number of bus routes also service Guilin — and if you are up for an adventure, road travel in China is not something you are likely to forget. When I rode the bus from Yunnan Province to Guilin, we spent three hours in a rice paddy in the middle of the night surrounded by men in pickup trucks while our driver exchanged some type of "goods" off the top of the bus.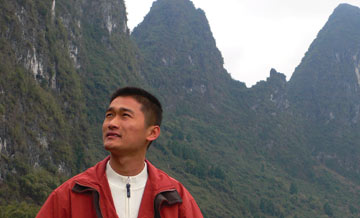 Jordan Clary
"Theo" Lou Tian Xi from nearby Guangdong Province appreciates the view.
Geologic history
Guilin's most renowned feature is its dramatic karst terrain. "China in general and the Guilin area specifically boasts some of the most spectacular karst topography in the world," says Ray Beiersdorfer, a geologist at Youngstown State University in Ohio. Rising sharply at odd angles, limestone peaks look like giant teeth growing out of the green plain. Karst topography is characterized by many caverns and sinkholes that form as groundwater or rainwater dissolve limestone and other carbonate rocks. Florida and Virginia's Shenandoah Valley are good examples of where karst can be found in the United States. However, the topography looks completely different from that in China, thanks to conditions that exposed China's softer limestone and eroded it more quickly.
The specific conditions for forming the magnificent topography of Guilin "are fourfold," according to Beiersdorfer. "First, you need hard, compact carbonate rock. In Guilin, it's Devonian limestone. Secondly, you need strong uplift, in this case provided by the collision of India with Asia to form the Himalayas. Third, you need a monsoon climate of high moisture during the warmest season. Finally, the area must not have been scoured by glaciers, which this region wasn't."
Two types of karst landscapes predominate in Guilin: fenglin or peak forest (isolated towers of rock) and fengcong or peak cluster (linked-base towers). The two types may have evolved sequentially from peak forest to peak cluster, or they may have evolved simultaneously.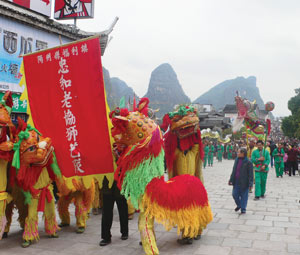 Jordan Clary
Dragon dancers parade through downtown Yangshuo during Chinese New Year.
Human history
The area also boasts significant archaeological finds — such as human teeth and stone tools — that place humans in the Guilin area for the last 30,000 years. A site at Zengpiyan, a cave and local historical monument, has revealed additional cultural artifacts, such as pottery, from the tenth to the seventh millennium B.C. Guilin City proper was first established more than 2,000 years ago during the Qin Dynasty (221 to 206 B.C.) by Emperor Qin Shi Huang, perhaps best known for creating the army of terracotta warriors uncovered in Xian during the 1970s. Emperor Qin Shi Huang also built the Ling Canal that linked the Yangtze and Pearl river systems, thus becoming a significant factor in cultural and economic exchange between central and southern China.
During the Tang Dynasty (A.D. 618 to 907), Guilin thrived. Huge halls were built and stone walls erected around the city. Today, Guilin is a rather large, bustling city that attracts visitors from around the world. The names of the hills surrounding Guilin are poetic: Cloud-Catching Pavilion, Bright Moon Peak, White Horse Cliff, Five Tigers Catch a Goat Hill, Folded Brocade Mountain. In fact, as well as a geologist's paradise, this area has long been an inspiration to countless poets and artists. Many of the traditional Chinese landscape paintings we see today were inspired by this region.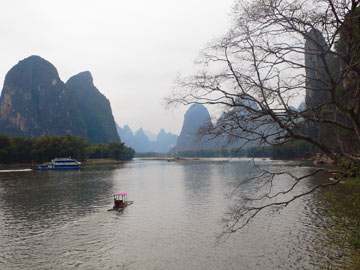 Jordan Clary
In Guilin, you can board a boat that will take you down the Li River to Yangshuo.
Yangshuo
Most visitors to the Guilin area find a boat trip down the Li River to the town of Yangshuo to be one of the highlights of their trip. "The river forms a green gauze belt, the mountains are like jade hairpins," Han Yu, a Tang Dynasty poet, wrote. Drifting down the Li River, it's easy to feel lost in time. Women kneel on the banks washing clothes. Farmers follow behind their water buffalo. Small villages dot the shore. And the boatman will likely point out animal shapes in the surrounding landscape as you float down the river: horses galloping through the mountainsides, a stone frog leaping into the water or what looks like a turtle in the sides of a cliff.
The cobblestone Western Street (Xi Jie) in Yangshuo has garnered a reputation as the place in China where East and West really do meet. An abundance of small guesthouses and hotels line the street, most of which are quite inexpensive. The Bamboo House is one of the few places in China with soft beds. Although its rooms are small, the guesthouse has charm and the staff is friendly.
Yangshuo's geological offerings can be explored in many ways. You can rent bicycles or electric bikes to tour the countryside. Either buy a map and do it yourself, or hire one of the many local guides who will no doubt approach you on the street. Your guesthouse will also be happy to recommend a guide.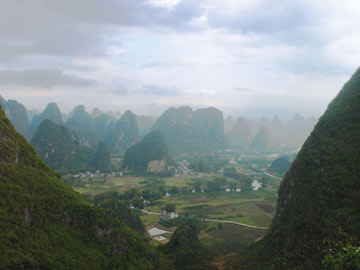 Jordan Clary
View from the top of Moon Hill, at the end of one of Yangshuo's popular hiking trails.
Caving
Black Buddha Cave. Moon Water Cave. Dragon Cave. If it's caving you want, plenty can be found around Yangshuo. Caves and subterranean waters mark this area, and although the caves that can be visited have been domesticated with paved walkways and colored lights, they are, nevertheless, home to some dazzling stalagmites and stalactites. Furthermore, many of the caves are quite large and may include mud baths as part of the admission price. If your interest in rocks tends to be more aboveground than below, be sure to bike up to Moon Hill, a mountain with a naturally circular rock window at the top that provides a spectacular panoramic view of the area. A number of shops can also set you up with rock-climbing gear if you want to get a real feel for the craggy landscape.
Although Guilin and Yangshuo host visitors all year, summer offers a few extra pleasures, such as taking a bamboo raft on the Yulong (Dragon) River, a tributary of the Li River, or golfing at one of the many golf resorts. And like most of China, be prepared to bargain for anything you buy, from souvenirs to tour guide fees to bus tickets.
No matter what time of year you go, do your homework first and plan to spend at least a few days in the region. Celebrations — everything from a lantern festival to dragon boat races — abound, so be sure to check if one will be happening while you're there. It's well worth it.
A guide to help you get around
Chinese is a difficult language. Even those who travel with a traditional Mandarin phrase book may sometimes feel like they are trying to talk with a mouthful of marbles. Now, there is a handy little book available, Me No Speak, that helps you communicate for the basic necessities with pictures and pointing. This could be a lifesaver if you miss travel connections and find yourself in some spot with no English speakers! Me No Speak is small and easily fits into your pocket or purse. Order your copy at www.menospeak.com.
J.C.

Back to top
---
Links:
me no speak
Jordan Clary's home page
All Things Stone