---
Geomedia
---
Geotimes.org offers each month's book reviews, list of new books, book ordering information and new maps.

Check out this month's On the Web links, your connection to earth science friendly Web sites. The popular Geomedia feature is now available by topic.

On Exhibit: Art from the rocks

Books: Pleistocene ecology and public policy: A review of Twilight of the Mammoths: Ice Age Extinctions and the Rewilding of America
---
Art From the Rocks
Naomi Lubick

Although it may be hard to believe, geoscience is ever-present in art — from landscapes, to the minerals in paints of old and the petroleum in modern paints, to the Carrara marble that Michelangelo used to create his sculptures. But some art is more intrinsically and obviously geologic in its nature: Whether sculpted or painted, such representational works often intentionally link a viewer to geologic processes and history.

Robert Smithson's "Spiral Jetty," built in 1970 in Utah's Great Salt Lake, is a prime example of the movement known variously as land art or environmental art, depending on the preferences of artists, critics and curators (see Geotimes, June 2005). Not intended to be geological, the jetty's comings and goings with changing lake levels are an obvious reminder of natural cycles and geologic processes. Such works of art can be indoors or outdoors, but generally incorporate landforms of some kind, or "earthworks."

Washington, D.C., artist Ben Boothby paints rocks, such as these from Acadia National Park in Maine, as a whole (left) and then interprets them to smaller scales (right). Images are courtesy of Ben Boothby.

One of the most active and probably best-known artists in this genre today is Andy Goldsworthy, whose art is very site-specific. Goldsworthy's "Roof," composed of domes of slate that are now on permanent display in the East Wing of the National Gallery of Art in Washington, D.C., appears to have grown up around the glass windows of the building, smoothly transitioning from inside to outside, in an almost organic but obviously manmade form.

Goldsworthy's other pieces include a sinuous snakelike wall on Stanford University's campus in Palo Alto, Calif., built in an ephemeral streambed; a stone wall woven among trees on the campus of the Storm King Art Center in Mountainville, N.Y., reminiscent of New England farmers' walls built of stones from their fields; and acorn-shaped stone cairns, made of carefully perched slate, installed in various museums around the world. But the piece that may strike most geologists as familiar is one of his newest installations, now a permanent part of the de Young Museum in San Francisco's Golden Gate Park.

Across the way from the California Academy of Sciences building, a structure that was almost completely destroyed in the 1906 Great Earthquake and which is now undergoing major renovations, the de Young Museum reopened last year after its own major seismic retrofit and almost complete rebuild. Goldsworthy's contribution to the building is a not-so-subtle reminder of the region's seismic history: The piece, "Drawn Stone" (formerly called "Faultline"), is a crack that runs through the sidewalk leading to the museum's entrance, a small fissure that meanders and splits several boulders on the path visitors take through the cave-like atrium and into the museum.

But not all geologic art is 3-D. Painters and photographers can take different liberties in presenting geology in their 2-D art. Rounded pebbles and rocks from the beaches of Maine's Acadia National Park inspired Ben Boothby to paint snapshots in geologic time, the artist says, as he was drawn to the wave action and erosion in the intertidal zone.

Boothby, who is from Maine, collects rounded rocks where he can and photographs them in place, to make compositions that look like mounded granite eggs, painted in the oranges, blues, greens and grays of the region's metamorphosed and volcanic rocks. "Each pebble is its own painting," Boothby says, and "has its own geologic history — a snippet in time."

Boothby's most recent paired paintings, in diptychs and triptychs, on display as part of an "emerging artists" show at Susan Calloway Fine Arts in Washington, D.C., as well as online (www.benboothby.com), show a geologist's tendency to look closer. The series, in side-by-side canvasses grouped in twos and threes, shift from the geomorphologic scale of the rounded rocks to the finer mineralogical scale of individual crystals in close-ups. But Boothby protests that he is not a geologist, and his finer scale images are soft-edged interpretations of crystal matrices.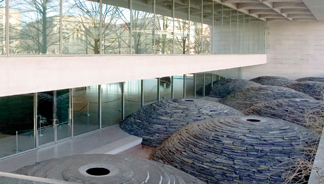 Geologic accuracy comes more easily with photographs. Getting deeper into the rocks at such fine scales, photographer Bill Atkinson, a former programmer for Apple who created the images in the book Within the Stone, has used photographs of a variety of polished rocks, magnified or not, to create landscapes from rocks themselves. The images of jasper, agate, iron and even meteorite — from samples generally only several inches long — often look like paintings, and remind a viewer of otherworldly landscapes, or just of beautiful rocks.
The slate igloos of "Roof" by Andy Goldsworthy, completed last year as a permanent exhibit at the National Gallery of Art in Washington, D.C., seem to meld into the museum's infrastructure, built on either side of the building's exterior window on the first floor of its East Gallery. Image is courtesy of the National Gallery of Art; de Young Museum.
Alongside the gorgeous images in Within the Stone are essays and poems from well-known science writers and natural historians, including Andrew Revkin of The New York Times and Diane Ackerman, author of A Natural History of the Senses among other books. Within the Stone's "popular appeal underscores the value of its cross-cultural approach as a Trojan horse for public education in earth science," says Robert Hutchinson of BrownTrout Publishers, which published the book. Hutchinson himself is a former igneous petrologist, who once worked at Lamont-Doherty Earth Observatory in Palisades, N.Y., and the American Museum of Natural History in New York City.
The connection between rocks and beauty allows nonscientists an entrée into a geologic world. For Boothby, his work is "a metaphor for looking deeper than we can see," he says, allowing him to imagine down to the molecular level, without the tools that scientists generally use to show such structures at that scale. Photorealism and abstraction allow the painter to show rocks and their landscapes "through my own filter," he says.
---
Geotimes contributing writer
Links:
"Great Salt Lake spiral submerged," Geotimes, June 2005
http://www.benboothby.com

---
Book review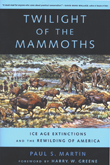 Twilight of the Mammoths: Ice Age Extinctions and the Rewilding of America
by Paul Martin.
University of California Press, 2005.
ISBN 0 520 23141 4.
Hardcover, $29.95.

Pleistocene Ecology and Public Policy

Christopher L. Hill

People are increasingly interested in understanding how human activities play into current and potential future climate and ecological changes, and in turn, what policies should guide those activities. Geoscientists explore these issues by looking to the prehistoric past and trying to draw lessons from those ancient experiences.
In Twilight of the Mammoths, Paul Martin, a paleoecologist at the University of Arizona in Tucson, takes just such an approach — addressing explanations for the substantial number of large mammal extinctions over the last 50,000 years, and then applying an evolutionary perspective to modern-day conservation biology. The subject matter is provocative and has led to controversy regarding how much of a role geoscience interpretations of past climate events should play in informing public policy.
A substantial part of this book deals with Martin's ideas on the ecology of late Pleistocene extinctions. Martin relies on the observation that early North American people using "Clovis" tools appear to have hunted some large animals (such as mammoths and mastodons), and that the timing of the Clovis presence (about 13,400 years ago) coincides with the extinction of these megafauna. One seemingly straightforward interpretation, according to Martin, is that people using Clovis tools selectively overhunted large mammals and caused their extinction.
Other scientists, however, posit an alternative explanation: that climate change led to the extinctions. But Martin and other proponents of the "overkill" explanation say that the climate change hypothesis lacks a mechanism. They ask: What climate factors can be connected with the extinction of so many large animals near the end of the Ice Age? As Martin points out, these factors are not likely to have been the same throughout the world. Climate change may have affected the range, size and quality of the forage, as well as the duration and intensity of the seasons, while the differences in physiology and behavior would have likely led to distinct responses that varied species to species.
The most plausible explanations for understanding late Pleistocene extinctions may be derived from multi-causal models that incorporate both climate and human activities (including overkill) to interpret the dynamics of ecological change. But throughout the book, Martin applies his own criteria to evaluating the plausible explanations, and comes out staunchly in favor of the overkill hypothesis.
Arguments against overkill include the scarcity of evidence. Although the timing of extinctions may coincide in general with the introduction of Clovis hunting in North America, there is a scarcity of direct evidence from kill sites. How many depends on what you count, but there is no direct evidence that humans hunted the vast majority of taxa, other than mammoths and mastodons, that went extinct in North America (35 genra of large mammals — both herbivores and carnivores). To counter the argument that there is little direct evidence, Martin has suggested that the predation occurred too fast to leave a geologic record.
A second argument against overkill is the possible presence of humans in North America before Clovis groups. Some evidence suggests that humans were present in the New World prior to the use of Clovis artifacts, but Martin is skeptical about this evidence (see story, this issue). He suggests that the dates older than about 11,000 radiocarbon years ago (about 13,000 years ago) for humans in the Americas are not valid or have yet to be tested by unbiased investigators.
Martin's arguments in favor of a human-caused extinction of Ice Age mammals lead him back to the present day and the conclusion that instead of considering the ecological patterns that prevailed in North America around 500 years ago as the standard, the goal of conservation biology should seek to restore the Ice Age ecology prior to the migration of humans more than 13,000 years ago (see Geotimes, October 2005). Ultimately, Martin's broader evolutionary perspectives on restoration may be a significant contribution, especially if they become integrated into the decision-making processes connected with the management of public and private lands, as well as the plants and animals that are part of these landscapes.
Ironically, efforts such as the reintroduction of wolves to Yellowstone may provide information regarding changes in prey response to the new predators, thus adding to our understanding of the ecology of extinctions. Martin's version of overkill relies on naïve behavior by Pleistocene animals in the face of an onslaught by Ice Age human hunters. But the reintroduction of wolves in Yellowstone reminds us of the quick behavioral response by prey populations, therefore potentially weakening the arguments in support of Pleistocene overkill. Still, the reintroduction of groups of animals that might share the ecologically equivalent relationships of Ice Age communities might ultimately increase landscape biodiversity and help us more fully understand the complex dynamics between the physical and biological worlds.
Professional geoscientists and others interested in the issues of ecological change will find value in Martin's work, but perhaps this engaging and intriguing volume is most successful in introducing an evolutionary perspective and an emphasis on long-term processes to a nonscientific audience. In this book, Martin provides an excellent illustration of the complexities of understanding the lessons of the past and applying these lessons to current public policy.
---
Hill is co-author of Geoarchaeology (second edition, 2006, Yale University Press) and assistant professor at Boise State University in Idaho. Email: chill2@boisestate.edu.
Links:
"Warming opened Americas to humans," Geotimes, June 2006
"Serengeti in the Great Plains," Geotimes, October 2005

---