Subscribe

Archives

Classifieds

Advertise

Customer Service

Geotimes Search
---
---
---
Web Extra Thursday, June 7, 2007
---
Snowmelt on the rise in Greenland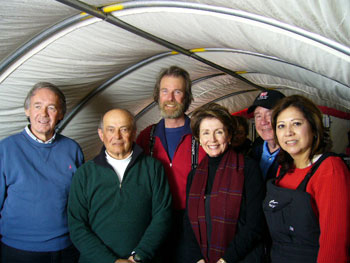 U.S. House of Representatives
Over Memorial Day weekend, a delegation from the House Select Committee on Energy Independence and Global Warming visited Greenland to learn more about how snowmelt is increasing on the Greenland ice cap as global temperatures increase. From left to right: Rep. Edward Markey (D-Mass.); Jay Zwally, NASA Goddard Space Flight Center; Konrad Steffen, University of Colorado at Boulder; House Speaker Nancy Pelosi (D-Calif.); Rep. Dave Hobson (R-Ohio); and Rep. Hilda L. Solis (D-Calif.).
Amid growing public awareness about global warming, a new study is adding fuel to the fire. The study, which uses satellite observations of Greenland's ice sheet, is showing that Greenland experienced more days of melting snow in 2006 than the country had averaged over recent decades.

"Snowmelt occurred more than 10 days longer than the average over the past 18 years in some areas of Greenland," says Marco Tedesco of the Joint Center for Earth Systems Technology at NASA Goddard Space Flight Center and the University of Maryland, Baltimore County, and author of a study published May 29 in Eos. Furthermore, snowmelt occurred at higher altitudes than average in 2006, Tedesco wrote. Such melt data help researchers to understand more about how glaciers flow, and thus how quickly Greenland's ice may respond to a warming climate.

"There are several reasons why the melting of Greenland's ice sheets should be cause for concern," Tedesco says. Meltwater can provide a source of freshwater to the ocean, which can raise sea levels and wreak havoc on North Atlantic circulation and the climate (see Geotimes, November 2005). "Meltwater can also percolate through the ice sheet and lubricate the bedrock and ice interface," Tedesco says, which may contribute to ice sheet sliding and loss (see Geotimes, March 2006).

Using the Special Sensor Microwave Imaging radiometer (SSM/I) onboard the Defense Meteorological Satellite Program spacecrafts, Tedesco measured the electromagnetic signal naturally emitted from the snow at microwave frequencies on Greenland to detect the presence of liquid water from melting snow. "This signal increases when liquid water is present in the snowpack," Tedesco says.

"Another reason for studying melting snow is that dry and wet snow appear similar to the human eye," Tedesco says, "but they absorb solar radiation in a different way, as wet snow absorbs four to five times more energy from the sun than dry snow."

To analyze the SSM/I data, Tedesco used concepts called the melting extent and melting index. The melting extent is the area experiencing melting for at least one day, while the melting index is the area of melting multiplied by the number of days of melting. "Although the melting index and melting extent were not at a maximum in 2006," Tedesco says, "both the melting extent and index followed the increasing trend observed from 1988 to 2005."

Previous studies by Jay Zwally and Waleed Abdalati of NASA's Goddard Space Flight Center and Konrad Steffen from the University of Colorado at Boulder have shown a correlation between increased surface meltwater and the speed that the glaciers on the ice sheet flow out to sea (see Geotimes, July 2006). Tedesco is currently working on extending the dataset back further to see how long the melting trend has been occurring.

"What is causing the melting and how this is related to mass changes and sea level rise are fundamental questions, both for the scientific community and the public at large," Tedesco says. "There are many factors that influence melting," he says. "The information these satellites give us is what is happening. Why it is happening requires a community effort to decipher and, in this sense, the ongoing International Polar Year offers an unique opportunity."

Erin Saupe
Geotimes contributing writer
Links:
"Salting a stagnant ocean," Geotimes, November 2005
"Arctic Amplification," Geotimes, March 2006
"H. Jay Zwally: Glaciologist by chance," Geotimes, July 2006
NASA press release on congressional visit to Greenland

Back to top