Subscribe

Archives

Classifieds

Advertise

Customer Service

Geotimes Search
---
---
---
GEOLOGIC COLUMN
---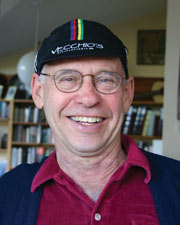 Claudia Schwab
Aug. 8 to 24, 2008 — the dates of the Summer Games of the XXIX Olympiad — are red-letter days in China. A projected 2 million spectators are expected to attend the Olympics. The Chinese people, even more than the government, view the games as a showcase for the country's emergence onto the world stage.
Recent incidents in Tibet and protests around the world may put a damper on the Olympics, but the Chinese government is holding its breath, hoping that the games go off smoothly. The athletes are more anxious about simply breathing. Beijing, where the games will occur, is perhaps equally known for its historic sites such as Tiananmen Square, the Summer Palace and the nearby Great Wall, as it is for its hot, humid summers and polluted skies. Nitrogen dioxide levels routinely exceed World Health Organization guidelines by 78 percent. In June 2007, Chinese skies held three times the particulate matter of New York City skies. Mean August temperature highs and humidity equal those of Dallas, Texas.
When bidding for the Olympics, Chinese officials pledged to deal with their notorious pollution. They promised to build state-of-the-art sports venues (done), develop a centralized mass transit system (partially accomplished), and construct multi-lane urban superhighways (a work in progress). Round-the-clock construction — the crane (not the bird) could easily be the symbol of the New China — has displaced as many as 1.5 million residents. But that construction will stop immediately prior to and during the Olympic Games — an attempt to keep dust out of the air. The government has also been relocating, or temporarily closing, factories in Beijing Municipality, removing some 1,600 coal-burning electricity plants and replacing 50,000 polluting taxis and 10,000 inefficient buses with cleaner vehicles. They have planted 200 million carbon-dioxide-absorbing trees.
During the games themselves, the government will restrict daily traffic using an odd-even date and license plate system to curtail automobile circulation and the accompanying emissions. A four-day test run of this ban, conducted from Aug. 17 to Aug. 20, 2007, cut 5,800 tons of pollutant discharge (mainly nitrogen oxides, carbon monoxide and inhalant particulate matter). However, stagnant air, high humidity and the continued influx of emissions from the provinces surrounding Beijing left pollutant levels disappointingly high (dropping by only 15 to 20 percent on average). Herein lies the problem: It's not just Beijing that needs to step up pollution control measures, yet that's primarily what's been happening.
The city of Beijing (Mandarin for "northern capital") is home to 11 million people (including my 28-year-old son). Mountain ranges rim the capital, alternately shielding the city from hot, dry winds, or trapping pollutants in stagnant air. The nearby provinces of Shanxi, Hebei and Shangdong and the Municipality of Tianjin that surround the city have a total area slightly larger than California, but a population almost six times as high — more than two-thirds of the entire U.S. population. These neighbors are heavily urbanized and industrialized. And emissions controls are less stringent than in Beijing.
One of Beijing's principal problems is the overbearing influence of these pollutant sources. Roughly a third of the particulate matter and 50 to 70 percent of the ozone in the city are, under the correct wind conditions, swept in from elsewhere, researchers have found. Earlier promises to "work with" the pollution emitted in the surrounding provinces have been met with varying degrees of success. These externally sourced pollutants, as well as locally generated emissions, can progressively build up in the atmosphere. Dispersal depends on the frequency and intensity of rain and wind. Thus, as we have all heard in news reports, the government is considering seeding clouds to promote "pollution-sweeping" rainfall immediately prior to the games — not exactly a proven technology.
Will the meteorological gods determine whether China can deliver on its promise of a "green" Olympics? In this 11th hour, some additional steps could be taken so as not to rely entirely on rain. However, the Chinese are about as open to external advice and suggestions from me as they are receptive to religious counseling from the Dalai Lama. First, there must be greater emphasis on recognizing and dealing with the regional pollution, which has a major impact on the Beijing area. Zero emissions from Beijing itself doesn't guarantee a clean-air Olympics. Second, government agencies must track and openly release ongoing specific venue-related pollution data on which additional contingency plans can be based. Third, imposing broader restrictions on commuting and work during the games themselves, packaged as a two-week, city-wide municipal "holiday," should be considered. Or, of course, they could reschedule the games for October, when the air is cooler and drier and the winds more capable of sweeping things away.
Although any of these solutions might make it a bit easier to breathe during the Olympics, they're probably not too likely at this point. All we can hope is that any additional last-minute measures, combined with good luck — and maybe a little help from the weather gods — will save the day!
---