Subscribe

Archives

Classifieds

Advertise

Customer Service

Geotimes Search
---
---
---
NEWS NOTES
---
Gold fever strikes again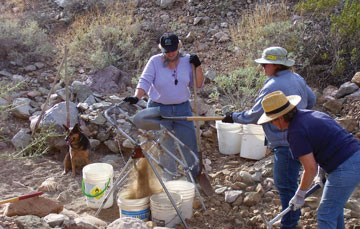 Sandy Brown, Nugget Wranglers Association
The Nugget Wranglers shovel dirt through a piece of mesh to separate the larger rocks from the fine sediment. They'll scan the rocks with a metal detector (in case there's a hidden gold nugget) and put the fine sediment into a wet or dry washer.
On the second Wednesday of every month between September and April, the Nugget Wranglers Association meets for about an hour at a Charlie's Chuck House in Ehrenberg, Ariz., to discuss gold digging. But the real fun happens in the field, where the club's members can actually use what they've learned. If they're lucky, club president Dwayne Farmer serves his famous "Hobo Stew." And if they're really lucky, they uncover a bit of gold.
The ground holds less gold than it once did, but there are more people searching private and public lands for what is left than there were just a few years ago. In the past two years, the price of gold has skyrocketed from about $650 an ounce to more than $900 today, primarily due to waning confidence in the weakening dollar. Meanwhile, membership in recreational prospecting clubs has ballooned. "Last year we were signing up 50 to 100 new members per week. Now it's 50 to 100 a day," says Ken Rucker, general manager of the Gold Prospectors Association of America, based in Temecula, Calif. "It's back to the 1849 gold rush."
Although Rucker's assessment may be a bit of an overstatement — approximately 90,000 people migrated to California between 1848 and 1850 — the number of new mining claims has been on the rise. According to the California Bureau of Land Management (BLM), the number of new claims on public lands climbed from 1,986 in 2006 to 3,520 last year. Officials expect to add even more this year.
Most mining in California is small scale. The state mandates that open pit mines must be backfilled. "That makes it unpopular to open up a large-scale mine. The backfilling makes things very expensive," says Susan Kohler, a senior geologist at the California Geological Survey. Mines in Nevada, however, aren't subject to the same regulations. "Most of what the BLM [office in Nevada] deals with is the big companies," says Craig Smith, a geologist at the BLM's state office in Reno. Over the past couple of years, gold exploration has increased dramatically. "We're very busy," he says.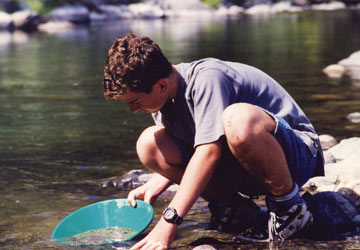 Gold Prospectors Association of America
Recreational gold hunters typically don't use fancy equipment. This prospector uses a sluicing pan to search for gold in river sediment.
But the surge in exploration may not necessarily lead to a boost in production, says John Muntean of the Nevada Bureau of Mines and Geology in Reno. Although Nevada is still the nation's number one gold producer, production has been falling since 2000, and the last major discovery of gold was six years ago. Before that, companies were uncovering large deposits every two or three years, Muntean says. Falling production may be an artifact of low gold prices in the late 1990s (which led to a drop in exploration), but Muntean is concerned that it could be the beginning of a long decline unless new exploration approaches are employed. "The jury is still out on whether the recent surge in exploration will eventually reverse the decline in production," he says.
Much of the state's gold lies in what's known as the Carlin trend, a belt of gold deposits eight kilometers wide and more than 60 kilometers long in northern Nevada. Mining companies can access the low-grade gold by digging open pits, but what's left of the high-grade gold is deeply buried. "More and more the production is coming from underground as we mine out the open pits," Muntean says. However, "deep drilling for buried deposits is expensive and risky."
Surface gold is scarce. "Most of the easy gold has been found," Kohler says. But not everyone is in it for the money. For the Wranglers, prospecting is "more of a fun thing rather than a business," Farmer says. Most recreational prospectors don't have fancy equipment. Instead they use sluicing pans, metal detectors and good old-fashioned intuition to ferret out nuggets. "We don't figure on getting rich, but it helps you stay healthy," Farmer says. "You get a lot of exercise."
But even hobbyists who prospect for fun can't help but dream of the mother lode. "It's no different than taking the turnaround bus to Las Vegas with a roll of quarters," Rucker says.