---
NEWS NOTES
---
Up in smoke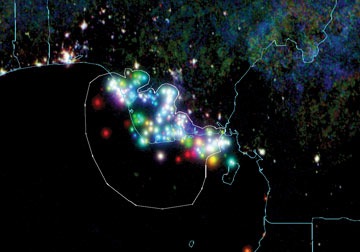 Courtesy of Chris Elvidge
A satellite image shows Nigeria's coastline burning bright with gas flares. The red dots represent gas flared in 2006, the green dots represent 2000 and the blue dots represent 1992. The white line encircles the flares associated with Nigeria.
Seen from a satellite at night, most of Africa is dark. A swath of Nigeria's coast, however, burns bright. The pinpoints of light come from Nigeria's oilfields, where oil producers dispose of unwanted natural gas by burning it.
All over the world, natural gas has become a coveted commodity. It burns cleaner and produces less carbon dioxide than oil or coal. Yet about 40 percent of the gas Nigeria produces goes up in flames each year. That's enough gas to power half of sub-Saharan Africa. "It's a waste," says Chris Elvidge, a physical scientist at NOAA in Boulder, Colo.
Most natural gas comes from gas deposits, but smaller quantities can also be found in oilfields — either dissolved in the oil or capping the deposit. In Nigeria, however, the oilfields are often remote, so collecting these small amounts of gas for export is not economically feasible. Moreover, local demand is almost nonexistent. It's not that Nigerians don't need the energy — they do. But building the plants and other infrastructure that would enable them to turn gas into a useful product — say, electricity — would require a substantial investment. "Companies are there for the oil, they are not there for the gas," says a source at the World Bank in Washington, D.C., who declined to be named. The World Bank is working to reduce gas flaring around the world.
Money isn't the only problem. Security is an issue. For years, the Movement for the Emancipation of the Niger Delta and other militant groups have blown up oil pipelines, attacked oilfields and abducted and killed foreign oil workers. Some contractors don't want to go into the Niger Delta.
Nigeria has long been the world's poster child for gas flaring. As recently as 2004, Nigeria was burning off more gas than any other country (now Russia tops the list). The government passed the first ban on flaring in 1979, but granted so many exemptions and imposed such a small fee for noncompliance that few producers abandoned the practice. The latest ban was supposed to stop gas flaring as of January 2008. There has been some confusion as to when the deadline really was, the World Bank source says. "Now they're saying the end of 2008."
Even that goal could be a stretch, he says. "It's not realistic to think that it will happen this year. We're looking at two to three years." Creating local markets will require new infrastructure, which takes time, money and political will. Additionally, the Nigerian government has been loath to enforce a strict moratorium given that oil accounts for 76 percent of the country's revenue and 90 percent of its exports.
Still, Nigeria is making some headway. Oil producers are finding new uses for the gas. Some re-inject it into the oilfields to enhance oil recovery; others use it to power their own operations; and at least one producer — Nigerian Agip Oil Company, part of the Italian oil company Eni — created a local market for the excess gas by building its own gas-fired power plant, which began generating electricity in 2005. Since the mid-1990s, the amount of gas being flared in Nigeria has fallen by 35 percent, according to satellite data.
To track flares, the World Bank is working with NOAA. Elvidge uses satellites to track burning gas. Flares are easy to spot on satellite images, he says, because "they look like fuzzy snowballs of light." And they are typically remote, far from the city lights that also show up on satellite images. Elvidge can both locate gas flares and estimate how much gas is being burned. "The more of these features there are and the brighter they are, the higher the gas flaring volume," he says.
Not only does flaring gas waste valuable resources, it adds as much carbon dioxide to the atmosphere each year as 56 million automobiles, Elvidge says. In 2006, countries burned an estimated 168 billion cubic meters of gas. Nigeria alone contributed 21 billion cubic meters. The team is hoping that these estimates will spur individual companies and individual countries to reduce their gas flaring, Elvidge says.
Still, flaring is better for the environment than simply allowing the gas to escape into the atmosphere — a process called "venting." The gas associated with oil production is loaded with methane, a far more potent driver of global warming than carbon dioxide.