---
Travels in Geology March 2006
---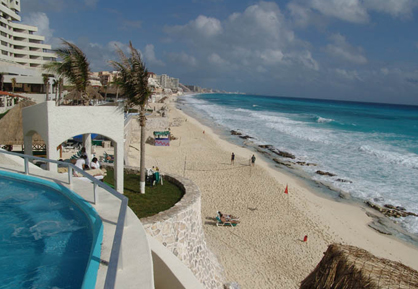 Cancún and beyond

For many students, it's spring break, and time to head someplace warm. One of the quintessential spring break destinations is Cancún, on Mexico's Yucatán Peninsula, but you don't have to be a party-hopping college student to enjoy this site. Look beyond the typical vacation of lounging on the resort beaches of Cancún and sipping margaritas (you can do that too), and be sure to venture south and explore some Maya ruins as well as the region's remarkable system of caves and sinkholes.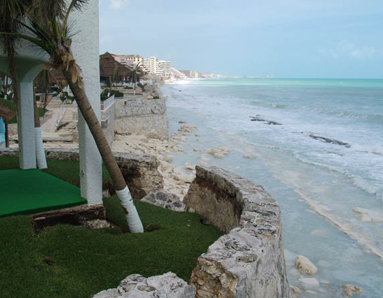 Now is a good time to head to Mexico's Yucatán Peninsula, not only for the spring break revelry, but also because mid-December through April boasts the best weather. Airfare tends to be more expensive during this time, but for those willing to do a little research, good deals abound, especially as the region tries to entice tourists back following the devastating strike of Hurricane Wilma last year.
Hurricane Wilma stalled over Cancún last October, leaving in shambles hotels and beaches in a city that depends on tourism (left). Now, however, the majority of the hotels, restaurants and attractions were back in business (right), although construction continues. Both photos are courtesy of John Spina (www.hurricanewilmacancun.com).
Wilma struck Cancún on Oct. 21 and stalled there for 40 hours, flooding much of the city and stranding residents and tourists in homes and hotels with no electricity or running water. But Cancún tourism officials say that more than half of the hotel rooms are back open now, and most restaurants and clubs are open as well (although spring break revelers won't find the usual MTV beach parties, according to the Boston Globe). The city's famed 25 kilometers of white sand beaches are all open, even as multimillion dollar beach restoration projects continue.
Regions farther south of Cancún, sheltered by the offshore island of Cozumel, sustained less damage from Hurricane Wilma, and thus have seen a rise this year in tourism from people who might have otherwise gone to Cancún itself. Most hotels, restaurants and golf courses in the southern areas are open, and tourism officials say that now is a great time for diving, as underwater disturbances from the storm exposed some never-before-seen cave systems.
Driving an hour and a half south from Cancún, you'll reach an area famed for its underwater caves: the Riviera Maya. A multitude of snorkeling and diving tours of the caves are available for visitors of any level of experience. Try Chankanaab National Park on Cozumel, which just reopened with new underwater trails, or Hidden Worlds Cenotes Park in the Riviera Maya, which happens to be featured in the popular 2001 IMAX movie Journey Into Amazing Caves.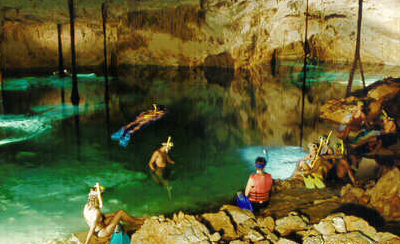 Hundreds of kilometers of caves formed on the Yucatán Peninsula because of its unique geology. The region is composed of flat limestone bedrock, which is highly susceptible to erosion from acidic rain. Prior to about 11,000 years ago, the caves appeared like any other modern dry cave, complete with stalagmites and stalactites. Following the end of the last ice age, however, the water table rose, submerging caves and filling sinkholes (called cenotes in the Yucatán).
Snorkeling and diving in submerged sinkholes, called cenotes, are favorite activities in the Yucatán. Visitors can take guided tours through entire underground cavernous systems, or explore some from the surface on their own. Photo is courtesy of Hidden Worlds Cenotes Park.
If diving or snorkeling does not interest you, plenty of other options exist for adventure in the Riviera Maya. Tulum Ruins, a small Maya ruin site, is the closest to Hidden Worlds Cenotes. The site also boasts a swimming beach, restaurants and shopping. Do not visit the Yucatán, however, without visiting the large and popular Chichén Itzá ruin. At this site, you can tour sacred cenotes and view a well-maintained pyramid and other archaeological artifacts. You can join any number of organized groups for a tour of Chichén Itzá, which is only three hours west of Cancún on Highway 180. TravelYucatan.com is a great Web site to visit to help you plan your trip.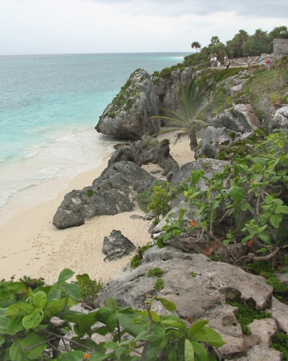 If time permits, you can continue west on Highway 180 to Merida, the capital city of Yucatán state. Just offshore of the west side of the peninsula is the center of the famous 180-kilometer-wide Chicxulub impact crater, which many scientists say is evidence of an impact that killed off the dinosaurs 65 million years ago. Whether or not the 10-kilometer-wide meteor killed the dinosaurs, the crater has left a lasting impression. NASA images suggest that the impact altered rocks below Earth's surface, so that when limestone deposits later formed and then eroded, a shallow trough appeared to the west and a ring of sinkholes formed to the east of the crater's rim. Such cenotes are the only obvious evidence for visitors of the otherwise buried crater.
All throughout the Yucatán, Maya ruins abound, such as Tulum Ruins in the Riviera Maya region about 100 kilometers south of Cancún. Photo is courtesy of Travelyucatan.com.
Merida also happens to be a great place to experience colonial Yucatán culture that you most likely will not find in Cancún. Get a taste of traditional food, music, dance and fashion, all within walking distance of most hotels. Also, check out any of the tours that leave from Merida, such as an excursion into the jungle or to more Maya ruins.
Whether you head to Cancún or farther into the Yucatán, it's easy to find adventure — and better weather than most people on the U.S. mainland are seeing in March. The weather in Cancún right now: sunny and 84 degrees.

Kathryn Hansen
Links:
Tourist information from the Cancún Convention and Visitors Bureau
Travel infomation from Cancun.com
Isla Cozumel official government site
CometoCozumel.com
Travelyucatan.com
Yucatán information from Frommers
Hidden Worlds Cenotes Park
Hurricane Wilma's effects on Cancún
News article on Spring Break from Boston Globe
"Unraveling the Chicxulub Case," Geotimes, January 2004

Travels in Geology

---