Mount St. Helens 20 Years Later
by Robert I. Tilling

What have volcanologists learned from the May 18, 1980, eruption of Mount St. Helens, the worst volcanic disaster in U.S. recorded history? The volcanologist who directed the Volcano Hazards Program of the U.S. Geological Survey in 1980 offers his perspective.
News Notes
Missing tectonic link found
No longer a NEAR miss
Fossil signatures: forged or real?
Hot time in the old town again
Ocean Drilling Program director resigns
The sun sounds off
Field Notes
Political Scene
Troubled Waters: Debate stirs over a once unnoticed section of the Clean Water Act.

Geoscience Education
A Plea for Mentors: A call for geoscience professors to make time to mentor their students.

Geophenomena
Eruptions of Mount Etna, Sicily
Web Extra Timeline of Etna's eruptions since 1995.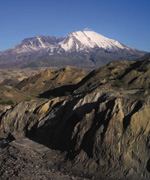 Mount St. Helens as it appears today from the northwest. The May 18, 1980, eruption produced a debris avalanche that deposited the hummocky terrain (foreground). See feature story. Photo by David E. Wieprecht, USGS Cascades Volcano Observatory.
From the Editor
The Society Page
Where on Earth?
Calendar
Classifieds