---
Travels in Geology May 2006
---
Auvergne: hidden hotspot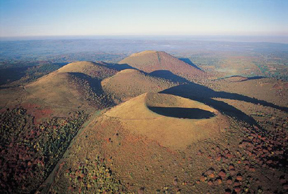 From bustling Paris in the north to relaxing world-class-surfing beaches in the southwest, France has something to offer almost everyone. But if you also enjoy visiting Earth's natural monuments, try venturing inland to see the volcanoes of France's less familiar province, Auvergne.

Puy de Pariou is part of the Chaîne des Puys, a volcanic region in central France. The area offers interesting hikes into the bowels of a volcano. Both images are courtesy of Joël Damase.

The region is easily accessible from most major cities. From Paris, drive three and a half hours along the A 71 to Clermont-Ferrand, the region's central city, or hop on one of Paris' speedy trains. If you prefer to catch a plane, fly from any of about 30 French towns to the Clermont-Ferrand Auvergne airport, where you can rent a car. Check in at one of the region's many hostels or bed and breakfasts before you venture out.
Once in Clermont-Ferrand, begin your volcano adventure by traveling about 15 kilometers west into Parc Naturel Regional des Volcans d'Auvergne (Regional Natural Reserve of the Auvergne Volcanoes), where you will find Vulcania, the world's only theme park based entirely around volcanoes.
The park opened in the spring of 2002, and within three years, 1.6 million people had visited, according to a 2005 Travel Magazine story. Don't think Disneyland, however. This park has three goals in mind: to develop the region's tourism, protect natural sites and further knowledge about earth science.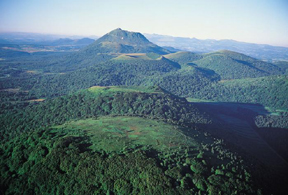 Although the park doesn't have stomach-churning rides, adults and kids will find an entire day's worth of educational entertainment. Enter the main building through an artificially created concrete volcanic cone. Then, make your way underground to experience four levels of exhibits, all built within excavated lava flows. The basalt from excavations was recycled into building material for other structures at the park.

The first eruptions occurred in Chaîne des Puys about 150,000 years ago, with the most recent eruption taking place about 4000 B.C. Volcanism first began in central France about 20 million years ago.
Among the attractions, an earthquake simulator shakes you for about six minutes and explains the best way to survive such an event. Visit the amphitheater to see a 3-D movie before checking out the hi-tech displays that use computer screens and animations to explain the dynamics of volcanoes in France, around the world and even on Mars.
After the six hours that the park estimates it will take to enjoy the exhibits, head outdoors to see Auvergne's natural volcanoes in person. The volcano park itself hosts three summits more than 1,800 meters tall.
The 20-million-year-old Sansy massif formations, a combination of old volcanic and glacial activity, offer interesting hikes across their slopes and pockets. For an aerial view, schedule a hot air balloon ride over the formations. Just be sure to stay hydrated and pack along your locally bottled Volvic mineral water.

Kathryn Hansen

Links:
About Vulcania theme park (in English)
Vulcania theme park (in French)
Auvergne tourism information
Travel Magazine story

Travels in Geology

---