---
Energy & Resources
---
Afghanistan has oil
Doing business in Venezuela
Mineral resource of the month: Soda ash
---
Afghanistan has oil


A new assessment is indicating that there is a good bit of crude oil and natural gas in Afghanistan, a country that desperately needs it. The estimates suggest that there may be 18 times more oil than previously thought and three times more natural gas.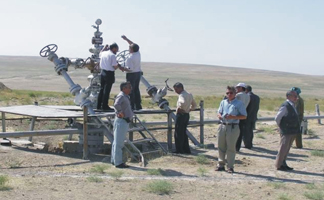 U.S. Geological Survey researchers joined local researchers in the Jarkaduk natural gas field near Sheberghan, Afghanistan, to determine how much oil and gas lay beneath the ground. Image is courtesy of U.S. Geological Survey.
For the past two years, researchers from the U.S. Geological Survey (USGS) — in collaboration with the Government of Afghanistan Ministry of Mines and Industry, and funded by the U.S. Trade and Development Agency — have been on the ground in northern Afghanistan, running geochemical and geophysical tests, as well as studying the tectonics in the area. Combining the new data with historical exploration and production analyses, primarily from limited Soviet-era oil and gas production, the USGS-led team found that in two basins in particular, "there is a substantial amount of oil and gas yet to be discovered," says Brenda Pierce, manager of the energy program at USGS in Reston, Va.
In the assessment, USGS estimates that between 0.4 billion barrels and 3.6 billion barrels of crude oil are technically recoverable, with natural gas amounts between 3.6 trillion cubic feet and 36.5 trillion cubic feet. These undiscovered resources are in addition to petroleum discovered in Soviet-era exploration, Pierce says. Afghanistan is sitting on more than the amount of undiscovered oil that Syria is, for example, she says: "It's no Saudi Arabia, but for a relatively small country, this is a substantial resource and can make a big difference."
What has to happen next is actual exploration and then production, says John Shroder, a geologist and research fellow in the Afghanistan Studies Center at the University of Nebraska in Omaha (see Geotimes, October 2004). As Afghanistan does not have an oil and gas infrastructure, however, the government will need to partner with foreign companies to drill test wells to see what is there, he says. It will take several years for any substantial production, but the sooner they start, the better. "It will be nice to see the resources coming onstream to benefit the people of Afghanistan," he says.
The assessment covered 86,000 square kilometers in northern Afghanistan — the area with the most potential for oil and gas, Pierce says. No petroleum assessments have been completed in other parts of the country, and such work could come up against serious barriers because of the security situation, she says.
Shroder says that there may be a smaller, but still significant, amount of oil and gas in southern Afghanistan near the Pakistan border, "but that's Osama [bin Laden] country, and is the toughest place to work. It will be a long time" before anyone gets in there. In the north, however, work could start immediately, Shroder says. "The prospects are very exciting," he says.
Megan Sever
---
Links:
"Afghanistan Redux: Better Late Than Never?" Geotimes, October 2004
U.S. Geological Survey Afghanistan oil and gas resources assessment

---
Doing business in Venezuela


In recent months, Venezuela signed new oil contracts with Brazil's Petrobras, took over fields from oil companies Total (France) and Eni (Italy), and said that ExxonMobil — one of the world's largest energy companies — is no longer welcome in the country. This rhetoric and flurry of activity followed on the heels of a new government mandate that all field operations in the nation be turned over to PdVSA, Venezuela's state-owned oil company, and that higher royalties be paid to the government (see Geotimes, March 2006).

Some foreign investors, including ConocoPhillips, Chevron and Petrobras, have agreed to the new terms, while others, including ExxonMobil, have lessened their stakes in the country. Still, the companies are planning to stick around in one form or another despite the sometimes uneasy terms of doing business in Venezuela, as the country holds more than 80 billion barrels of proven conventional crude oil reserves, and possibly much more in nonconventional reserves, according to the U.S. Energy Information Administration.

At a news conference April 3, Venezuelan Oil Minister Rafael Ramirez said that the country does not intend to kick anyone out, so long as they agree to the new rules. Although ExxonMobil has sold off shares in some of its fields in response to the new rules, Susan Reeves, a spokeswoman for the company, says that like other companies, "ExxonMobil de Venezuela continues to have a long-term perspective of its activities in Venezuela."
---
Links:
"Turmoil in Latin America," Geotimes, March 2006
---
Mineral resource of the month: Soda ash

Dennis S. Kostick, the U.S. Geological Survey mineral commodity specialist for soda ash, sodium sulfate and salt, has compiled the following information about soda ash, an essential raw material in glass, chemicals and detergents.


Soda ash, also known as sodium carbonate, is an alkali chemical that can be refined from the mineral trona and from sodium carbonate-bearing brines. Several chemical processes exist for manufacturing synthetic soda ash.

Although soda ash represented 2 percent of the total estimated $52 billion U.S. nonfuel minerals industry in 2005, its use in many products contributes substantially to the gross domestic product of the United States. The domestic automotive and construction industries use soda ash to make flat glass and fiber glass. Because of its industrial importance, the U.S. Geological Survey canvasses soda ash production statistics for use in the monthly economic indicators for the Federal Reserve Board's industrial production index, which measures the condition of the U.S. economy.

Sodium carbonate commonly occurs as precipitates in shallow, nonmarine alkaline lakes and marshes, and usually coexists with various chloride and sulfate salts. For this reason, it is not uncommon to find several sodium carbonate-bearing minerals within the same deposit. Because of its deposition in shallow bodies of water, in which seasonal changes, as well as mechanical and chemical erosion, make the minerals susceptible to destruction, large economic sodium carbonate deposits are relatively rare.

World soda ash production for 2005 was an estimated 42 million metric tons, with China, India, Poland, Russia and the United States accounting for 73 percent of the total. Of the 29 countries that produce natural and synthetic soda ash, the United States is the world's second leading producer, accounting for 26 percent of total world output.

Only Botswana, China, Kenya and the United States produce soda ash from natural sources, which account for 28 percent of combined world soda ash production. The remainder is synthetic soda ash manufactured through various chemical processes, primarily the Solvay process, which is an ammonia-soda process that uses limestone and salt as the main raw materials.

Soda ash is a mature commodity that tends to grow parallel to population and gross domestic product. U.S. reported consumption in 2005 was estimated at 6.5 million metric tons, which was an increase over the prior year. Domestic soda ash consumption has been relatively flat for several years, with domestic markets growing only about 1 percent annually. The United States has the world's largest deposit of buried trona — enough to sustain the domestic demand for soda ash for centuries.

For more information on soda ash, visit minerals.usgs.gov/minerals.

---