Subscribe

Archives

Classifieds

Advertise

Customer Service

Geotimes Search
---
---
---
EDUCATION & OUTREACH
---
Engineering a Lunar Challenge
---
---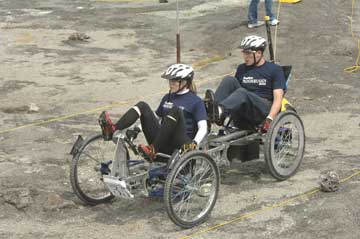 A team from Pana Senior High School from Pana, Ill., rumbled across a simulated lunar surface to finish third in the high school division of NASA's 13th Annual Great Moonbuggy Race in Huntsville, Ala., in 2006. Photograph is courtesy of NASA/MSFC.
In the 1970s, American astronauts carted electric vehicles called lunar rovers to the moon. Although these "moonbuggies" only reached speeds of 8 kilometers per hour, they allowed the Apollo crews to travel farther and explore more of the moon's surface than ever before. When the astronauts returned to Earth, they left their vehicles behind, parked indefinitely on Earth's lunar lot. But you don't have to take a space flight to see a moonbuggy in action — just head to Alabama. In mid-April, high school and college students gathered at NASA's Marshall Space Flight Center in Huntsville to race their own lunar rovers in the Great Moonbuggy Race.
To participate, students sign up online, and then design and build a meter-wide, human-powered rover light enough to be carried by two people. Come April, they pack their buggies. In Huntsville, co-ed pairs race their rovers against the clock over a demanding course designed to mimic the moon's pocked surface. The teams get two shots at maneuvering the course, which is almost a kilometer long. Failure to pass one of the 17 obstacles — simulated craters, lava ridges, and crevices — results in a time penalty. The three fastest teams at the high school and college level receive prizes, including plaques, certificates and, for first place, cash and a trip to Space Camp or a shuttle launch. The judges also give awards for Best Design, Most Unique, Most Improved, and Crash and Burn, which goes to the team that has the most trouble.
The moonbuggy race began in 1994 as a way for Marshall Space Flight Center to highlight the 25th anniversary of the first Apollo landing. The original lunar rovers were designed and tested at Marshall, so a moonbuggy design competition and race seemed a natural fit for the NASA center. The first race had only six buggies; this year 61 teams came from as far away as Germany to compete on April 13 and 14.
The event challenges the students to work as teams and gives them hands-on engineering experience and problem-solving skills — qualities that NASA looks for in its recruits, says Frank Six, one of the event organizers. "It inspires those students to do a little bit more than they do in their classes," he adds. "The real work goes on not at the event, but back home where they're building things." The process of putting together a lunar rover is intense and highly technical.
Seasoned teams like the Lafayette "Huskers" from Lafayette County High School in tiny Higginsville, Mo., started preparing months before the race. As part of a pre-engineering class, Lafayette students — who have been participating in the race for years — used special computer software to draw their rover designs. After the designs were complete, they used the school's carbon dioxide laser to cut plastic test parts in the shop to ensure that the buggy would fit together perfectly. Once the pieces fit just right, they rented time at a nearby factory and cut the parts out of steel. The Huskers then assembled their rovers and began pedaling.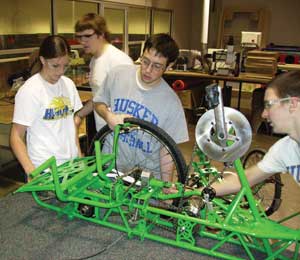 Students at Lafayette High School in Higginsville, Mo., have been participating in NASA's Great Moonbuggy Race since 2001. They build their buggies at school and then transport them to Alabama in April for the race. Photograph is courtesy of NASA/MSFC.
"We spend hours every day riding the buggies to get our legs into shape," says Zach Larimore, a senior member of the team. But the test drives served another purpose as well: By riding over rough terrain, the students could detect any design flaws before the race. "We take them out and we do everything we can to break them," Larimore says. The students pedaled the rovers up and down concrete stairs, over telephone poles, and into curbs. "We try to tear them up," says Steve Goodman, an engineering teacher at Lafayette and the team's advisor. Anything that fails in practice can be fixed before the big day. "It's a ton of work, but that's what makes it great," Goodman says.
Larimore has been racing throughout high school. When he was in 8th grade, he started helping his older brother with buggy construction. "I fell in love with it, and I've been doing it ever since," he says. The design process is what keeps him coming back. He enjoys creating new parts on the computer and figuring out how to improve the rovers. "The race is just the icing on the cake," he says.
Not every race, however, has been smooth sailing for the Huskers. Navigating the faux-lunar surface has led to broken axels, loose chains and bent tire rods. Fortunately, the buggy designs have improved with experience, becoming lighter, faster and more durable. "We bend things, but we don't break them anymore," Larimore says. This year the Huskers entered two buggies. "Our goal is just to show up and not break down," Goodman says. Despite their modesty, the Huskers are professionals. Since the team first entered the race in 2001, they have won at least one award every year that they have participated. The team has won first place twice and boasts three Best Design awards.
Students at Morningside College in Sioux City, Iowa, on the other hand, are taking their first crack at the race after selecting the challenge as a project for a design class. Liz Kelly, the team's leader and a senior double-majoring in engineering physics and math, has never done anything like this before. On some level, Kelly thought that building a moonbuggy might be as simple as duct taping spare bicycle parts together. Now she knows better. "There's a lot more that goes into it," she says. One of the hardest, yet most rewarding pieces has been developing a unified vision for the rover. Kelly has five teammates: "You've got six different opinions and six different people who want to go in six different directions," she says.
Despite the occasional conflict, the spirit at the race is generally one of camaraderie. In the pit area, "you'll see one team loaning equipment to another team to help out," Six says. Still, he says that he laments the fact that frequently these days, schools seem to emphasize individual achievement over teamwork. But teamwork is essential, as seen in the race, he says. And at NASA, "it's not one individual off building some gizmo," he says. "It's always a team of people that bring different talents to the table."
Through the Great Moonbuggy Race, NASA is grooming these young men and women for the engineering positions of the future, Six says. Some may even end up at NASA. "We need the talent that's going to carry this nation on to the next planet," he says.
Larimore may not end up at NASA, but the challenge has benefited him nonetheless, he says: Next fall, he'll start college at the University of Missouri at Rolla to work toward a degree in mechanical engineering. Kelly, who plans to go into civil engineering, says that being able to work as part of a team is a skill she is sure she will need no matter where life takes her.
Cassandra Willyard
Geotimes contributing writer
---